In March 2020, at only 32 years old, Lisa Yamai took over as president of outdoor brand Snow Peak. It was a rocky start; for one, the coronavirus pandemic began to spread immediately after her appointment. On the other hand, camping has risen in popularity among people avoiding crowds during the pandemic. According to Yamai, "There are things in nature that we've lost in city life." In this interview, Yamai looks back on her appointment as president and talks about the importance of the connection between people and nature.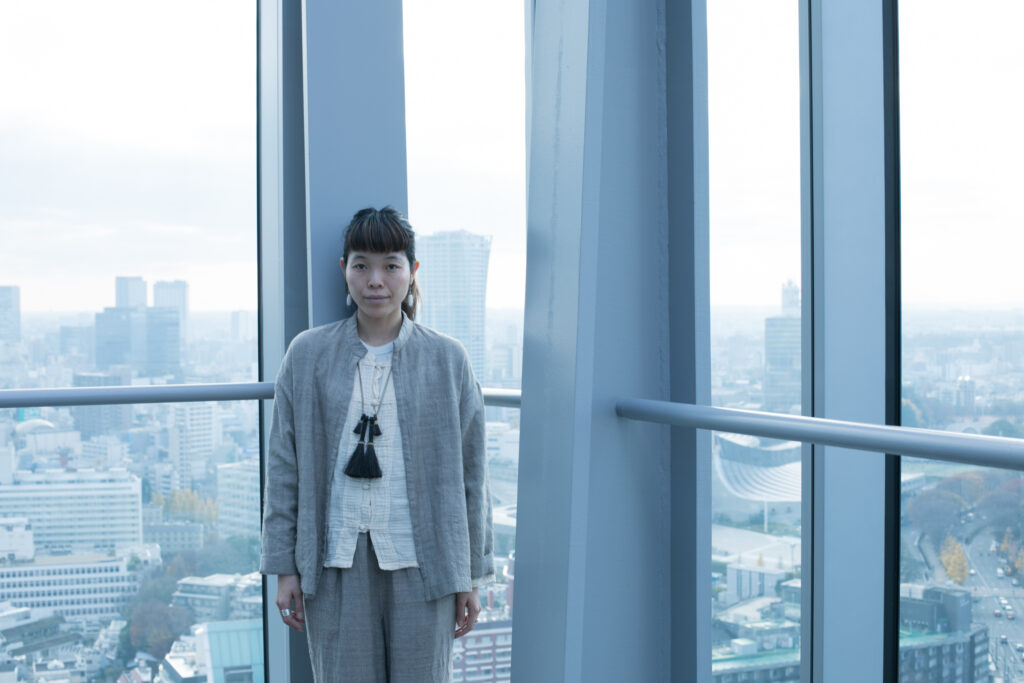 ——In 2020, there were events that brought about dramatic changes to your environment and values, like the coronavirus and your appointment as president. Looking back, what was the past year like?
Lisa Yamai: It was a really tough year, but it was also a year where I was able to pause and reaffirm that the things we've been doing at Snow Peak up to this point, as well as the future we'd envisioned, had been right all along.
——It was a year that turned out to be completely different from what was originally imaged.
Lisa: We'd expected that in 2020, people would gather for the Tokyo Olympics, so we were focusing our efforts on sending people off into nature—or rather, "Developing a platform that connects people to nature," which is what Snow Peak is based on. So we opened some large-scale experiential stores that people could also stay overnight at, like Snow Peak LAND STATION HAKUBA in Nagano, Snow Peak LAND STATION KYOTO ARASHIYAMA in Kyoto, and Snow Peak Osaka Rinku in Osaka. But the stores in Kyoto and Osaka were impacted by corona, like having to delay our originally planned opening date. But since opening, all three stores are doing well, and more customers have visited than we expected.
——After being appointed president in March of last year, what's changed and what hasn't?
Lisa: For one year before I became the president, I was the executive vice president. At the time, my style was to work in the field, dig up an unpolished gem of an opportunity, and make it marketable. Whether it was the countryside or overseas, I'd meet with people from that region face-to-face and talk to them, then find an opportunity from there. I thought that wouldn't change much even if I became the president, but with the impact of coronavirus and the fact that there are other things I should prioritize as the president, I'm not able to do that much anymore. But I think it's my job to create the future that people, society, and the Earth seek, so my role in that won't change.
——When it was announced that you were appointed president, there were some pretty critical comments at first.
Lisa: That's true. I think part of it was that I was only 32 when I was appointed and was a woman president on top of that, but there were also a lot of critical comments about my tattoos. I didn't think there would be such a negative response to my tattoos, but there were really nasty comments online, which took a toll on me mentally. I was also frustrated that they didn't even know about the work I'd done. And I was reminded that something is missing in this civilized society, this information society. Also, I actually felt that there was a fundamental need for us to put forward our offer of "connecting people and nature" once again.
By redefining "wild" in modern-day terms, I want each and every individual to become proactive.
——With the coronavirus, people are avoiding crowded areas, so the outdoors and camping are becoming more popular. What do you think of that trend?
Lisa: It's true that with coronavirus, there are families and solo campers in their 20s to 30s who are enjoying camping for the first time. I also personally realized that having contact with nature and other people is a more human way to live. Cities have good infrastructure, and they're designed so you can live even on your own. But originally, humans made communities in local regions and helped each other out while creating things. That was necessary for survival. I think camping simulates that experience.
When I was in the fashion industry, there was a big divide between the outdoors and fashion, and there weren't many people who went camping. But recently, even in the fashion industry, there are more people who like the outdoors, and they incorporate elements of that in fashion, so the boundary between the two is disappearing. People have become more familiar with the outdoors and camping, and I think that's a really great trend.
——What do you think is important about "having contact with nature"?
Lisa: I feel that the relationships of mutual trust born in nature are the deepest and strongest. You never know what'll happen in a natural environment. Five minutes from now, there might be a downpour, or there could be a landslide from the rain. So you have to live in a constant state of anticipation. If something happens, you definitely can't solve the problem on your own, so it's important to build a local community and relationships with people regularly. That's totally different from the city.
But even when people who live in the city go camping, they're able to ask a nearby camper, "Sorry, I forgot to bring salt—could I borrow some?" There's not much of a barrier there. The things from when you're working, like occupations or titles, are irrelevant, so you can go back to being just another human in nature. I think that's the most peaceful thing.
In the future, it'll be important to be familiar with the city and nature, both of which have their advantages and disadvantages, and strike a balance between the two in our lives. Of course, there are a lot of things technology can improve about the world, but we can't lose the human experience and connections that can be found in nature. I think more people will realize that in their lives, and I hope that'll continue.
——You often mention "wild" [yasei] as a keyword, like in your book published last year, "Field Work: Yasei to Kyousei" [Coexisting with the wild] (Magazine House).
Lisa: I wrote that book because I want to redefine what the word "wild" means today. There's an image of "wild" as masculine and rough, but the modern "wild" that I'm thinking of is about the state of living in nature itself—always anticipating what will happen and acting accordingly, and using your head to assess a situation and take action. We've lost a lot of that intuition due to the development of technology. The "wild" that we'll need in the future is about how we feel, think, and act based on our own way of thinking. I hope that each and every one of us can be proactive in shaping our world.
These days, people often say that "diversity is important," but Tokyo, London, and New York are all concentrated with similar things and have become very homogenized. I believe thinking for yourself, creating a solution, and acting in response to a situation, rather than doing something because it's popular or successful, will be key to reawakening people's vitality for life and all of that.
——You're also interested in culture, such as art and music. Last year, you were involved in Sado Island Galaxy Art Festival 2020.
Lisa: I've loved art and music since I was a kid, and that's influenced me in a lot of ways. I think it's just as important to nurture our receptiveness through exposure to art and music as it is to engage with nature. Art and music may not be necessary for survival, but there's no doubt that their presence makes our lives richer. At last year's Sado Island Galaxy Art Festival, we had GEZAN, DJ QUIETSTORM, and MOODMAN come perform live and DJ for us. About 70% of the audience were locals, but seeing the local aunties raising their fists during GEZAN's set or dancing to the DJ together made me happy, too. Seeing the locals happy and enjoying themselves made me glad that we'd done this.
YAMAI aims to make clothes that allow people to get a feel for the workers and the process
——In recent years, mass production and mass disposal in the fashion industry have become a problem. However, I think as the director of a listed company, you're expected to grow the company. What are your thoughts on that?
Lisa: At Snow Peak, we have a lifetime warranty on all of our products, including camping gear and apparel, so people can use their favorite items for as long as possible with a sense of attachment. So thankfully, many of our customers use our products with care for 20 or 30 years.
With manufacturing for example, even when it comes to products that we have to supply 30,000 units of in a year, we manufacture a smaller number of units at a time and split up the manufacturing into a few times over a year, so we don't run the risk of producing a lot at once and having units left over. This saves us from producing a lot of excess. Our company's manufacturing cycle has been on average about five or six times a year in the first place. It's better both economically and for the factory to keep ordering products once every two months. In the same way that we consider the environment, we try to make our products with consideration for the people who we work with.
——Meanwhile, you also run an apparel brand called YAMAI. How does that fit into everything?
Lisa: YAMAI is a brand that's all about what I really wanted to bring to fruition through clothing. Clothing involves many detailed processes until it's ready to hit the shelves—from cultivating the raw materials to making the threads, dying them, making that into fabric, and sewing it together—but it's hard to imagine that when you see most products. With YAMAI, I'd like to properly convey what kind of raw materials and processes go into making our products in a way where the producers have visibility. All of our raw materials are natural—such as cotton and silk linen— and are fair trade with known sources, using materials that can be naturally found in local regions.
Although human hands are involved in all the processes of garment making, I think workers are too often neglected. Due to that, a vicious cycle has developed where there are fewer people on the factory floor and they aren't properly paid, either. With YAMAI, I'd like to put more of a spotlight on the workers, and fully convey the quality of the products.
——Lastly, could you tell me about Snow Peak's outlook going forward?
Lisa: I think Snow Peak's ethos of "Awakening people's important intrinsic senses" and "Evoking people's connection with nature" will play a meaningful role in connecting civilization and nature, which are becoming increasingly polarized. Snow Peak has the power to solve today's societal problems and challenges, so we want to spread our "nature-oriented" community throughout the world and make our world a better, richer place.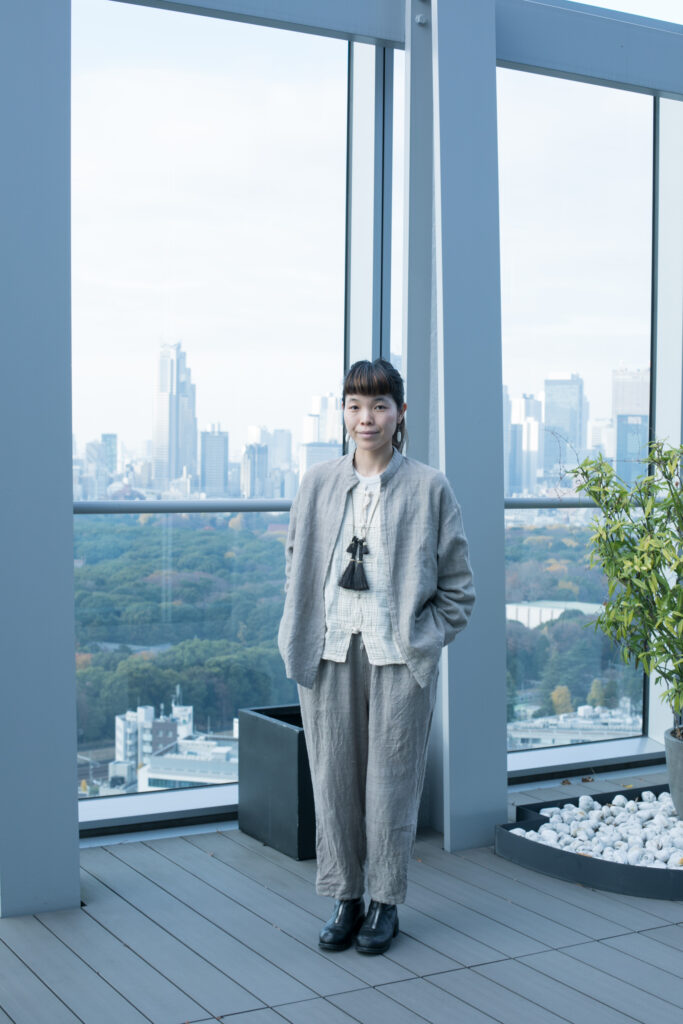 Latest articles of TOKION FASHION