At "TOKiON the STORE", a collection of Evangelion merchandise products co-produced by the flower artist group AMKK has launched on March 8th. For this article, we interviewed AMKK founder Makoto Azuma about this collection's production, its concept, color schemes, and much more.
Visually, the artworks comprise different Evangelion-inspired bouquets created by AMKK. The four types of bouquets based on the color schemes of EVA Unit 01, 00, 02, and 08 perfectly blend with Evangelion's style.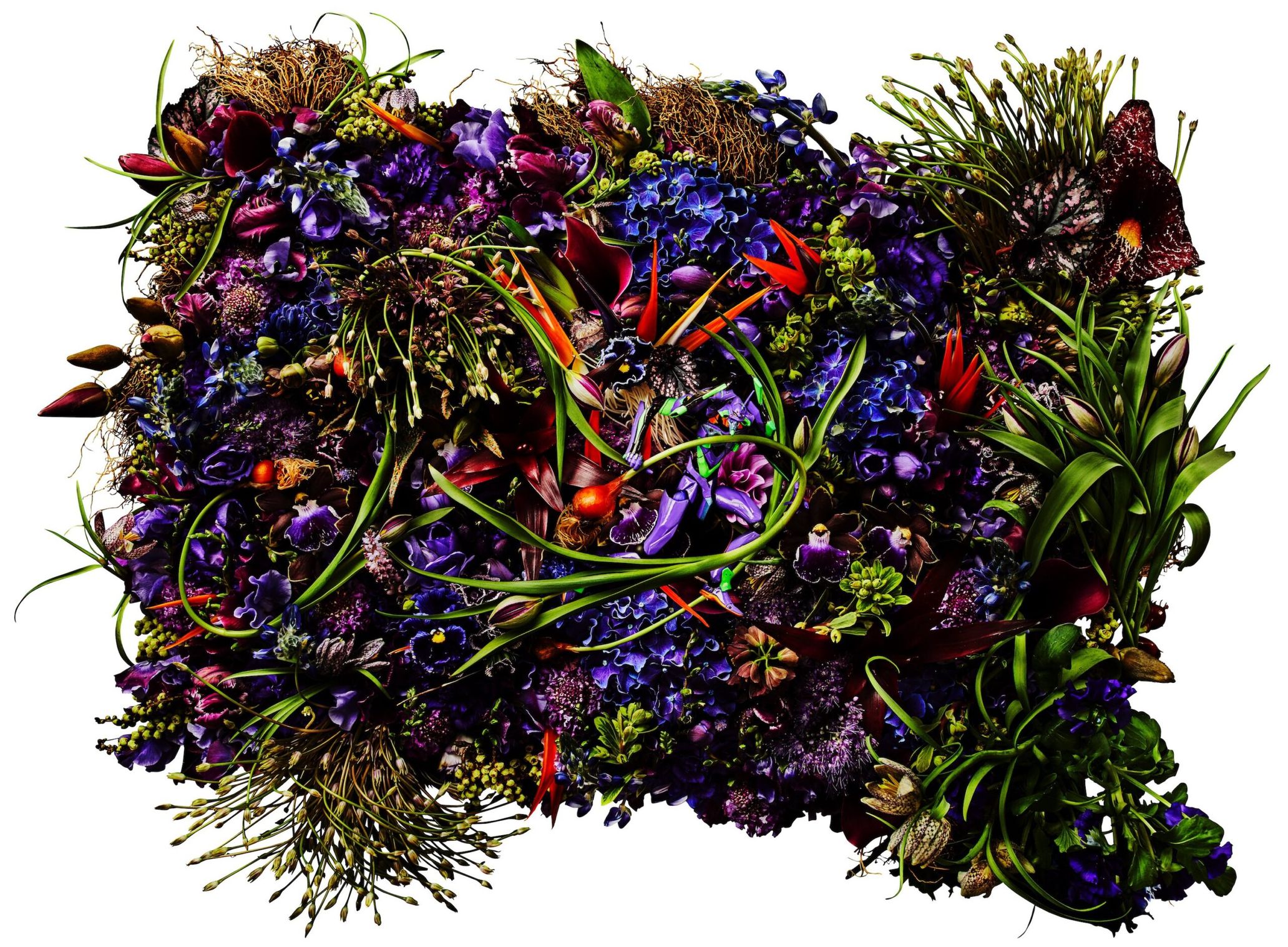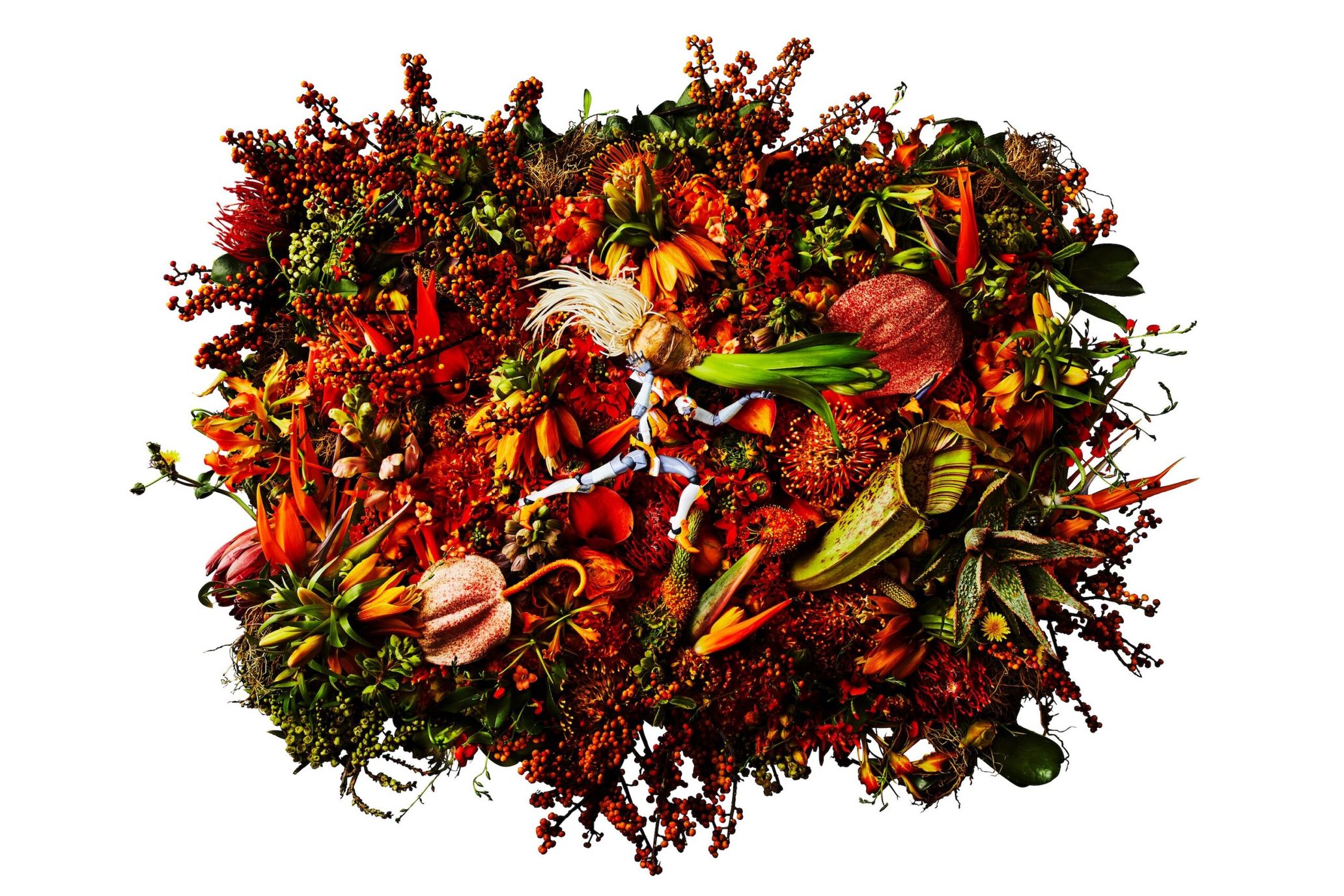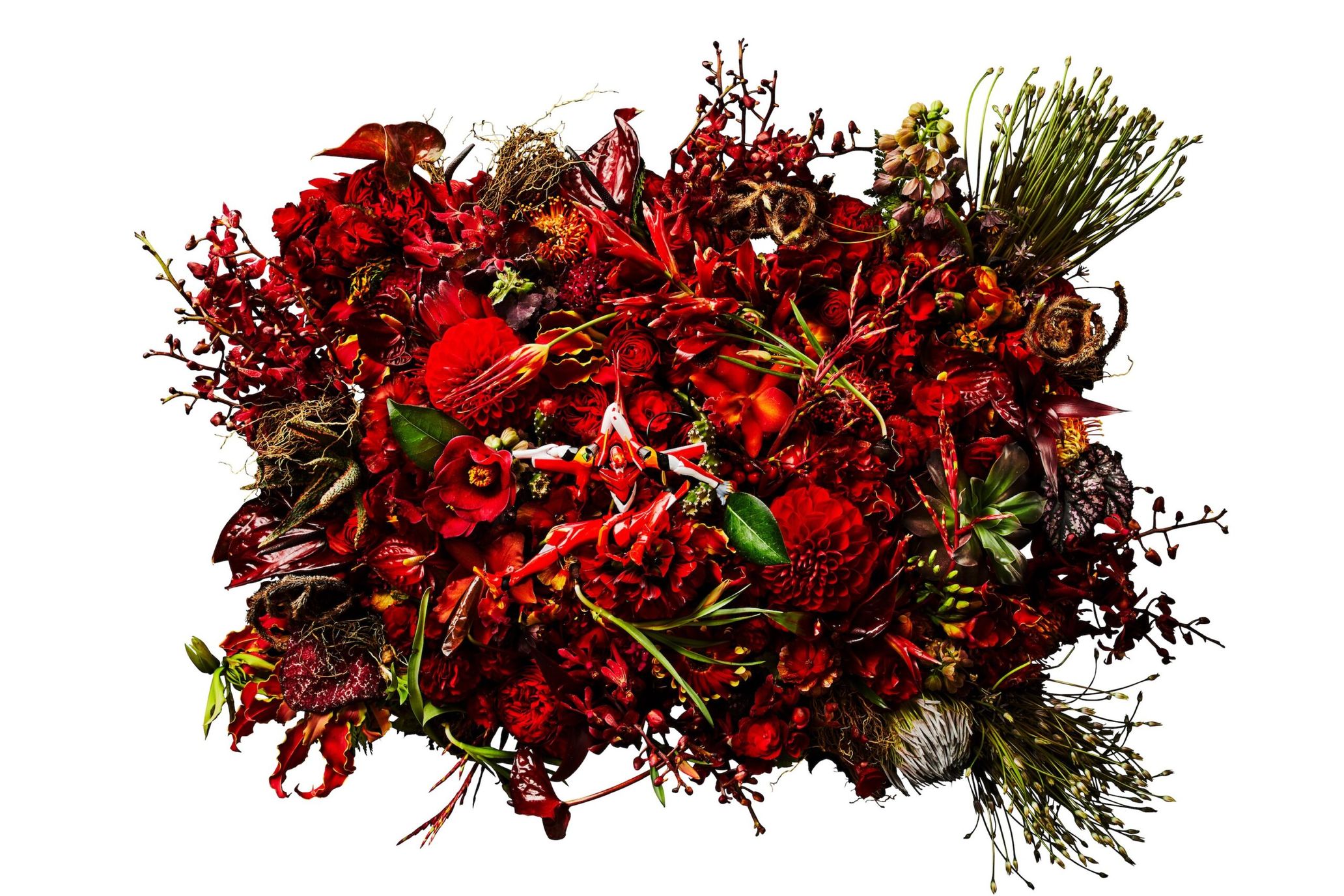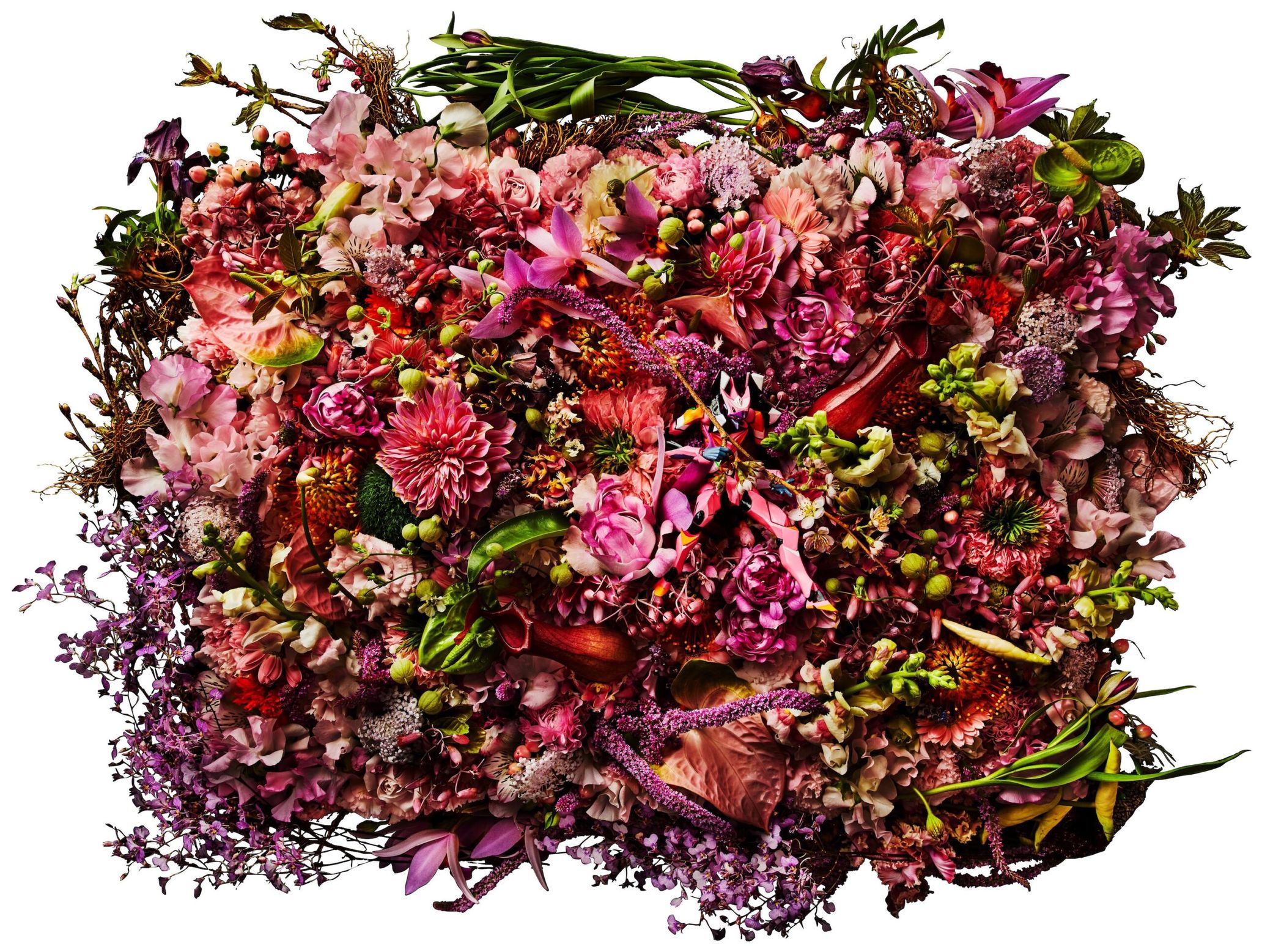 AMKK is well-known for pursuing the beauty of flowers even after withering, following concepts concerning life and death, which, in contrast with the powerful Evangelion, successfully brings out the best of both sides of the collection. The flower-based visuals are printed on T-shirts, long-sleeve T-shirts, hoodies, PVC tote bags, pouches, coin cases, and "SUBU" winter sandals. Famous quotes from each EVA pilot are present on the sleeves of all T-shirts.
How did AMKK create such high-impact visuals?
"In many cases, we combine colors following our intuition at that time, but when creating something based on a concept, we pay extra attention to the color schemes. Most fans of the series easily recognize the characteristic tones of each EVA Unit, so we emphasized that sort of brand's presence while matching the colors with the right flowers." – Makoto Azuma
AMKK seeks to reveal a newfound beauty for flowers through deep tones and extreme environments. "Flowers are most beautiful when they bloom in the field, so we pull their roots from the ground and add to that beauty with our craft, arranging them in ways that are impossible in nature, such as putting together flowers from both cold and tropical regions; in my opinion, arranging flowers is pointless unless it creates something impactful that no one has ever seen. In that sense, I often arrange flowers with strong presences and deep tones that clash with each other, and I always draw inspiration from the flowers when creating." – Makoto Azuma
In addition, the concept of switching the EVAs' weapons with plants is also impressive. "The Evangelion is defined as an 'All-Purpose Humanoid Decisive Battle Weapon,' basically the opposite of nature, a clump of human-made artefacts. We purposely made them look like they're fighting with huge bouquets in their hands to express both naturality and artificiality, two contradictory elements fused to convey warmth." – Makoto Azuma
These visuals are present in the T-shirts and the "Alpha Industries" MA-1 bomber jacket.
"TOKiON the STORE" is currently holding an installation to express the significance of collaboration. We are exhibiting an AMKK-made flower cube that combines a large number of flowers matching the EVA Unit 01's colossal figure. Concerning the production of this installation, Makoto added: "Evangelion often depicts battles taking place in a devastated world; for this installation, we dared to create an environment where you can feel the breath of living creatures, the exact opposite of raw battlefield. By positioning the gigantic figure in the middle of a flower field, we expressed not only beauty but also the intrinsic strength and the decaying fragility of flowers, emphasizing the mechanical parts of the Evangelion, and at the same time, creating a life-like atmosphere, as it could start moving at any moment."
The exhibition is scheduled to end on March 28th.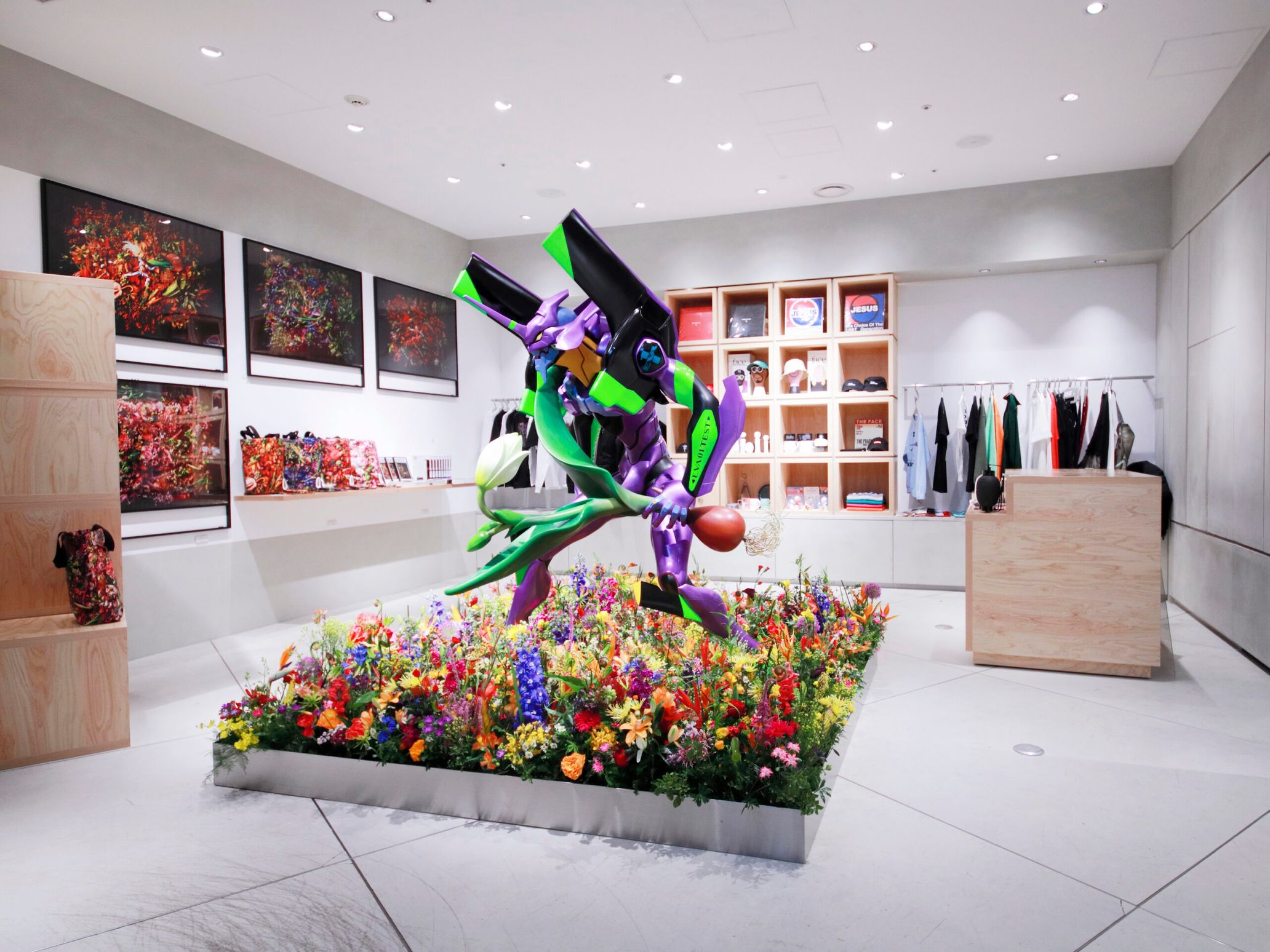 Latest articles of TOKION MANGA / ANIME