The book "YOSHIRO Hiroishi / YOSHIRO ~ The legendary Japanese Latin singer who surprised the world ~" attracted readers who did not know the Latin world.In this book, the exchange between the two started when Yoshiro Hiroishi's live performance was visited by Hajime Matsushita, a member of the Funsho-sya. After the release of the record, Matsushita, who was drawn to the spectacular and fascinating half-life of Yoshiro Hiroishi, created this experience with his friends at the indie publishing company.
Looking at the lineup released by the publisher, there are only things that shine with individuality, such as Sota Takagi's "Absurd Music Encyclopedia" which is nonsense and acquainted, and AUTO MOAI's "Endless Beginning" which is now attracting attention from the world.The name Funsho-sya is reminiscent of Ray Bradbury's "451 Fahrenheit", which further stimulates curiosity.Interviewed with Hajime Matsushita, who has various faces of such as activities as Omoide Yaro A Team,DJ Sammo Hung Kimpo, management of MAD LOVE Records, and presiding over the Funsho-sya about the mysterious publishing label.
——What made you decide to launch a publishing label a s well as a record label?
Hajime Matsushita (Matsushita):Actually, I had work experience at a major publishing company. However, I was in charge of producing and editing e-books, so I started from zero know-how on paper books. Sota Takagi, who runs the Funsho-sya together, is a producer and musician who originally lived in the neighborhood.It all started when I got a consultation from Mr. Takagi who wanted to publish his book.I wanted to make the most of his experience at the publishing company, but worried because I had never made a paper book. At that time, Rokuon Saito gave me help hand, who is the guitarist of the band Omoide Yaro A Team which I belong.He had knowledge of paper books because he worked as an editor for another publisher. We asked to join designer Tatsuya Kunieda whom connection with the previous publisher.In 2014 we have published Sota Takagi's "A Musical Encyclopedia of Absurdity" as the first book of Funsho-sya.
——Funsho-sya is a strong publisher name, isn't it?
Matsushita:In the process of making this book, when we had to decide on a publisher name, Mr.Takagi came up with the idea, "How about a Funsho-sya(Book burning company)?" Everyone laughs and likes it. And with that name, it's still going on as a publisher.
Making slightly dangerous and cool books
——The genres of the books that are published are also different. Personally, it's nice that AUTO MOAI's art book is lined up with Sota Takagi's book.
Matsushita:It's like trying to make a book about the works of the dangerous people around us. The first thing I aimed for was the ultimate "toilet book", and I wanted to make a slightly dangerous and cool book.I had no vision of publishing a book in the future, but the "A Musical Encyclopedia of Absurdity" attracted more attention and sold than I had imagined, so I was motivated as a publisher.Around that time, I met AUTO MOAI and thought that the picture she drew was quite dangerous. Then, let's publish an art book and do a solo exhibition.
——The speed advancement of AUTO MOAI was amazing.
Matsushita:It's true.She works with various major brands, but her core as a painter hasn't changed at all, and I really respect his energetic attitude.At first, her book was released in large format, and the paperback edition was reprinted with the latest works added.
——And "YOSHIRO" was added.
Matsushita:First I worked with Yoshiro Hiroishi in a record production 3 or 4years ago, and I used to see him and he welcomed his house.Getting know him more,I got impressions of him were very crazy and interesting.I read YOSHIRO's serial column in the magazine "Latina" and thought that this was something that should be released in the world, so I offered to publish it.While reading the original manuscript from the beginning with the members of the Funsho-sya and reworking it and increased the text some parts YOSHIRO wants.During the production, we often collided and at the end, we pushed ourselves to the break point.
The addition of this book to the Funsho-sya lineups,Our direction has been changed little from the original idea of "ultimate toilet book." I think it goes far beyond the quality of indie publishing.Previously, "Dangerous Reading" in the magazine "BRUTUS" featured "A Musical Encyclopedia of Absurdity", and when I found it at a bookstore, I smiled unintentionally.The underlying concept of making dangerous and cool books remains the same. AUTO MOAI's work also had a draggy element, and I felt that I could see the way forward for the Funsho-sya to be such a publisher.
——What brought you to Latin music world.
Matsushita:YOSHIRO who gave me a chance to get deeply absorbed in Latin music. gave me a chance to immerse myself deeply.Even before that, I participated in live performances and recordings as a support member of VIDEOTAPEMUSIC, and many of the samples and tunes were Latin, so I was exposed to that on a daily basis.When I was editing "YOSHIRO", I listened to the sound sources of Latin artists that appeared in the book all day long, and I felt the latin music like a deep swamp.Also, in 2018, I accompanied YOSHIRO on a Cuba tour and noticed the awesomeness of Bolero. I think it's thanks to this book that I became more familiar with that.
——What made you originally addicted to music?
Matsushita:My maternal uncle was in Kyoto and dropout outlaw who bounced in and out of jail. When I was in high school, he took me to a drive in a well-modified American car.He played the compilation of VP RECORDS in the car, and from the woofer with a roaring sound while running on the paddy field in Shiga, and I was absorbed in the feeling of deep bass with melting lovers rock.From there, my interest shifted to reggae and soul
——And what made you become a performer?
Matsushita:There was a jazz study group at the university, and the band that was formed by people who couldn't play jazz was the Omoide Yaro A Team.I thought it was a good band and went to see their gigs as an audience.At one day,one of the members disappeared temporarily, and a vocalist Mr.Makoichi asked me "You have a face that seems to be percussion, so why don't you try it?"I had never played percussion but some times people mention that my face is looks like Motoya Hamaguchi (former member of Tin Pan Array, one of Japan's leading percussionists) these days.
——Once again, you're doing a different types of jobs, so It's hard to recognize your main occupation.
Matsushita:I don't really know what I'm doing! It's difficult to live on the income of playing in a band, so if I did everything I wanted to do and made some income sources, it became my current work style.This COVID-19 catastrophe, my income from DJs and live shows was almost zero, but I managed to get it because I had a job as a label for books and records. I was Lucky not focus on one job.
——I feel that you are required to work in multiple ways in the times.
Matsushita:It must be an illusion to graduate from a good school and get a job at a good company. We are in a situation where we have no choice but to do it ourselves. I can't do what I don't want to do, so I have no choice but to use my head to survive.
I have run record labels and publishers for 5 or 6 years, and these finally been recognized.
There is a unique charm of paper books that we cannot get with e-books
——Nowadays, music is shifting to subscription, but there are still many people who buy paper books.
Matsushita:I rarely read e-books either. The mass of information is overwhelmingly larger in paper books, so it's exciting when you simply pick it up.I think that the characters printed on paper are different from the characters in e-books such as smartphones, computers, and tablets in the place where they are input to the head.Even if e-books evolve, paper books will not disappear, and I will continue to make them.
In the book industry, distribution is difficult unless through the certain agency. Even if I tried it until now, indie publishing was paid in advance, but I'm glad that the frontage has expanded thanks to the distribution agency Transview from this April.They published a catalog of indie publishers using Transview and I realized the existence of massive amounts of self-funded publishers.I was very happy to found similar people finally!
——Finally, please let us know if you have any plans for future publication and release.
Matsushita:As Funsho-sya, we are planning to publish an art book of great artist Hiraparr Wilson.He is friend of mine.And as MAD LOVE Records will release an EP of a producer in Yokohama called Latin Quarter on cassette tape. Both of them are wonderful artists, so please check them out.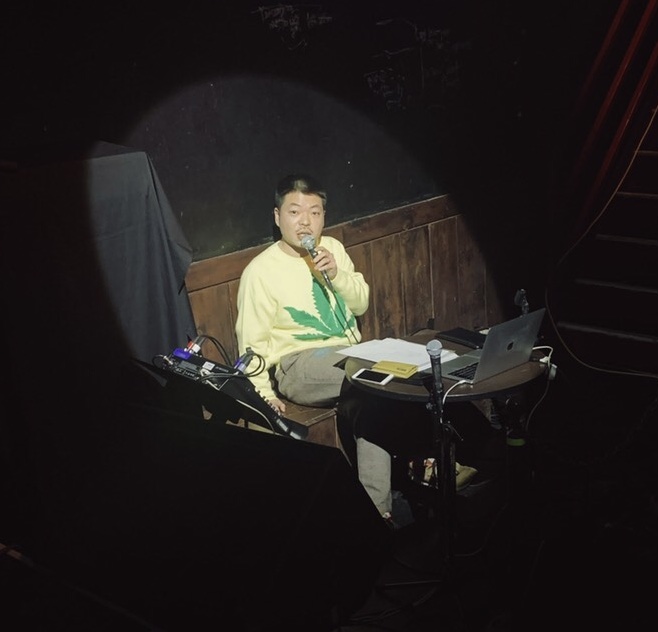 Latest articles on TOKION LIFESTYLE