He always has a skateboard and drawing kit nearby, a camera hanging from his neck, and contacts on his iPhone. He rides, draws, and takes photos. Then, he stares at his contacts and sends skate editors an article he's just finished writing. This fast-paced routine with no breaks is his style and energy. And yet, the themes and topics he covers are all rich, reminiscent of the maxim, Rome wasn't built in a day.
Artist Mike Kershnar takes film photography, draws with a pen in his hand, and tirelessly types words. Seven days a week aren't enough time for his desire to create. With his energy that doesn't fit within 24 hours a day, I feel like he'll end up inventing an eighth day of the week for himself. His forte is jumping on his skateboard and being able to manifest his energy anywhere, as long as he has the tools he can carry around.
Given his style, there's no doubt he's an unprecedented artist in the skate scene. He creates and leaves behind unique works, and I'd like to show you a glimpse of that.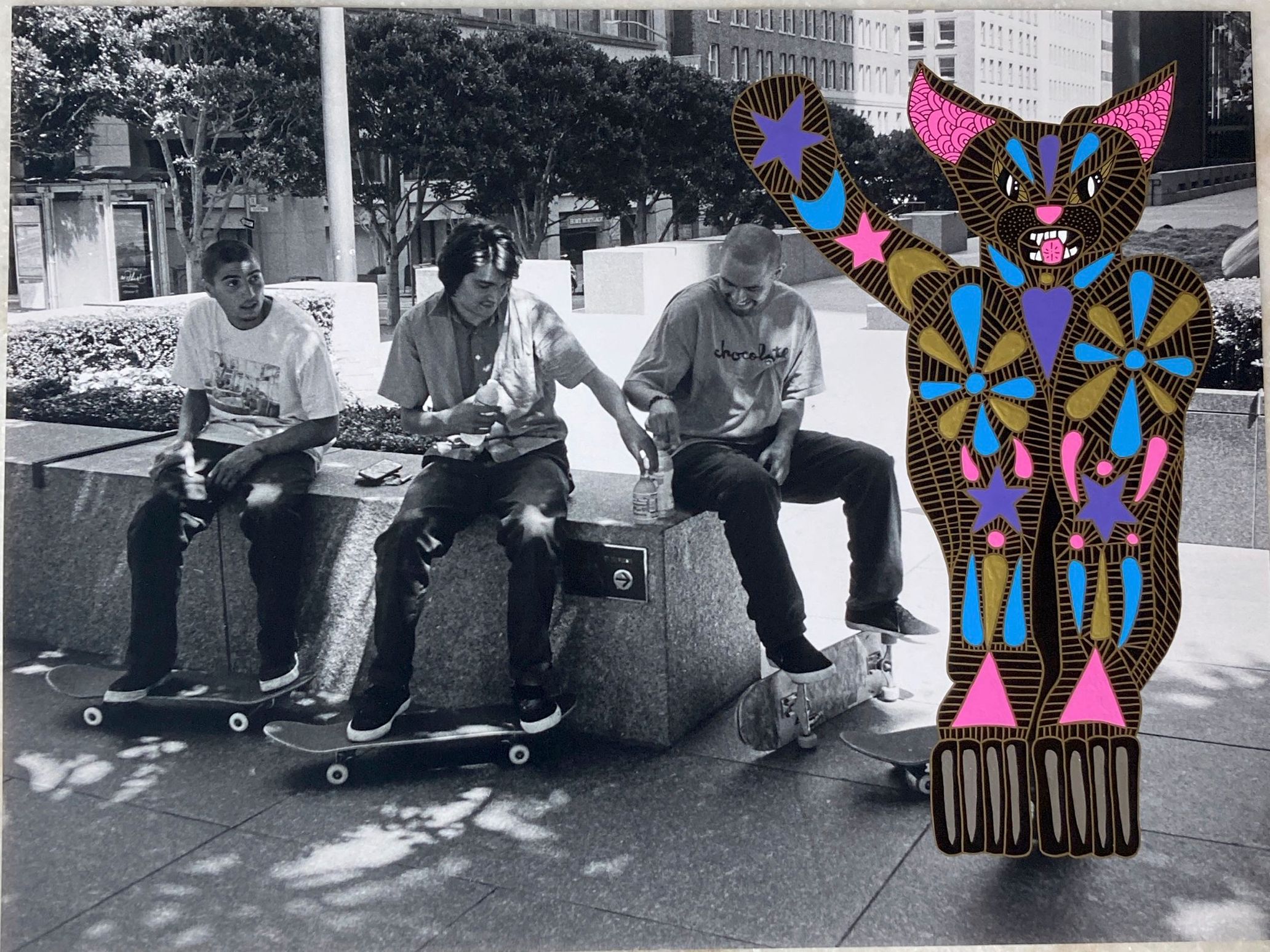 Meeting Mike
First and foremost, Mike Kershnar has always been and always will be a skater, regardless of what happens. Even if it becomes illegal to cut down Canadian maple trees worldwide, I'm sure he would keep pushing on a reworked, plywood skate deck. And I'm sure he'll continue being a part of Skate Wild (an organization that supports the youth through skating, nature, and art) alongside his best friend Todd Larson in Irvine, California.
As an editor and publisher of a skateboard magazine, I've interacted with many unique people in the industry. Among them, my impression of Mike is firm. I have a memorable and good image of him.
I was first introduced to him when he sent me an email out of the blue. Since I've been working in skateboard media for over two decades, I get contacted like that often. It's not rare. Besides, I could tell if I could create a fun feature as Sb (Sb Skateboard Journal, my skateboard magazine), instead of myself, by looking at the person's photography, artwork, and email.
I replied immediately, "I want to make something with you." His article quickly graced the pages of the new issue of Sb. What's interesting is how Mike continues to send me articles despite Sb being a biannual magazine. Whether or not we use them is up to my sensibilities. But he's clearly aware of this, so he keeps trying new things, taking photos, drawing, and emailing me. I'm very inspired by this limitless energy of his. Because of him, I find myself writing more and more for both business and pleasure.
No matter how old I become or how much work I accumulate, talents and presences that could stimulate and make me grow are valuable. My relationship with Mike is an asset, not only for Sb and the readers who enjoy itbut for myself too.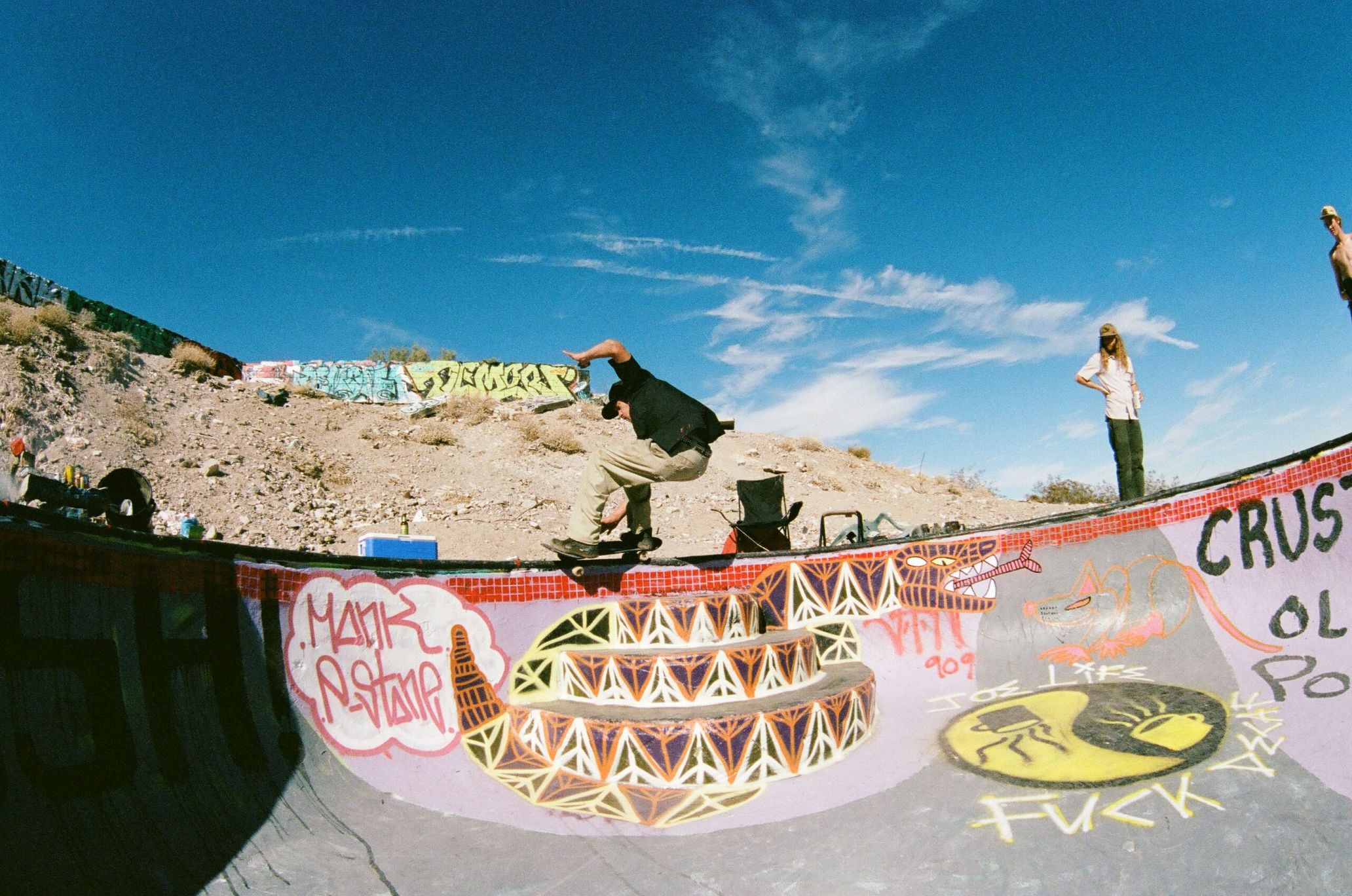 How Mike's career started
Mike Kershnar grew up in Orange County, California. As a true Californian, he's enjoyed drawing and painting since his teenage years. He stood out by painting live at skate events.
He had two turning points. First, he painted next to Ed Templeton at a contest. Thanks to this, he earned the opportunity to draw graphics for Toy Machine, a notable deck brand run by Ed. This led to Mike building a career as an artist.
Second, he had one as a photographer. Until then, most of the photographers in the scene were big names like Brian Gaberman. Amid this, Joe Brook (who I wrote about in this series) took Mike to a photoshoot in his beloved car, Big Blue, and gave him the chance to take photos.
He says he still remembers Joe's words clearly: "This is Mike, an artist friend of mine. If it's okay with you, I want him to take photos of you professional skaters."
That's how Mike was introduced. Through this, he met many skate teams and took photos of them. I've previously written that Joe's a good guy. He gives everyone an equal chance without being prideful and is really the master of connecting people to one another.
Mike made a career as a visual artist and skater with Ed Templeton as a role model and a film photographer with Joe Brook as a role model.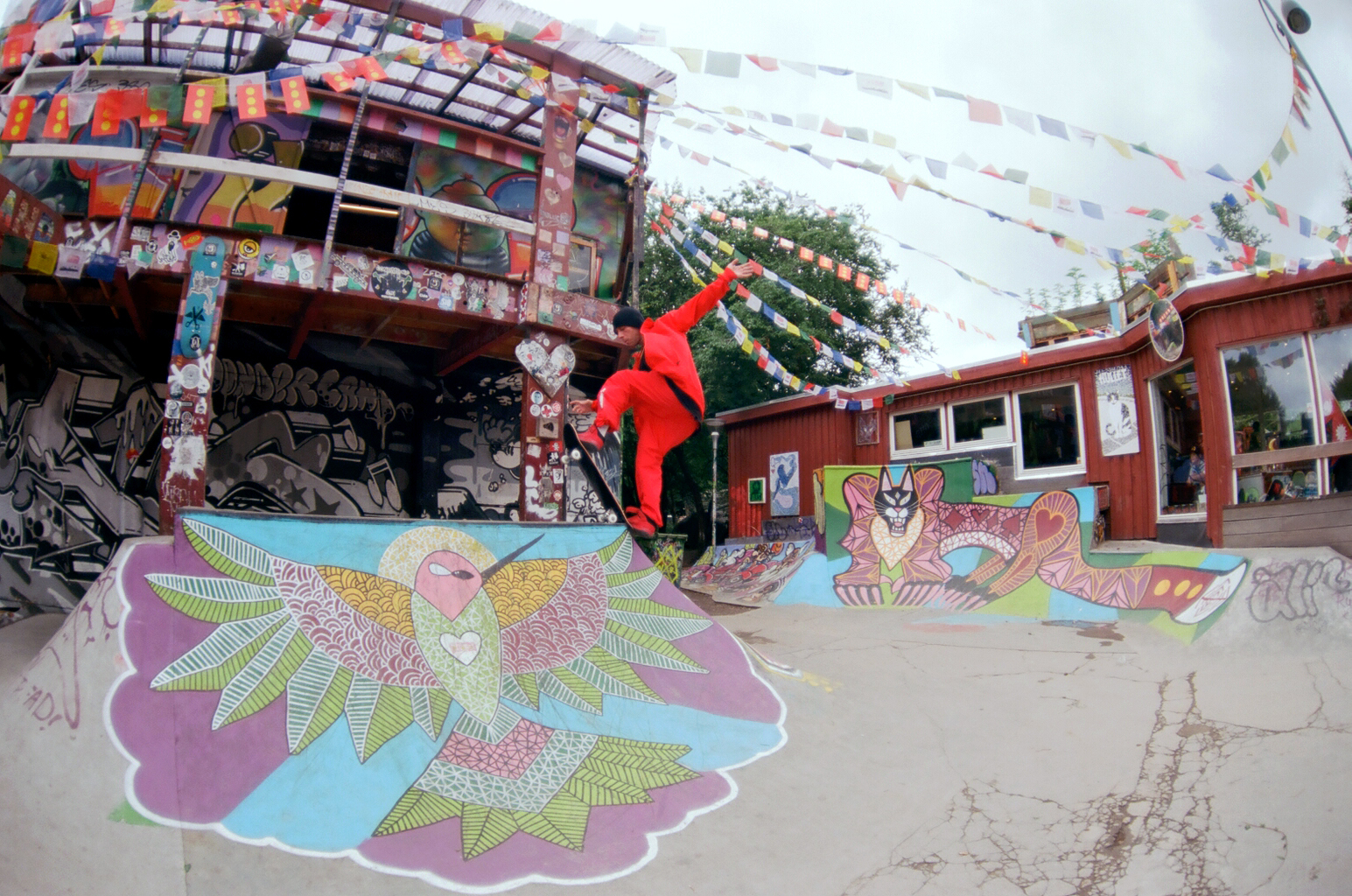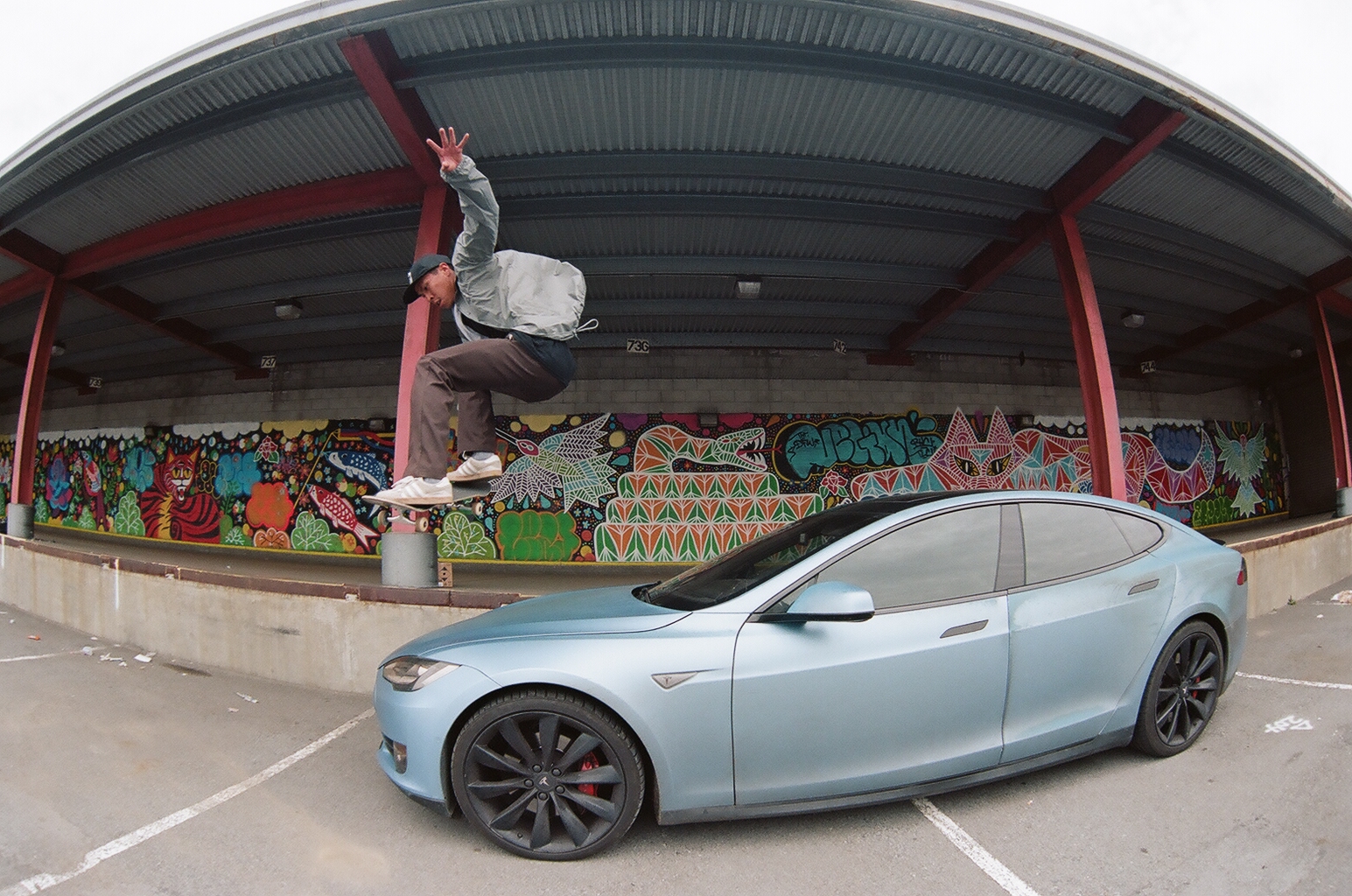 A never-changing essence
Mike Kershnar's footprints. He has a colossal amount of the things he's created and drawn thus far. People like artists and film directors either create many works or not; Mike is definitely the former. Perhaps the common denominator of his massive body of work is how he's been involved in skating for a long time but doesn't draw about it. The theme of his work is not for people to learn about skating but about wild animals—the creatures that coexist with humans on this earth—in Northern America.
Since he was a child, he liked to frequently learn about mythologies related to elephants, lions, pandas, and more. He was the most interested in animals that lived close to him: the coyote, mountain lion, raccoon, bobcat, frog, rattlesnake, owl, grey heron, osprey, and critically endangered bear, which is on the Californian flag. Mike says these animals made him use his imagination. This explains why the viewer could feel like they're living as a part of nature when they see his work.
His artistic touch is reminiscent somewhat of Native American prints. It could be said that what makes Mike, who keeps pushing on his skateboard, true to himself is how he chose skate decks and skate spots as his canvas.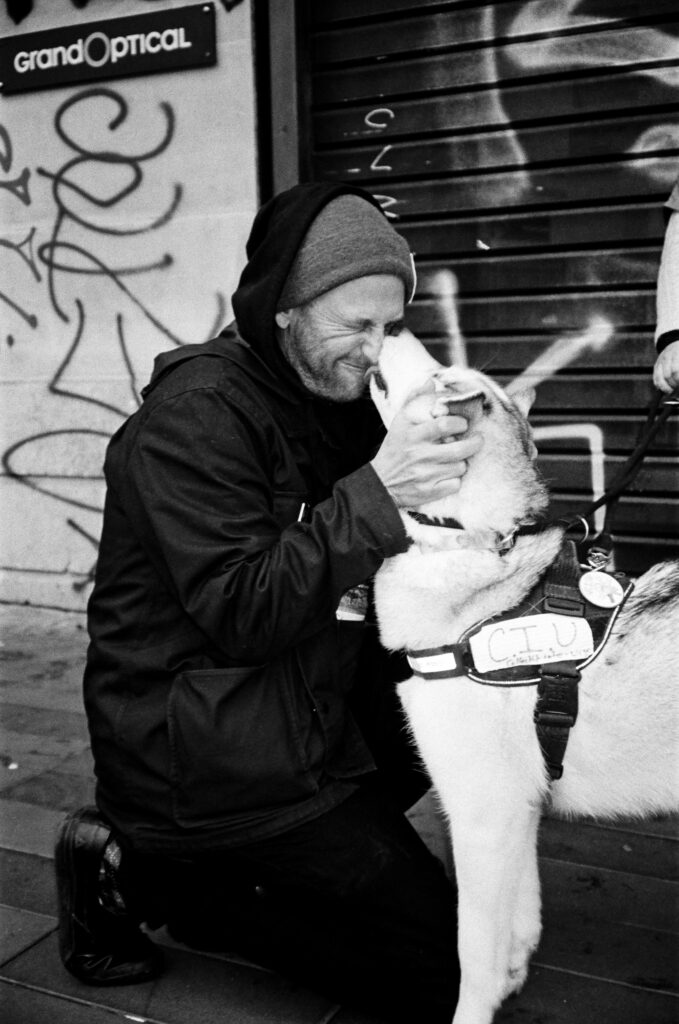 Mike's vision for his future
I imagine Mike would expand his travels as an artist once again when the pandemic settles down. He's conscious of how his skating skills peaked when he was in his 20s. If one were to compete for jumping over the highest number of steps (pulling off a hammer), it'd be best to do it at a younger age. However, one could foster their creative career the older they get. For instance, one could become more confident about how they draw or how they use colors.
With that in mind, Mike would like to look even more deeply into wild animals in Northern America while learning about diverse cultures and mythologies from across the globe. He wants to go on trips to explore wild animals and the mythologies revolving around them in different countries. If it's possible for him to come to Japan, Mike says he wants to draw a life-size drawing of Japanese raccoon dogs and take film photos of local skaters.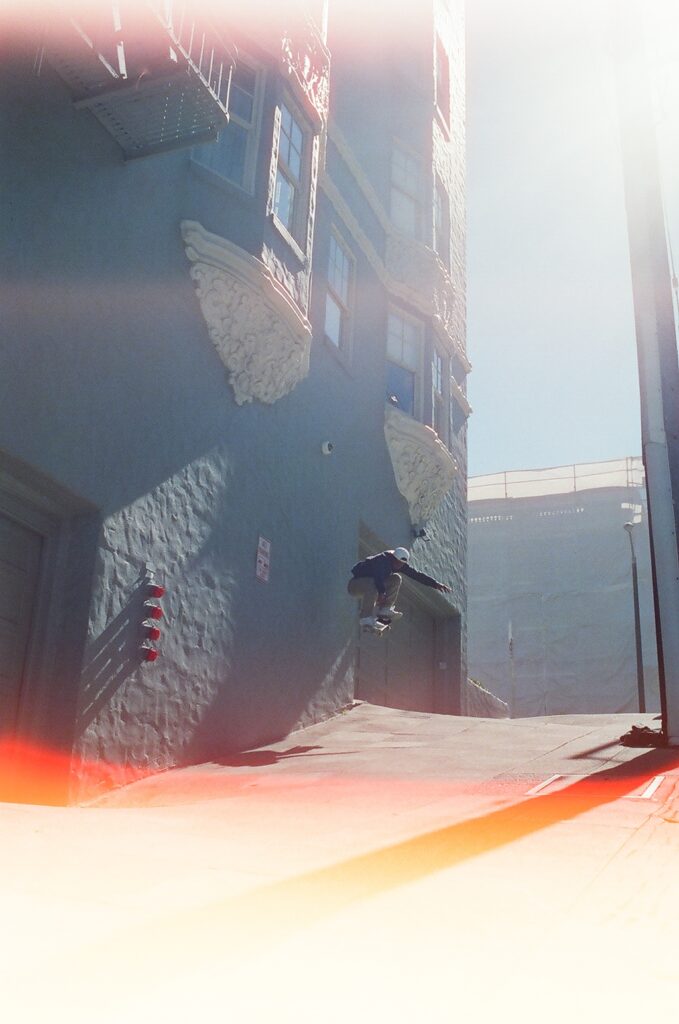 Although his name is Mike Kershnar, I usually call him Husky Round Up. Why? It's his Instagram handle. There's a reason behind this name. He grew up with a Siberian husky named Kiyomi and fell in love with huskies. One day, when he was petting one and talking to its owner on the streets of San Francisco, he learned that huskies in San Francisco got together at Duboce Park every third Saturday. Mike responded, "Wow, a husky round-up!" as though he were a cowboy calling out for his cows. He liked how it sounded. He pictured huskies running around freely in a grassy field and knew it matched his vibe. This is when he started using @huskyroundup as his Instagram handle. As an artist, Mike is unstoppable. There's no end to his creative energy.
Just yesterday, Sb and I received a new article from him.