Artist Yuko Nishikawa's work creates colorful and fantastical imagery. What can be glimpsed behind her works are her broad experiences in architecture, interior design, and crafts. After graduating from the Fashion Institute of Technology (FIT) in New York in 2002 and working as an interior designer, she began her career as a designer and artist in 2018. Since the beginning of her career, she had worked with paintings, wooden cabinets, and glass works before she picked up ceramics and clay. She collaborated with Calvin Klein Home to unveil her first clay collection and now focuses primarily on lighting and installation works. US-based art writer James asks her why she decided to reside in New York and explores what is behind her diverse body of work.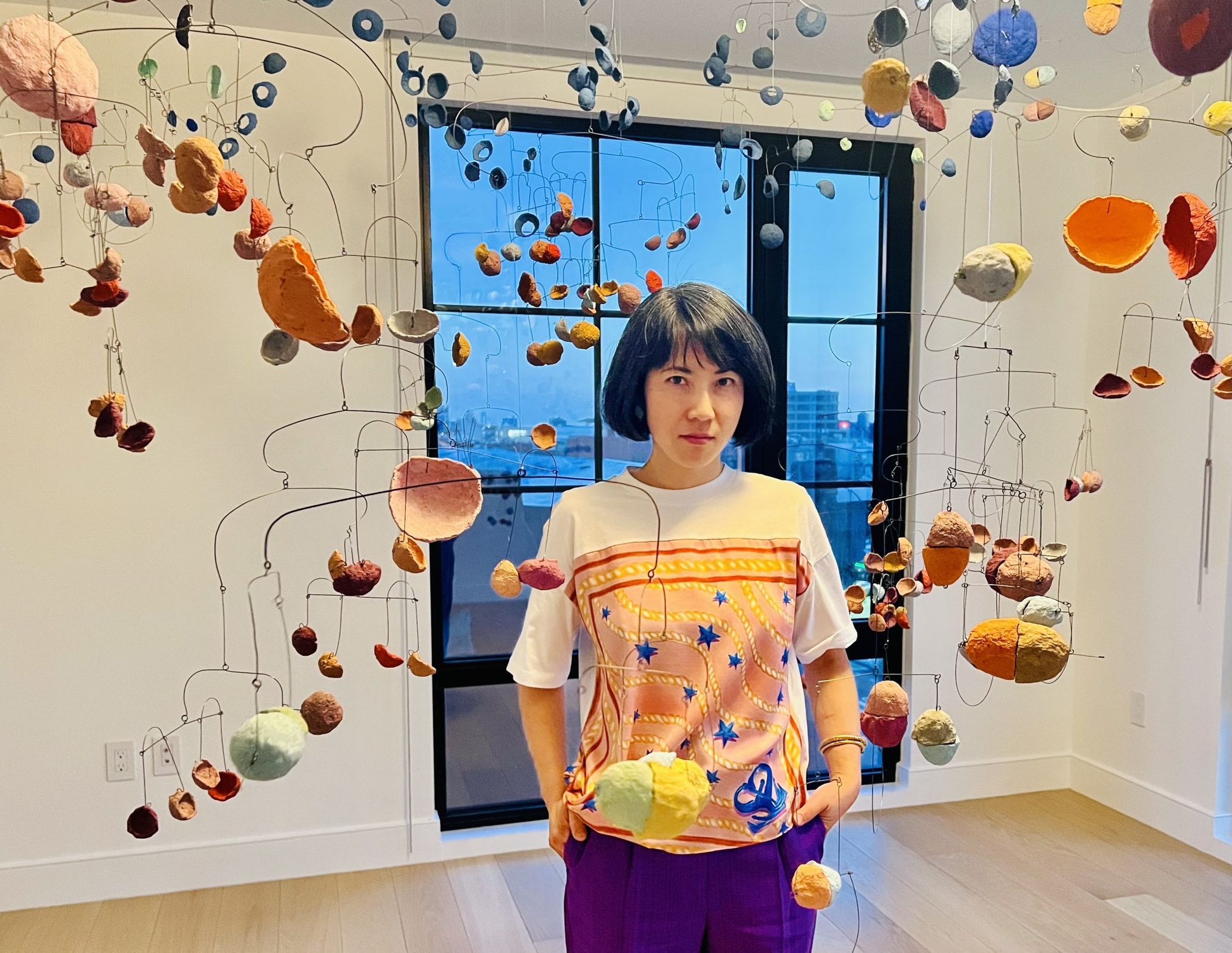 Experience in Philadelphia: the catalyst for her current style.
—So, tell me about your upbringing.
Yuko Nishikawa (Nishikawa): I was born in Sendai, Miyagi, where my mother is from, and raised in Chigasaki, where our playground was the beach with Mt Fuji in the background. I also lived in Hakodate, a port city in northern Japan, for a few years. My parents raised me to be independent – someone who has her own opinions and who takes responsibility for her own actions. Someone who can play and have fun on her own. They wanted me to figure it out on my own, instead of asking questions or for help. As a kid I played the piano and the violin and drew and painted at an artist's atelier. It was an environment where if I wanted something, like clothes or bags, my first instinct would be to make them instead of buying them.
These days I have come to realize how much I resemble my parents. My father doesn't seem to have resistance trying new things. He is the kind of person who can ski for the first time in his 40's just by reading a how-to-ski book, and a habit of buying things in pairs or multiples, not just one. My instinct is to make a group of artworks to the point that it becomes painful to continue with the same forms, ideas or the techniques, so I have to move onward to the next iterations. This is the way my work develops. My mother, on the other hand, is a great cook who cannot just simply follow a recipe. She would gather recipe samples and take parts from here, dissect them, mix them up, add her own ingredients, making her own recipes that cannot be reproduced. I work in a similar way. I sometimes start from sketches and drawings to plan components and materials, knowing that these sketches are only starting points for me to later modify, scrap, turn it upside-down or sideways, or combine, in the process of making.
–Do you still play music?
Nishikawa: Yes, I have an antique piano that I found at the loading dock at my studio building. I play ukulele and guitar for fun too. I think about musicians and the way they move people physically and emotionally and create something that can be shared with millions. Music can take you back in time. I am searching for a way for my work to do these things that music can do, where people can participate in it and make it their own.
–When did you arrive in the United States? Tell me about that.
Nishikawa: I arrived in Philadelphia the month I graduated from high-school in Japan, in 1995. My parents objected to New York because they thought that it was too dangerous. So I chose Philadelphia, the closest city. I was there for three months, studying the English language. I treasure that time, the friends I made are lifetime friends. After Philly I went back to Japan, and the following summer I moved to New York where I've lived since.
—Any professional experiences that you'd like to share?
Nishikawa: I designed furniture and lighting fixtures at Donghia for about a decade, starting in 2007. At that time, I worked directly with world-class craft people and artisans like master Murano glass blowers, mirror makers, upholsterers, wood workers, gilders and metal artisans. I learned a lot about their varied processes from working with them.
—When did you start making these elaborate mobiles? What informs that work?
Nishikawa: I started making suspended ceramic sculptures when I was preparing for a show in the beginning of 2020, a group show with dancers. I did not set out to make mobiles, but wanted to make suspending moving sculptures with fewer hanging points, supporting lots of colorful elements with horizontal spans to make an expanding floating visual effect, rather than with vertical compositions which would emphasize on the vertical drops, like falling. This, at the end, started to take the form of mobiles.
As we entered into the pandemic I wanted to talk more about movements, physical dimensions, and textures – elements that we become so deprived of, in addition to that our interactions with the world around us already have become more still, flat and indirect, with the digitals taking over our in-person experience. The pandemic came to us at the beginning of the spring, as I craved greens and flowers that would give me a sense of rejuvenation, because when the lock-down happened, things seemed to stop. I craved pinks and greens, the colors that make me think about plants, fruits and beans that have a sense of growth, life and the time passing.
I was not going to my ceramic studio anymore at that time. I started painting in my apartment, completing one painting a day for 100 days. Many of these paintings have these colorful pinks and greens. The mobiles were three-dimensional interpretations of these paintings. To suspend more elements, I started looking for other materials that are lighter in weight that only require light structures, unbreakable, and that do not require firing – unlike ceramics. After experiments I came up with recycling paper to make paper pulp which I turn into an air-dry clay, which is light-weight and highly textural, and has rich yet friendly colors.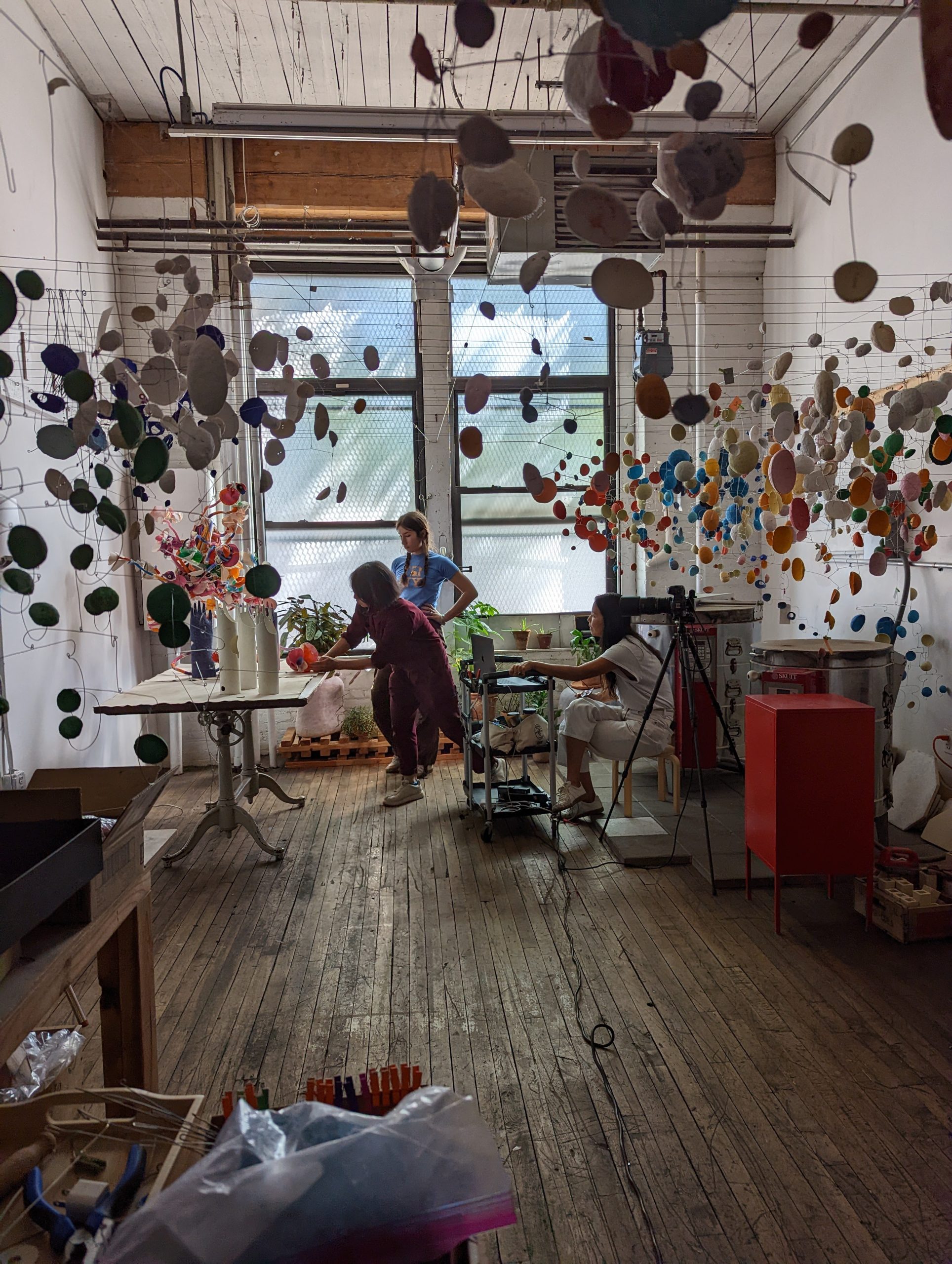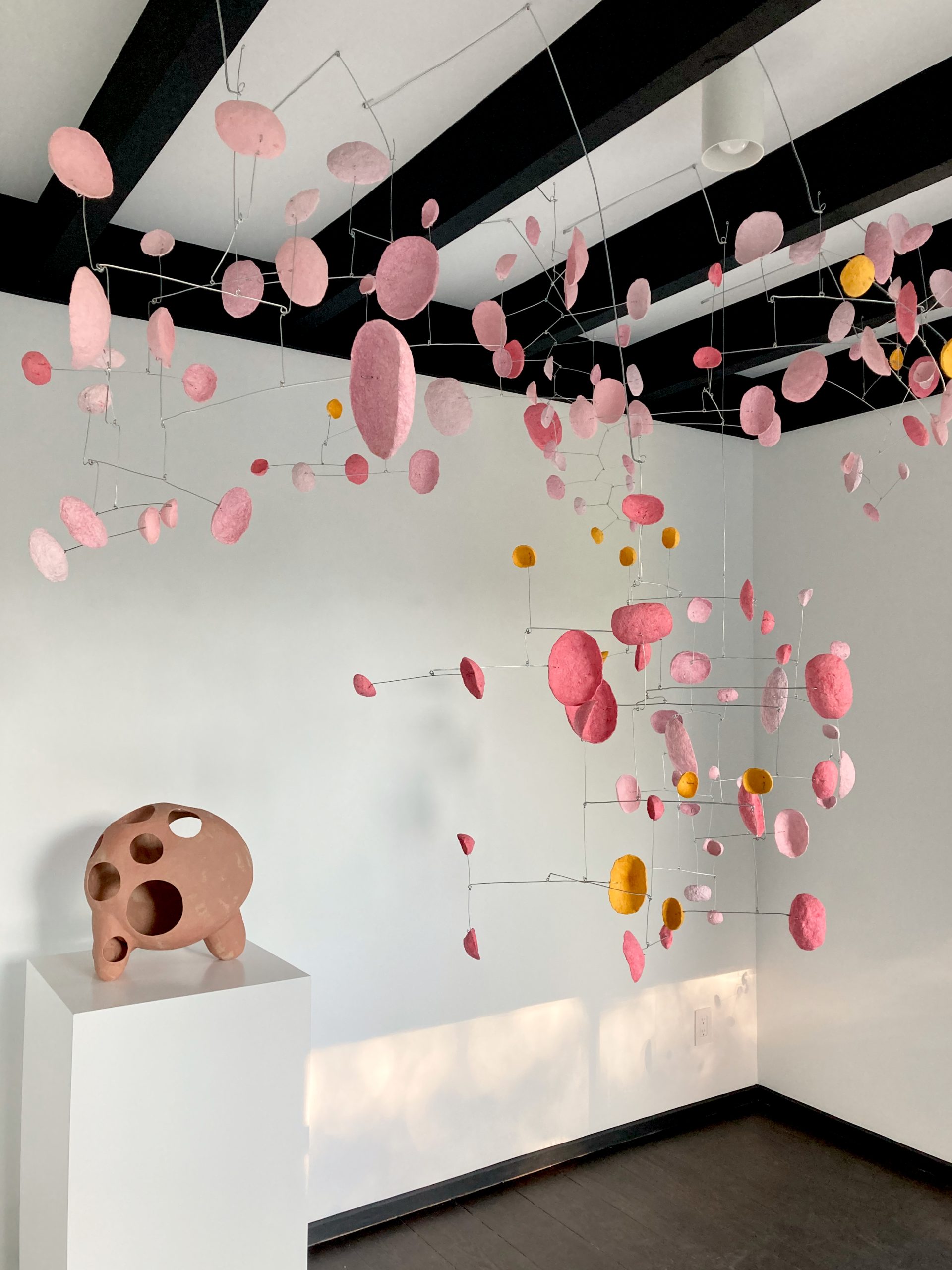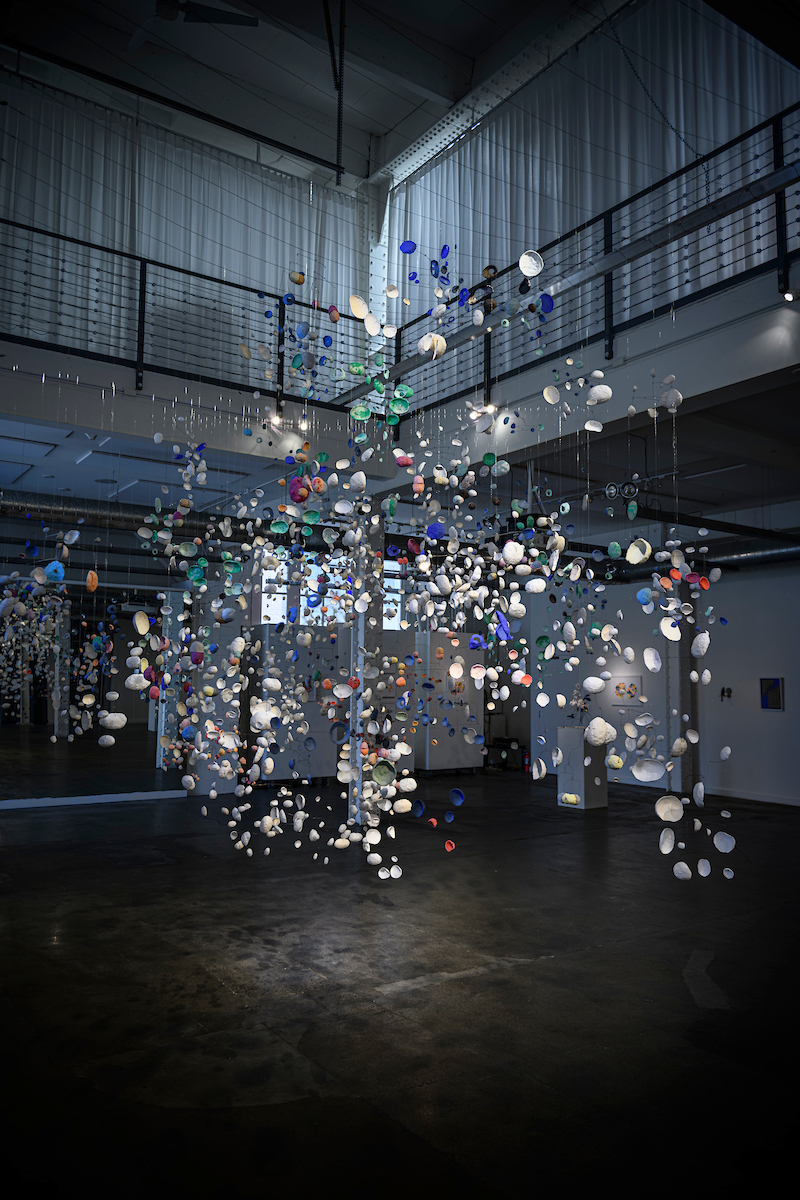 Where the reason and definition of her creation exists
–What thoughts do you have on upcoming exhibitions?
Nishikawa: I have an exhibition planned in January at Curator's Cube, my first in Tokyo. I think the show will be a combination of some work I make in New York and others I make in Japan. I have been in New York for more than 26 years and part of me has become culturally New York, so I want to spend time in Japan and see what will come out of it. The gallery has a long space, so I want to use that long space as an element. I only have abstract ideas right now, but I want to make the exhibition with an expression of kindness and happiness connecting the two distant elements – New York and Japan, home here and home there, time now and time then, in an abstract sense.
I'm coming back to the idea of a string telephone, like a tin can telephone – where vibration carries voices to each other. I don't know what the artwork would look like yet. It may end up with something totally different and I'll remain open until I go to Japan.
–What kind of artistic practices do you want to do in the future?
Nishikawa: I need to make something to look forward to tomorrow. Excitement, fun, funny thoughts, surprises, a sense of exploration and play – I want to build these things I want for my life. Because I think the world is actually full of fun things, and I need to build them to get them.
I am also interested in the mysterious part of us, nature and animal parts of humans, and I think as a result, I make artwork. I want my work to continue to evolve through a sense of play and seriousness and speak to people's senses and emotions.
We experience beyond what we can reason with words with our emotions and senses like visual and physical interactions, touching and feeling the temperature, textures, and forms. I like touching objects, I think I have the similar instinct to that of children putting objects in their mouths to understand objects. I have a similar sort of curiosity towards the physical world. Often I describe my work in taste-related words, like, it is too sweet and needs a bit more tartness, it's too warm and needs to cool down, or I want to add a bit of spice. At the same time I don't think we need reasons for everything we do. To me, reasons and definitions come only afterwards for us to make sense of ourselves, not beforehand.
–Upcoming shows?
Nishikawa: I'm making two mobile installations for a new hotel in Brooklyn called Penny. Another mobile installation opens this fall at Yellow Studio in Katonah, NY. This gallery & artist space opened this year to celebrate creative women.
I am participating in PAIR, a residency program by the Cultural Affairs Bureau of Kaohsiung City Government, Taiwan, in conjunction with the Taiwan Design Expo this fall. And then I am greatly looking forward to a residency in Japan right after, in preparation for my solo show with Curator's Cube in Tokyo, which will open in January 2023.