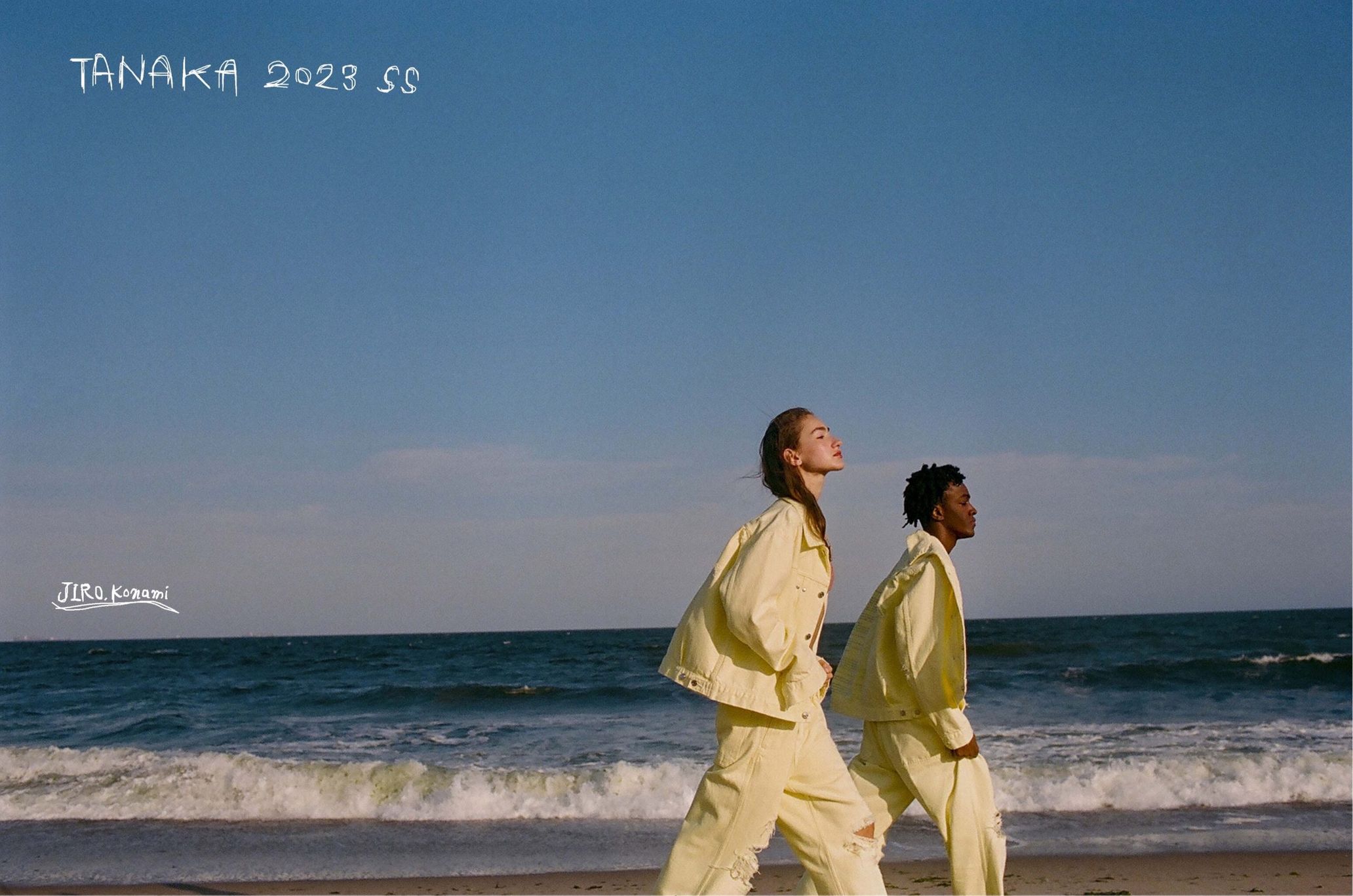 I can't peel my eyes off the contrast of the beautiful colors. There are two young people in yellow denim looks showing their side profiles, looking ahead with refreshed expressions. Behind them are the vast blue sea and sky; the white waves crash onto the beach under the white clouds.
The photos for TANAKA's Spring/Summer 2023 collection were taken in America. It's as though they reveal the sensitive interior world that young people have, showing us that sensitivity makes humans beautiful. The emotionally stunning visuals signify that TANAKA, a brand renowned for its craftsmanship for denim, has evolved to the next phase: human expression.
Since being founded in 2017, TANAKA has steadily gained popularity and recognition and won the Tokyo Fashion Award 2023 in September of 2022. This is the first interview TANAKA has given since the award and the first extended interview Sayori Tanaka and Akira Kuboshita have given together.
This interview is in two parts, so none of their words will be left out. The first part is about the craftsmanship behind the brand, using the Spring/Summer collection as the primary reference while looking at the latest sample pieces.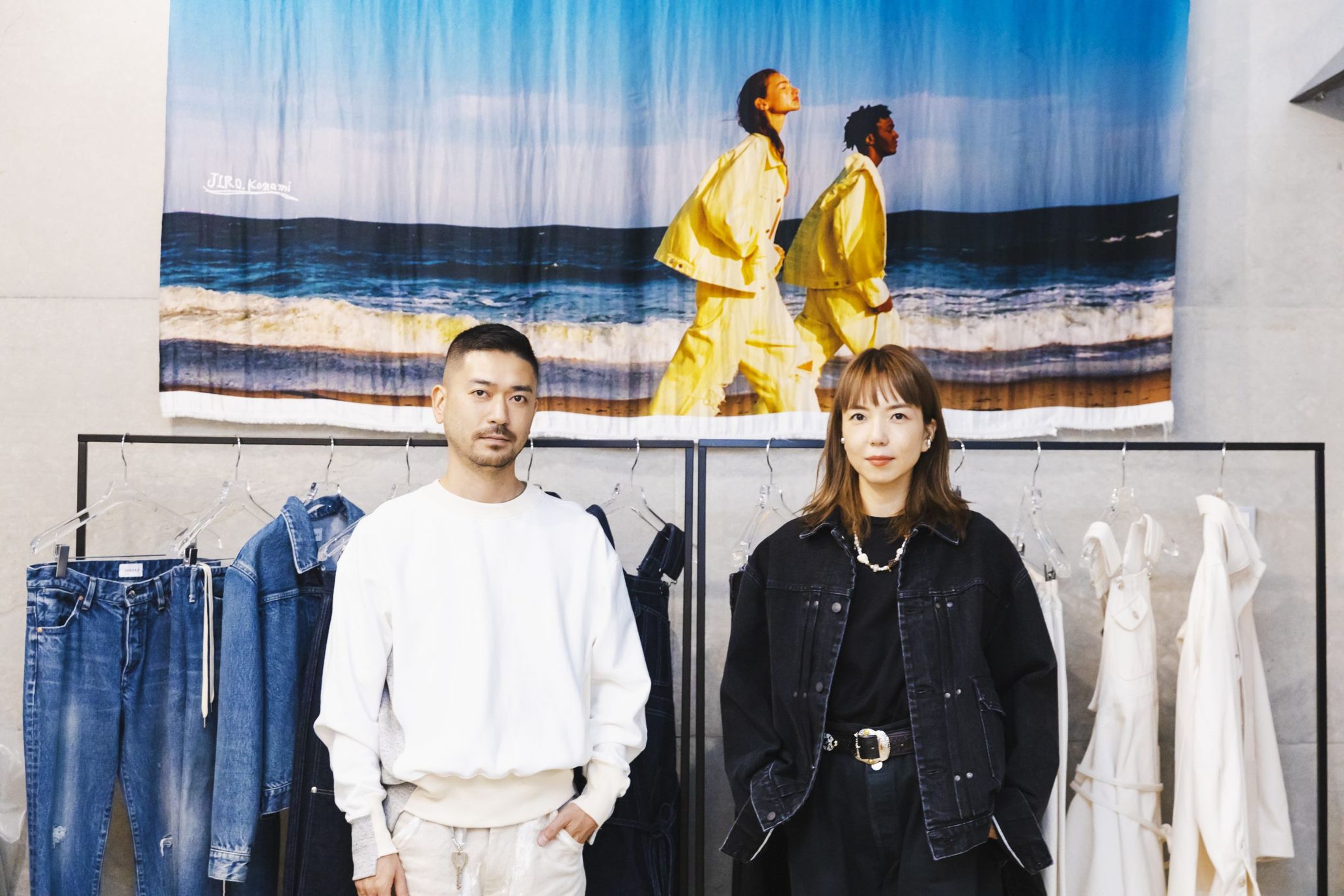 Right→Left
Sayori Tanaka
Sayori Tanaka started her own brand, TANAKA, in New York in 2017. Since founding TANAKA NY TYO LLC, TANAKA has been designing globally, spanning New York, Europe, and Asia. She was born and raised surrounded by nature in Niigata with her father, an oil painter and kimono textile designer, and grandfather, a landscape gardener who made Japanese gardens. After graduating from Mode Gakuen, she joined Yohji Yamamoto and cut her teeth planning and designing cut-and-sew knitwear. Tanaka then joined Fast Retailing and was the womenswear director of the global design team at the Tokyo, Shanghai, and New York Uniqlo offices.

Akira Kuboshita
Akira Kuboshita became the official creative partner of TANAKA in Tokyo in 2020. He's been involved in projects in and out of the country, with Human Made as his focus. Kuboshita's forte is in creative direction and spatial design. After graduating from the department of styling at Bunka Fashion College, he joined Fast Retailing. Kuboshita was the menswear director of the global design team at the Tokyo, Shanghai, and New York Uniqlo offices, working with activewear and knitwear.
https://ja.tanakanytyo.com
Instagram:@tanakanytyo
Looking at the world through a "BUTTERFLY"
——What does your collection-making process look like?
Sayori Tanaka(Tanaka): We start by discussing things with each other, such as the construction and design of the clothes. We think of the concept as we work on designing the collection; Kuboshita-san and I try to put together and convey our sensibilities through words. I do most of the designing, but I often get his opinion on technical things or details and give him my thoughts like, "Wouldn't this look more gender-neutral if we changed it like so?" We move things along while having such conversations.
——Do your respective opinions ever clash?
Tanaka: They do at times. But Kuboshita-san rarely says anything when it comes to denim.
Akira Kuboshita(Kuboshita): I don't have any complaints. That's how perfect the denim products are.
——I associate your brand with denim. For Fall/Winter 2022, you developed an original denim fabric using recycled cotton with Kaihara (a denim manufacturer in Okayama prefecture known for producing high-quality denim). Do you make original denim fabric every season?
Tanaka: At TANAKA, we always aim to use the same denim fabric. We need to order a fixed number of denim fabrics since they're custom-made, but even still, we continue using the same denim. Of course, we use lighter denim for spring and summer, but we usually stick to the same fabrics. Things of quality don't change that quickly.
Kuboshita: Exactly. There's no need to change. All we do is adjust the seasoning.
Tanaka: Perhaps in five or ten years, there will come a time where we'll be like, "We should change things a little." I hope to update things just a bit once that time comes, as we believe in continuing to use things.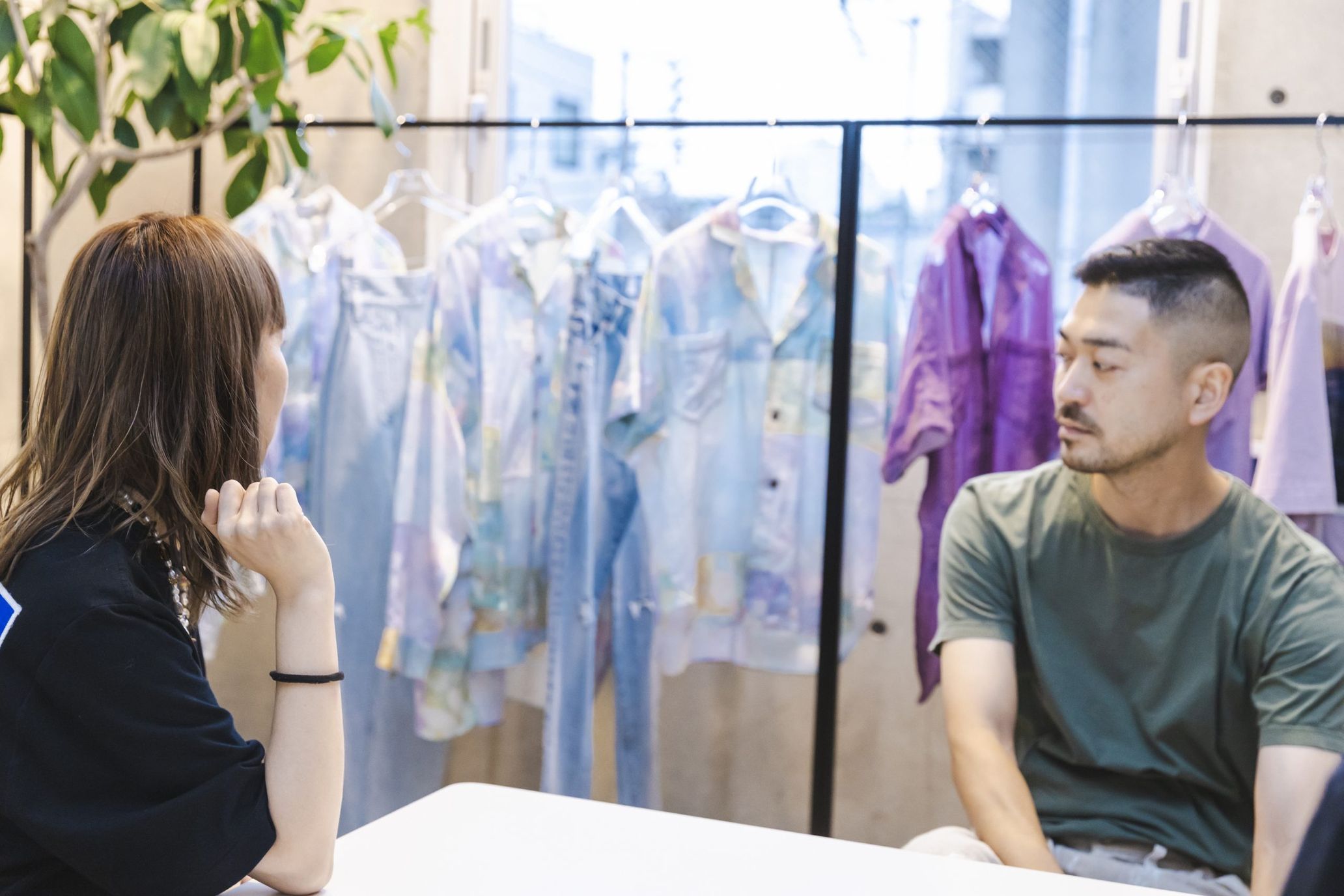 ——I'm sure there are different steps in creating a collection, such as deciding on a theme first. What's important to you in the collection-making process?
Tanaka: First, we need to consider which clothes we should continue producing: "Out of the ones we already have, which clothing would our customer want to wear next year?" At TANAKA, we want to promote something long-lasting that doesn't require constant modifications. That's our brand concept. Also, we believe fabrics are important, so we collect and research them beforehand.
Kuboshita: That's one part of the process, but we don't always start with a physical object. We get inspiration for themes from the state of the world in a given year and period. There have been many restrictions over the past two years because of covid. For instance, the theme for our Spring/Summer 2021 collection was: Take a deep breath, dance slowly.
——So, movements and social changes have a considerable influence on your collections.
Tanaka: Rather than decide on a big theme right from the start, we base it on conversations we have every day. Most of the time, we verbalize the theme as we make the clothes.
Kuboshita: The fact that [social] issues come up in our conversations means that we're influenced by our surroundings and the state of the world at that time.
Light nShadow, the Fall/Autumn 2022 TANAKA collection
——So many things have occurred one after the other since covid hit.
Tanaka: Including covid and the war, many tumultuous things have occurred over the past two or three years. I believe we shouldn't look away from them.
——Is the theme for your Spring/Summer 2023 collection, BUTTERFLY, related to the current state of the world?
Kuboshita: I really couldn't forgive the war. But as people who work in Japan and America, we couldn't do anything political. We could only pour positive images and feelings into craftsmanship and put them out. We got the theme for this collection from the term, the butterfly effect.
The theme includes our hope that even a small brand like ourselves could create a big wave and go out into the world as long as we stay driven. You have to raise your voice, even if it's small.
——Tanaka-san, do you share the sentiment?
Tanaka: Yes. The war played a huge part. Our Fall/Autumn 2022 collection, the one before BUTTERFLY was titled Light nShadow. Covid had changed our lives drastically then, but we didn't want to view it in just a negative way. With change comes the positive and negative and light and shadow. Things are tough, which is why they have meaning: that was the idea behind the theme.
——I can see you two trying to see the light at all times, even if things are hard.
Tanaka: What we can do is convey a message through clothes. I would get inspiration and courage from people fighting against and speaking up about issues related to not only war but the environment and gender. It's like the butterfly effect. This ties directly to the collection themes. If we want to create a better future and make a change, it's essential to raise our voices, no matter how small.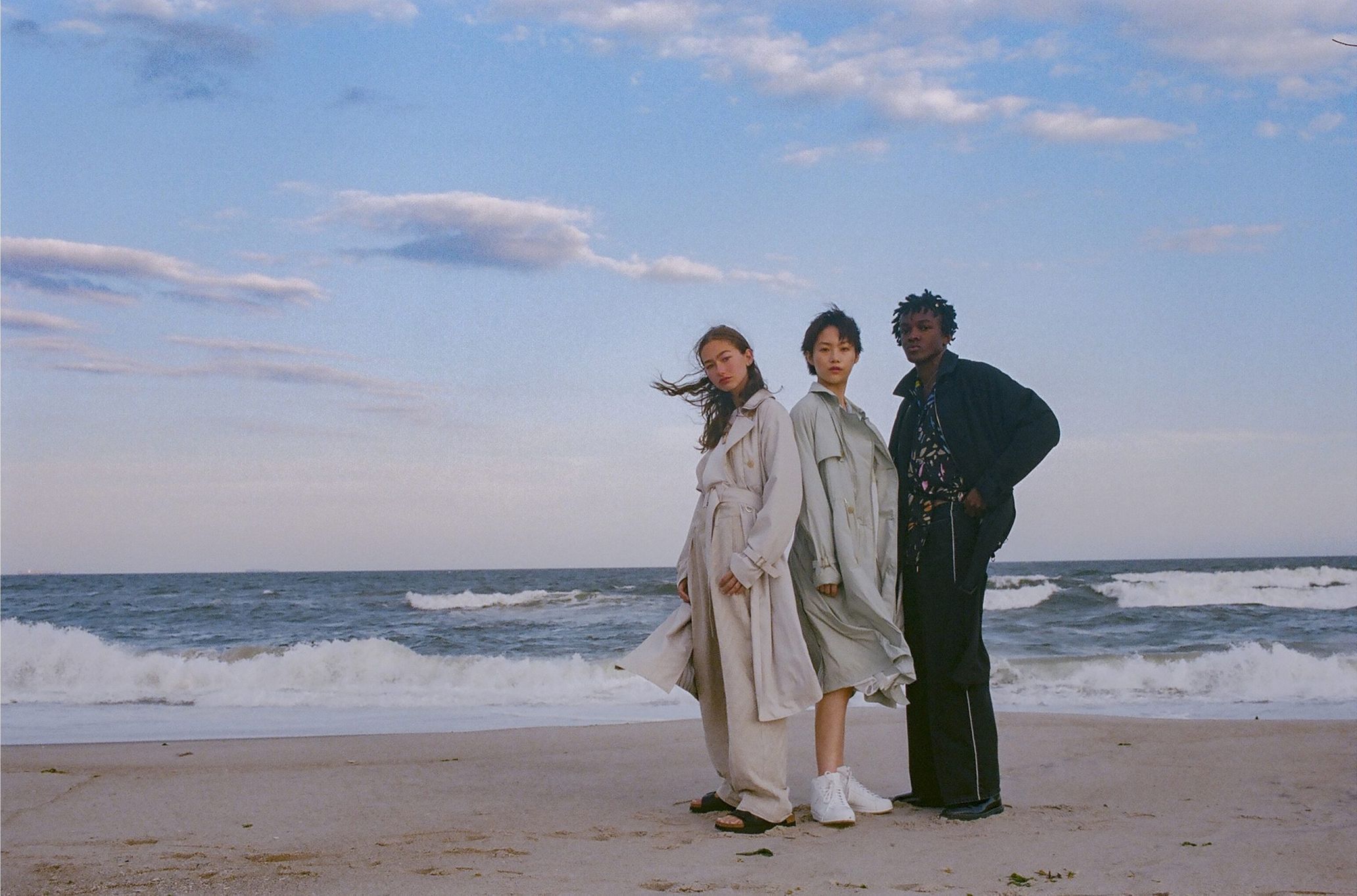 "BUTTERFLY", the Spring/Summer 2023 TANAKA collection
The excellence of Japanese craftsmanship
——Speaking of the environment, sustainability is becoming more urgent in the fashion industry. Do you feel any differences between sustainability efforts in Japan and abroad?
Tanaka: Foreign countries developed an awareness of sustainability much earlier, and corporations and brands implemented sustainability efforts very early on. I hope the term isn't seen as a trendy buzzword, though. Since founding the brand, I've felt like I absolutely can't make any waste. There was a period when I felt so conflicted about making clothes. I've implemented sustainability from the start and promoted long-lasting craftsmanship.
——How did people respond to your efforts?
Tanaka: Some people would pigeonhole my brand when I told them I was trying to be sustainable. On the contrary, some thought I was jumping on the bandwagon. I would get told things like, "You have a sustainable brand, right?" I don't mind being told that. It's true we've incorporated sustainability into the brand since the start by being aware of what we could do. However, I don't want it to end as another trend. Japan is tuned into trends, meaning things come and go very fast. I find that a bit sad about this country.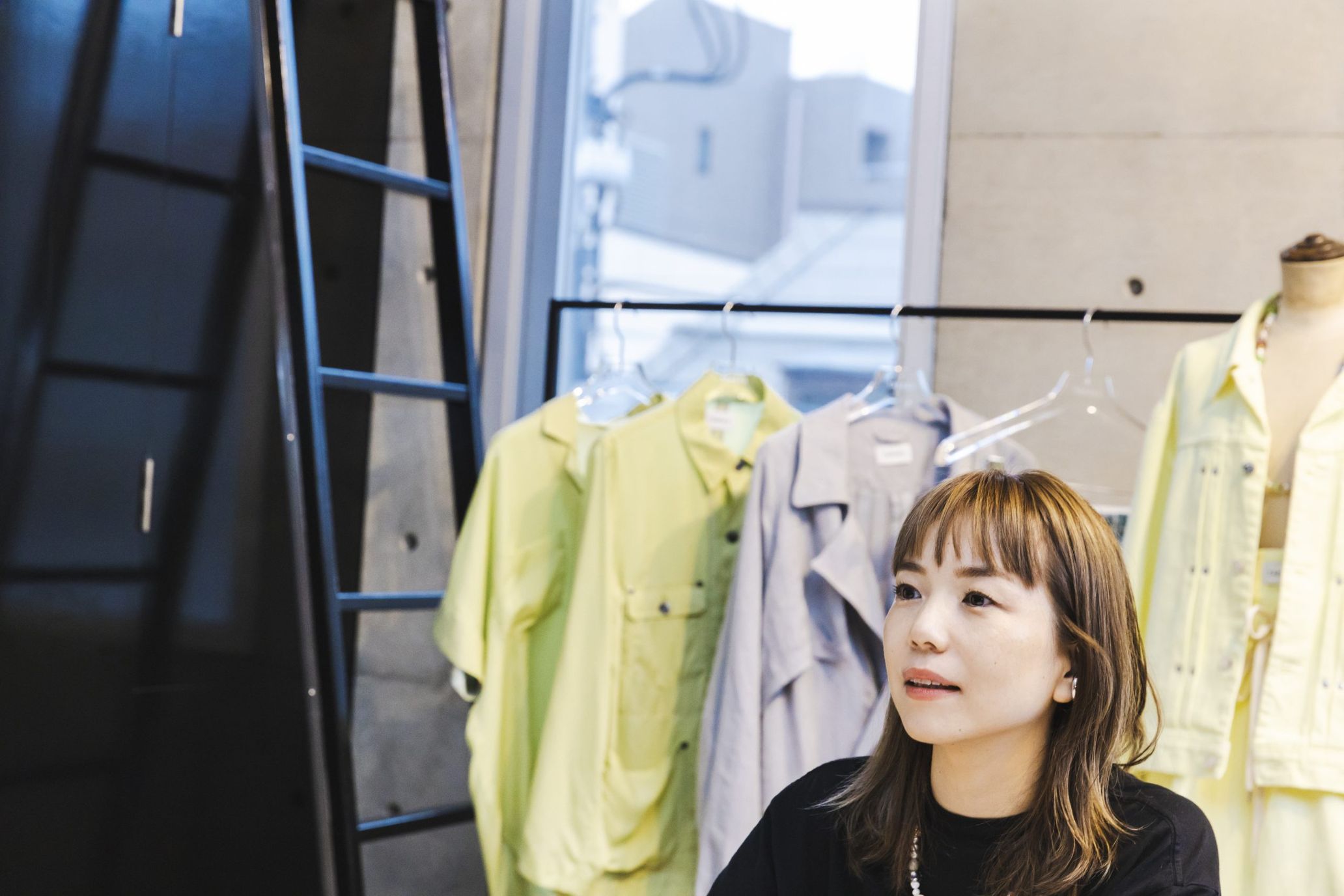 ——There was a point where "made in Japan" products felt trendy. Of course, fashion brands must do well because fashion is a business. But some brands make things in Japan while believing in the cause, so it feels wrong for "made in Japan" to be used as a buzzword for profit.
Kuboshita: It's a difficult issue.
Tanaka: I genuinely believe Japanese denim is an excellent domestic product. Fabrics and fabric treatments in Japan are especially good. But the quality of sewing is comparable to other countries. I'm Japanese, so I want to create jobs in Japan and contribute to the country, but with Chinese sewing, for instance, the finish of some factories is beautiful. In terms of quality, some things don't necessarily have to be Japan-made. It's a tricky one. People do fully trust the way Japanese products are handled, though.
——Do you have any criteria when you choose a manufacturing factory?
Kuboshita: We choose which factory to work with according to which fabric they're good at using. Many silk products sold in Japan are made in China, so a Chinese factory sews silk for us instead of importing the material to Japan. It's expensive to import and manipulate down feathers, so we ask factories in Europe or China, as they're closer to countries with good down feathers.
——What's the most appealing part of Japanese craftsmanship?
Kuboshita: Perhaps its history. We have denim, dyes, mud-dyeing, and indigo because we have a long history and culture of making things. We still have traditional dressmakers, weavers, and dyers, which is so appealing to me.
Tanaka: Another appeal is how craftsmen can discern minor differences. I feel this way when I see fabrics. The amazing thing about Japan-made products is how they see the subtle changes in the final stages and work on developing and controlling them.
Kuboshita: There are synthetic fiber manufacturers in the Hokuriku region who develop new things. People collect old knitting machines in Wakayama and still use old-fashioned loop knitting machines. Some factories specialize in that. It's impressive how the old and the new coexist in Japan.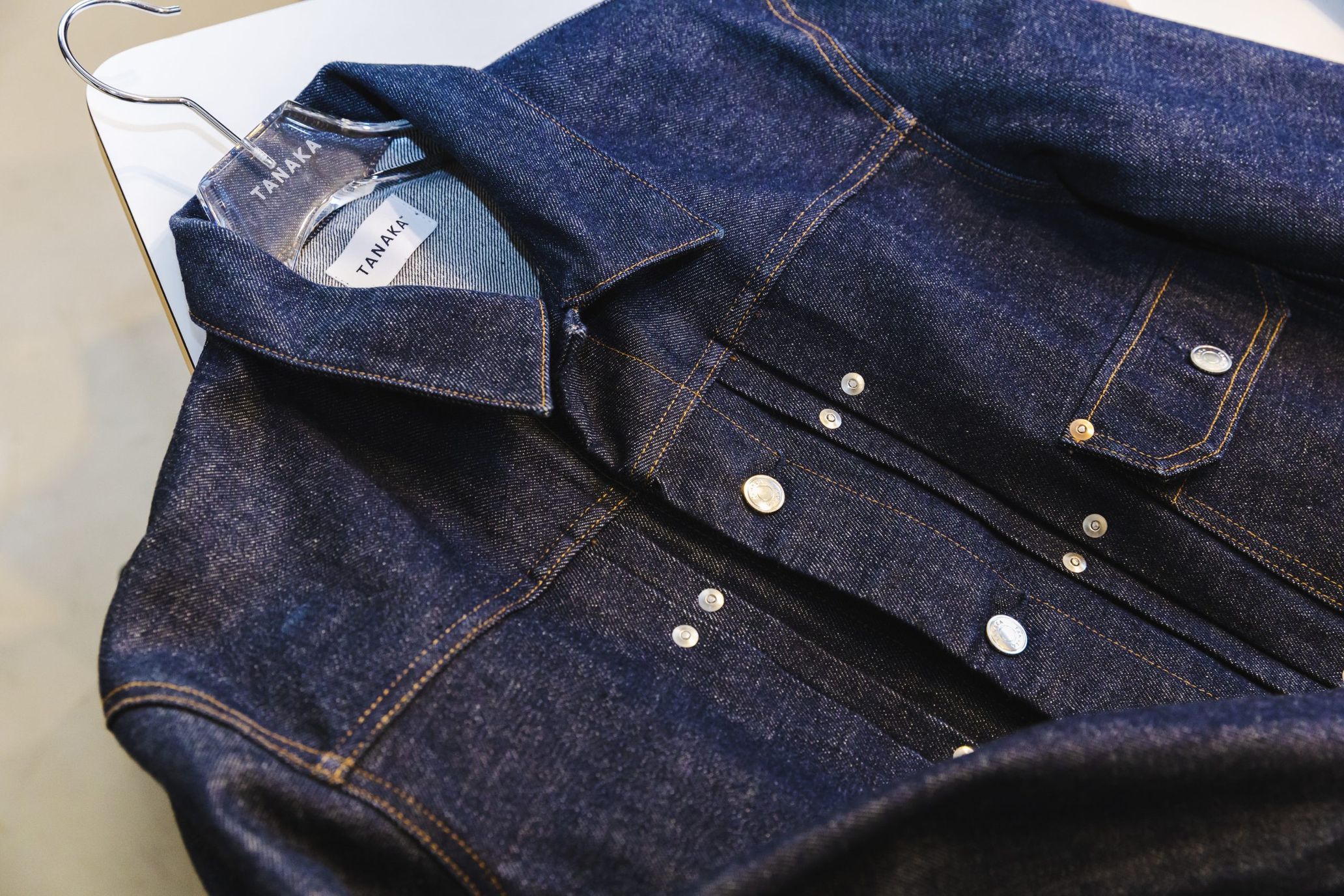 Thinking about the smallest details, designing how a customer could wear a garment
——One garment that caught my eye from your Spring/Summer 2023 collection is a pair of pants with a drawstring and the selvage shown on the outside. You blended elements of jeans and sweatpants; it's as though you mixed the best parts of casual clothing.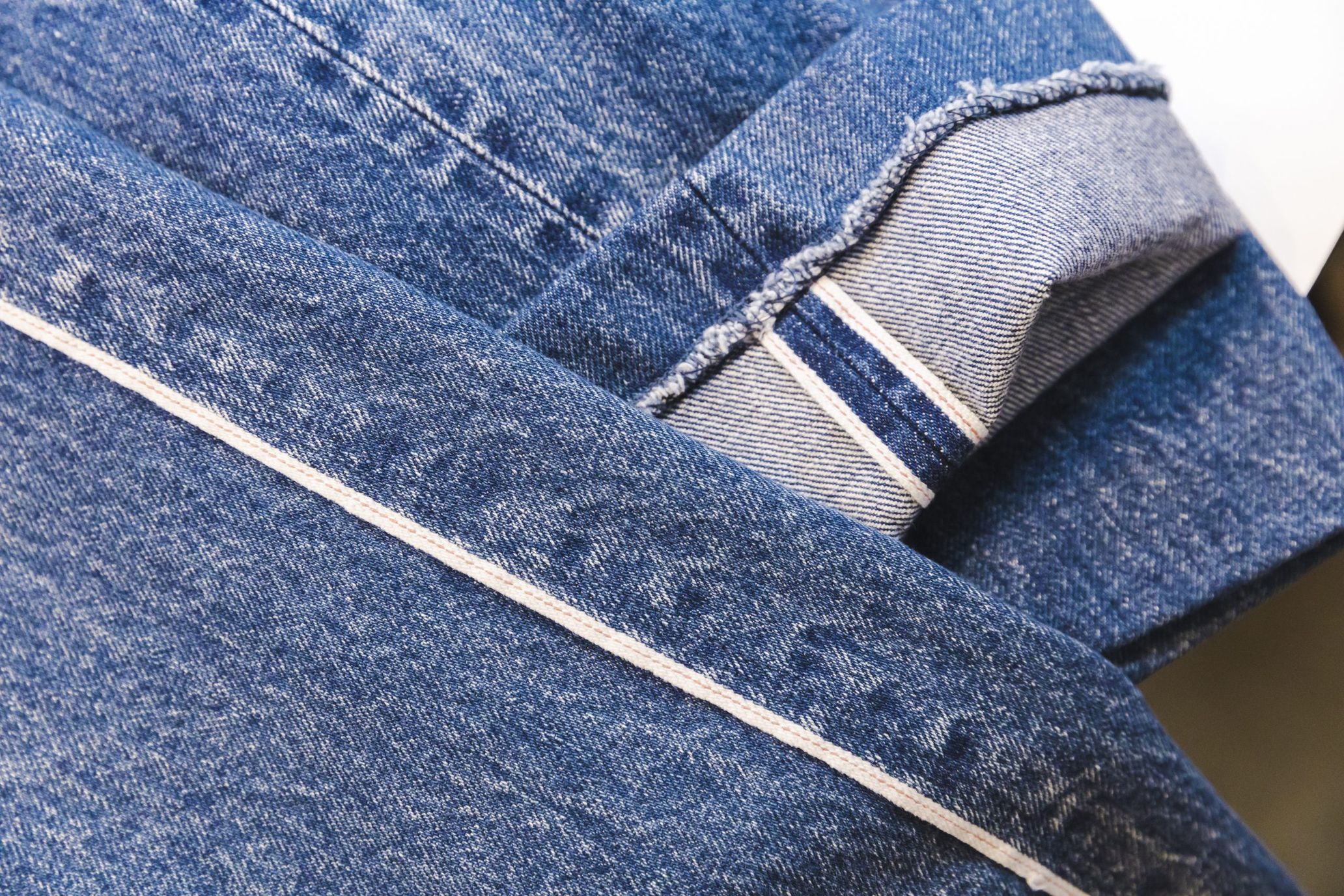 Kuboshita: That's our most popular product.
——I liked them the moment I saw them. What did you think about when you designed the pants?
Tanaka: I think selvages are pretty. But this special detail is always hidden away on the other side of the fabric. Once you flip the fabric over, the selvage pops up and looks stylish and sophisticated. It was such a waste not to show them. The idea started with my wish to make the selvage detail stand out.
——I like how you got rid of the belt too.
Tanaka: We call that unfinished. I've been designing the unfinished belt detail for a while. One aspect of the design is that you can wear the pants low-waisted instead of high-waisted. I felt like it would be fun to combine that with the selvage detail.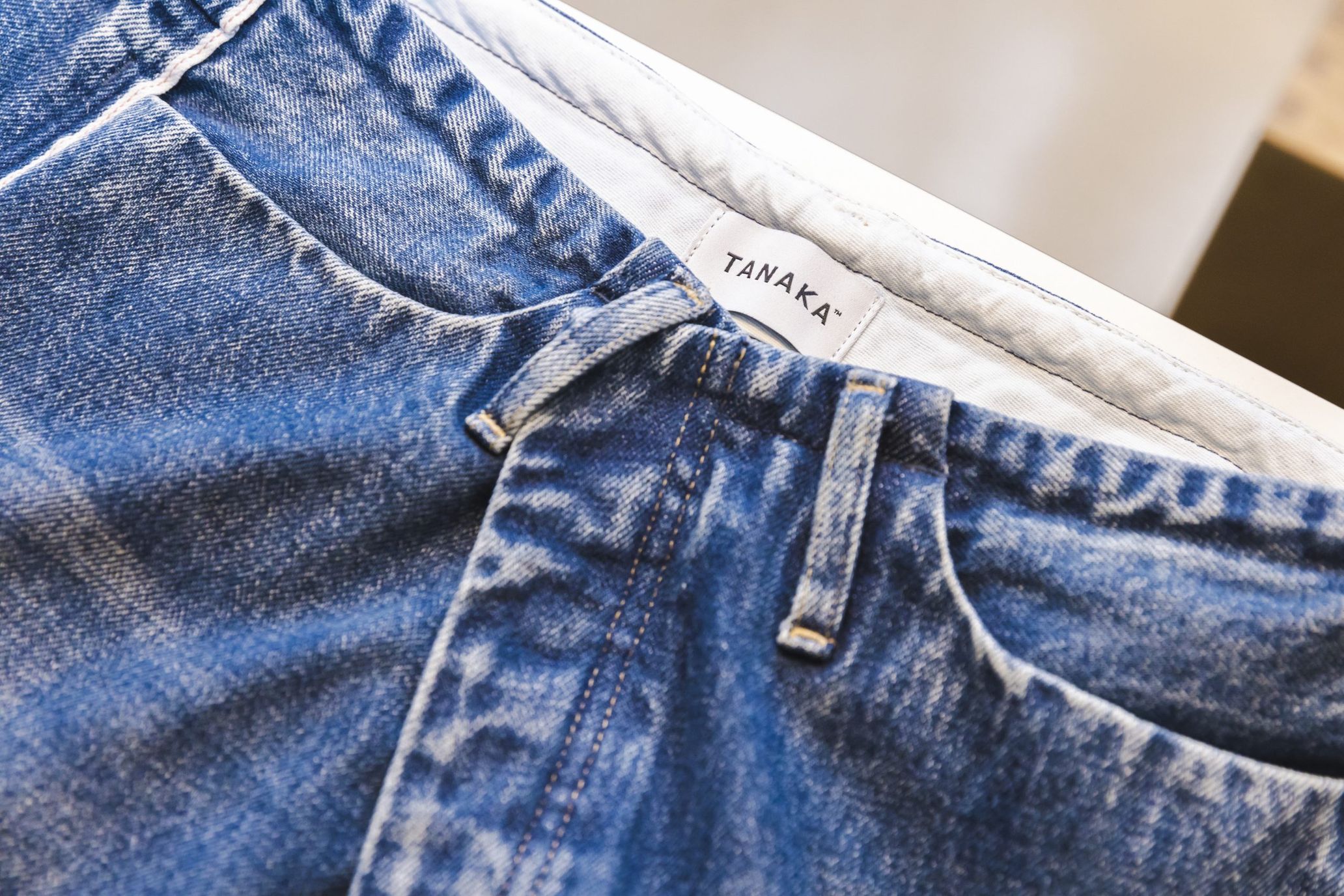 ——The selvage starts from the hem to the waist without breaking off.
Tanaka: Selvages are the edge of a fabric, meaning they're straight. If you trace a selvage along the curves of a human body, it will ultimately break off. I thought it would feel unsatisfying seeing a selvage that stops in the middle. The pattern on the side is straight because we wanted to utilize the selvage detail, but it wouldn't fit the human body if we didn't do anything.
——True. What did you do, then?
Tanaka: We made a line that would match the lower waist by pulling the drawstrings around it. But Kuboshita-san said, "The waist seems cinched in, but some people might not like how it could look stuffy." So, I crossed the center of the front with a hidden hook so it could look cleaner. The angle in the front part of the pants added another touch.
Kuboshita: It's like how you would wear a kimono.
——So, you created a new design on the front.
Tanaka: Those who don't want to wear the pants like that could bring it up to their waist and tie the drawstrings for a more casual look. These pants have straight lines, so they make your legs look nice. If you wear them by bringing the side to the front, anyone will look good wearing them.
——Anyone of any gender can wear your clothes, and people can wear these pants without giving much thought to their bodies. In other words, anyone can wear them if they want.
Tanaka: Right, it's for people who want stylish jeans (laughs).
——The pants are a test for your taste (laughs). Did you get inspired by butterflies for this expressive black jacket?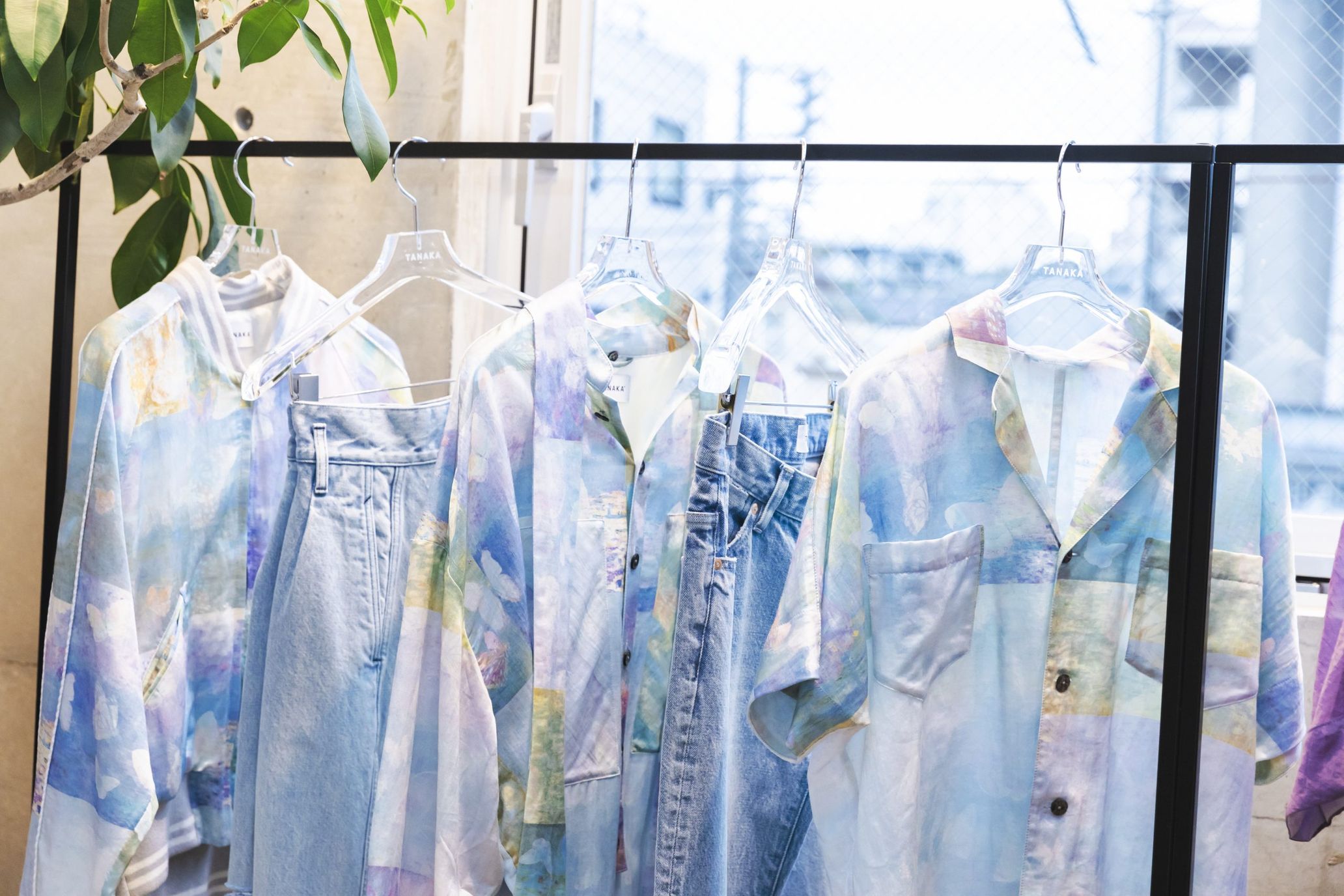 Tanaka: Kuboshita-san designed the print.
Kuboshita: It's a print of butterfly wings. It's a collage, but I didn't want to use butterfly wings in an obvious way. I edited it to make it look painterly. We release clothes with prints during spring and summer, and the print of this series of silk fabrics gets updated periodically.
——The fragile feel of it is beautiful.
Kuboshita: It was a surprise how the light-colored butterfly print was popular among men in America.
——I believe the brand has a design sensibility that goes beyond gender. The visuals for the Spring/Summer 2023 collection feature models of different races, and you portray the fragility of youth, which is emotional and beautiful. What was the theme behind it?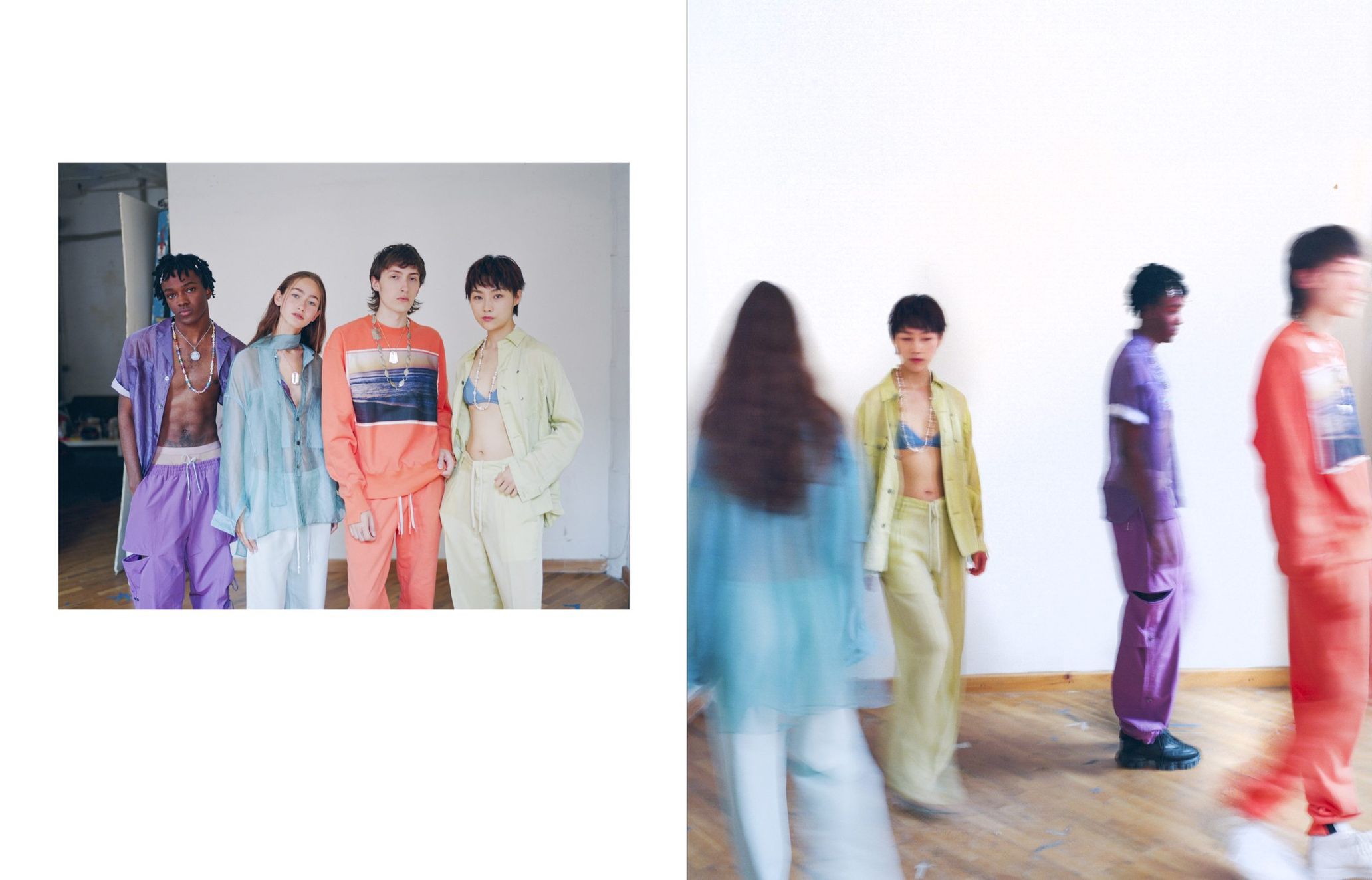 "BUTTERFLY", the Spring/Summer 2023 TANAKA collection
Tanaka: This is our fourth season working with photographer Jiro Konami-san. This was the first time we used four models.
Kuboshita: Gender-neutral. Transcending race and gender is the theme behind TANAKA, to begin with.
Tanaka: I wanted to communicate that even more through the visuals.
——Is that why you used more models than usual and from different backgrounds?
Tanaka: Right. But there's a limit to which models match our image, so it wasn't like we decided how many people of which race we would shoot. It ended up being diverse in a balanced way. The models in this shoot were all young and had a lot of fun during the shoot.
Kuboshita: We told Konami-san we wanted to express the rawness of human energy and the everyday. He shoots on film, so we didn't know how the photos looked until they were developed. I was supposed to be on set for the shoot but couldn't make it because I was on a work trip. I felt so excited when I saw the photos for the first time.
——Tanaka-san, what about you?
Tanaka: I couldn't get up for two days because I used so much energy for the shoot. This was my first time shooting at the beach. I had a clear vision of models wearing gorgeous yellow denim looks while walking on the beach in my mind before we had the shoot.
Photography Erina Takahashi
Translation Lena Grace Suda