Brutalism, named after the word brutal meaning rough or crude, is a minimalist architectural style in which concrete itself is used, with no ornamentation at all. This architectural style became popular in Russia during the period of the Soviet Union, which upheld Marxism-Leninism. These huge concrete buildings, which cannot be seen in their entirety even when viewed from one side, remain throughout Europe even as we have entered the 2020s, some being reused for completely different purposes, others abandoned and falling into disrepair.
Georgia, which straddles the border between Eastern Europe and Western Asia, is home to a number of buildings that are representative of brutalism. In addition to these buildings, there are also inexpensive housing complexes called Khrushchyovka throughout the city, which are symbolic of the Soviet era. The rugged, bare concrete buildings are a nostalgic legacy that have attracted world-renowned architects and photographers, including Le Corbusier, the master of modernist architecture. On the other hand, for those who live there, it is said to be a negative legacy that they would like to forget, and there are those who wish to see it demolished with the urban development of the city.
As we focus on Brutalism and Khrushchyovka, we will be led by Nao Tokuda, an architectural designer who started his business in Tbilisi, as he introduces Georgia's remaining Brutalist architecture and spots that he currently recommends seeing. We present the second chapter of our journey through Georgia, the last unexplored region of Europe.
Nao Tokuda
Born in Hyogo Prefecture in 1983. Moved to Tokyo after graduating from the Osaka University of Arts in design. After working for about ten years as an interior designer for commercial spaces at a design and construction company and a design office in Tokyo, Tokuda moved to Denmark. He worked for a design firm in Copenhagen for five years designing interiors for various spaces, both large and small, including boutiques, cafes, and hotels. In 2020, Tokuda moved his base of operations to Tbilisi, the capital of Georgia, and established Design Studio NAO. LLC there. The tea house project, a renovation of a 100-year-old abandoned building, was nominated for the Dezeen Awards 2022 in the UK and the International Architecture Award in Georgia. His projects include renovating Khrushchyovka housing (a typical residence in the former Soviet Union) to make them function universally, and a project to support the reconstruction of Miyagi Prefecture. Tokuda currently continues to work without borders, in both Japan and Europe.
「Design Studio NAO. LLC」
Instagram:@designstudionao
The Bank of Georgia Headquarters, the world's most mysterious Jenga building
Driving along the Kula River from the center of Tbilisi, the capital of Georgia, to the suburbs, you will see the Bank of Georgia Headquarters, which looks like a giant Jenga structure.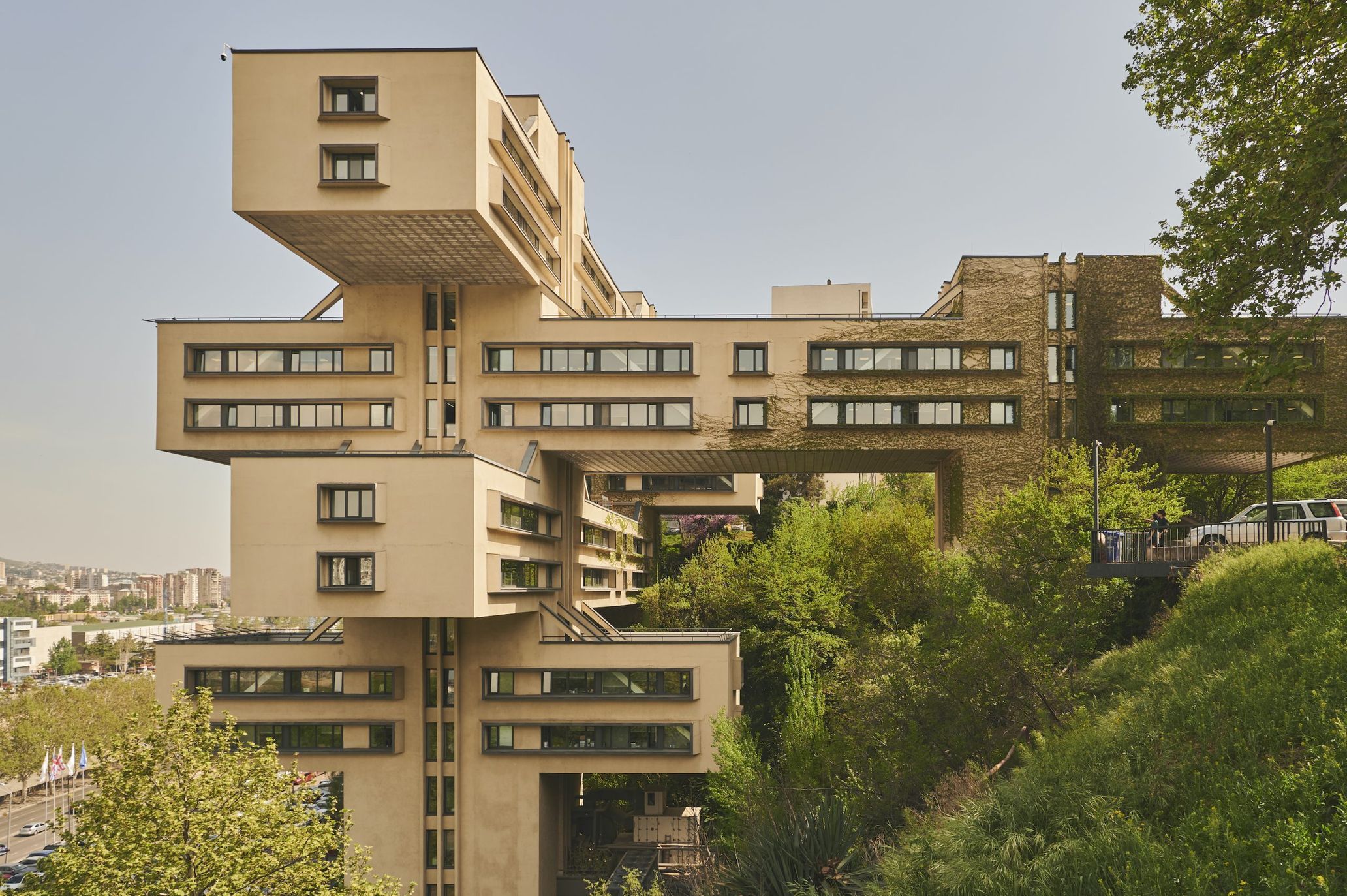 The building, which has an impressive presence even when viewed from below, was built in 1975 by Georgian architects George Chakhava and Zurab Zhvania. Originally designed as a luxury hotel and then owned by the Ministry of Highway Construction, the building was abandoned for a while after the collapse of the Soviet Union. It was, however, purchased by the Bank of Georgia in 2007, and is now being used as the headquarters building after extensive renovations.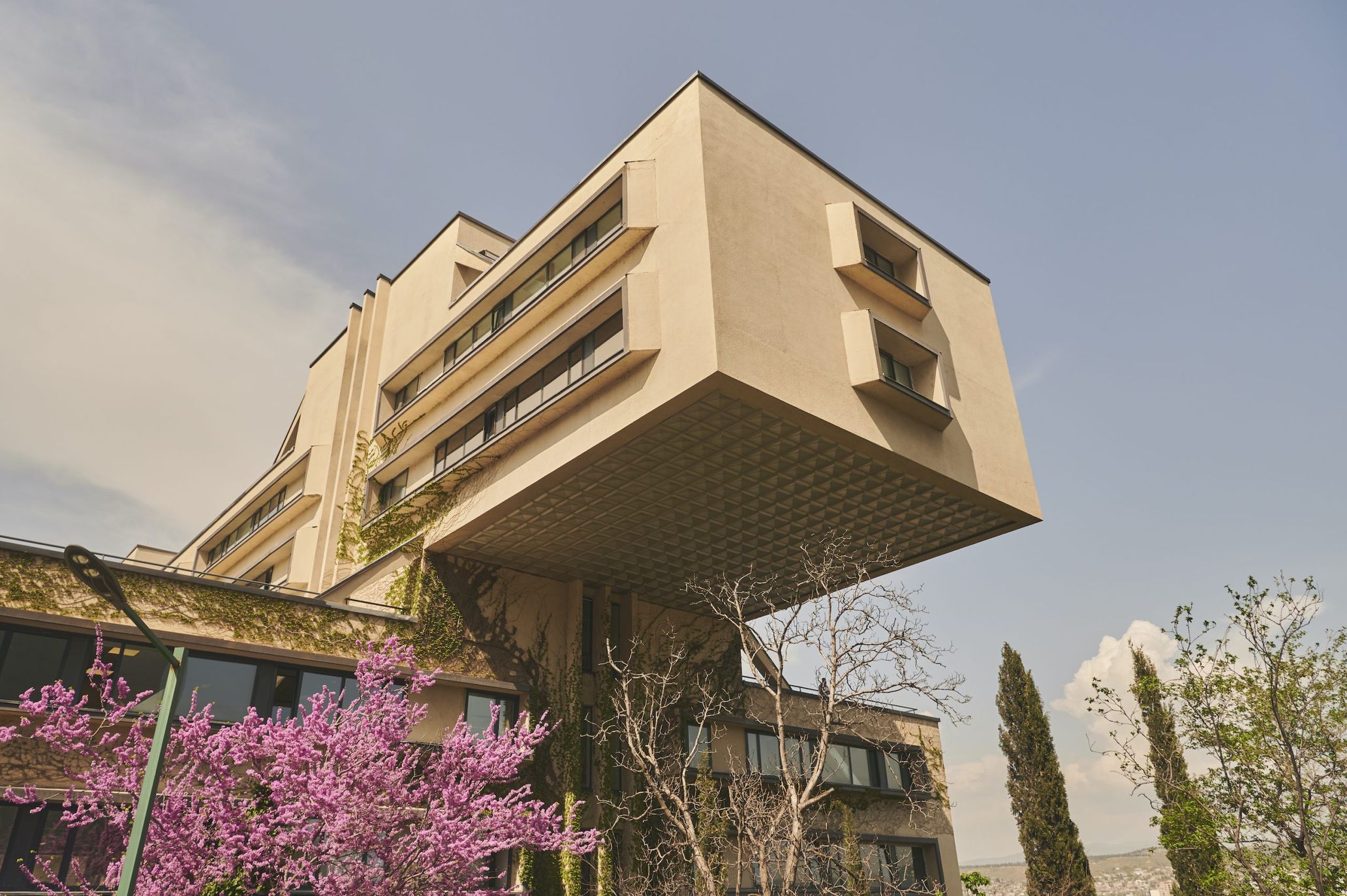 We asked Nao, who was the first to name the Bank of Georgia Headquarters as a unique example of brutalism in Tbilisi, about its charm and characteristics.
"In the 1970s, when Georgia was a part of the Soviet Union, architecture and art were flourishing so much that it could have been named the capital of arts and culture. A characteristic of that era is that Georgian architects of the time competed with each other to create outrageous structures. At first glance, the buildings appear to be a mixture of extremely creative and free-spirited designs, but this is the result of architects pushing their creative freedom to the very limits of their abilities in the context of the Soviet era, its various restrictions, and the limited freedom of expression. The Bank of Georgia Headquarters was also characterized by the construction of a number of stately buildings that were built on a much larger budget than available in Georgia today. The Bank Of Georgia Headquarters is a symbol of such a building, with a very unusual Brutalist design, which looks like alternating layers of Jenga. But it's also interesting to note that the composition of the building is actually surprisingly simple when viewed on a flat surface. Recently, Tbilisi and this architecture was featured in the climax of the Hollywood blockbuster movie, Wild Speed 9. Many Georgians around me were hired to become staff for this film. I believe this is a good example of the movement by Hollywood to select locations in Eastern Europe and former socialist countries".
Right next to the Bank Of Georgia Headquarters is the Transcaucasia Power Control Centre, another symbol of Tbilisi's brutalism. This building was used as an electric power company during the Soviet Union era, and after the collapse of the Soviet Union, it was used as a wedding hall for a time. It's now a mostly vacant office building.
The one and only bonsai shop that combines traditional Japanese culture with Georgian culture.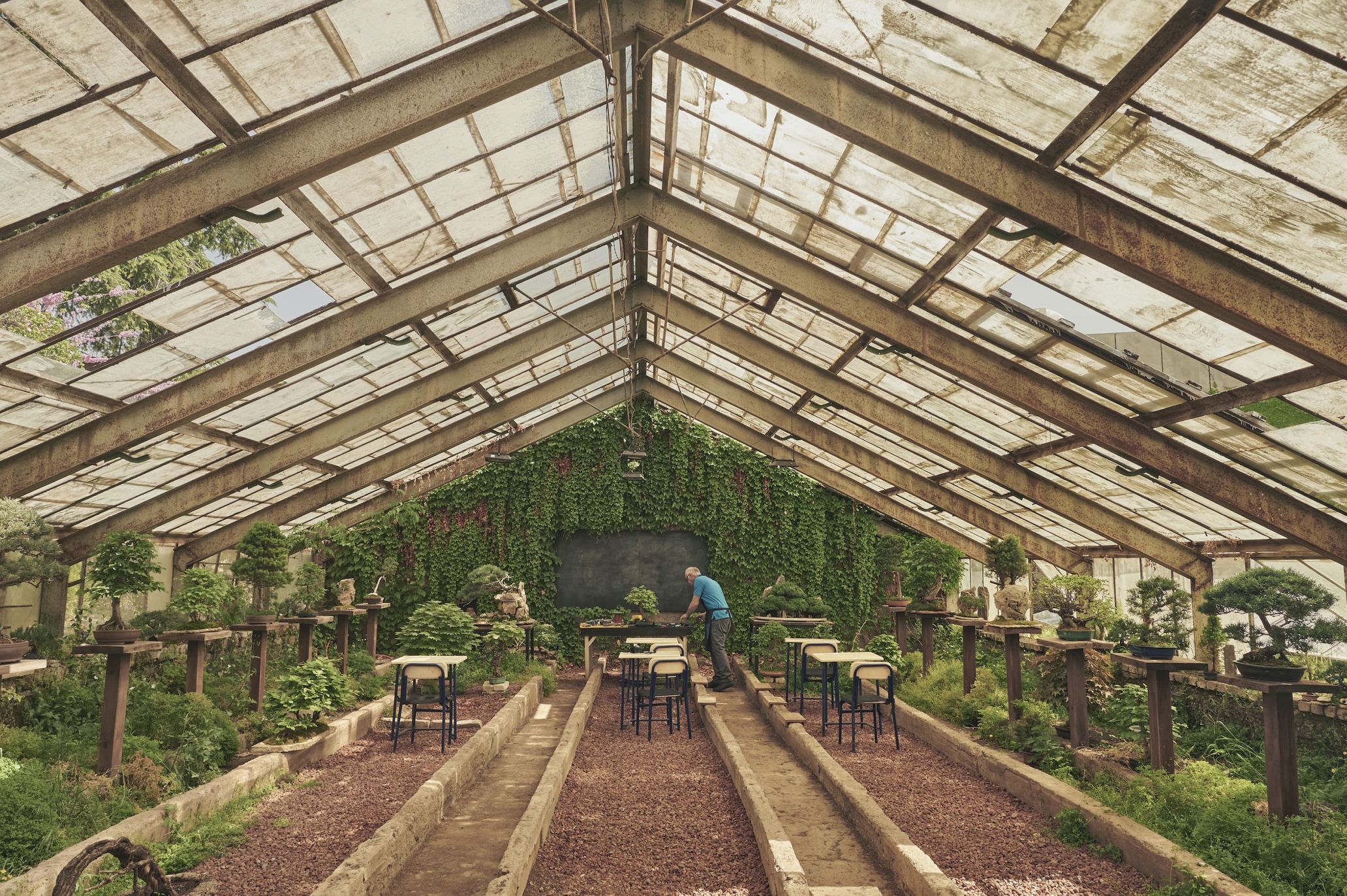 The only bonsai store in Tbilisi, Bonsai.ge, is so artistically beautiful that it would be rude to call it a greenhouse. From the moment you step inside, a world of stunning vivid greens and moderately decayed browns catches your eye. It's not a bonsai shop, but rather a bonsai museum, a space that's photogenic in every way.
The store, run by the founder Alexander Meshki and his son Nicholas Meshki, is the fruit of over thirty years of hard work and repeated trial and error based on a bonsai book that his father, Alexander, obtained in the Soviet era. Alexander first became interested in bonsai when he was about 13 years old, when he saw it for the first time on television.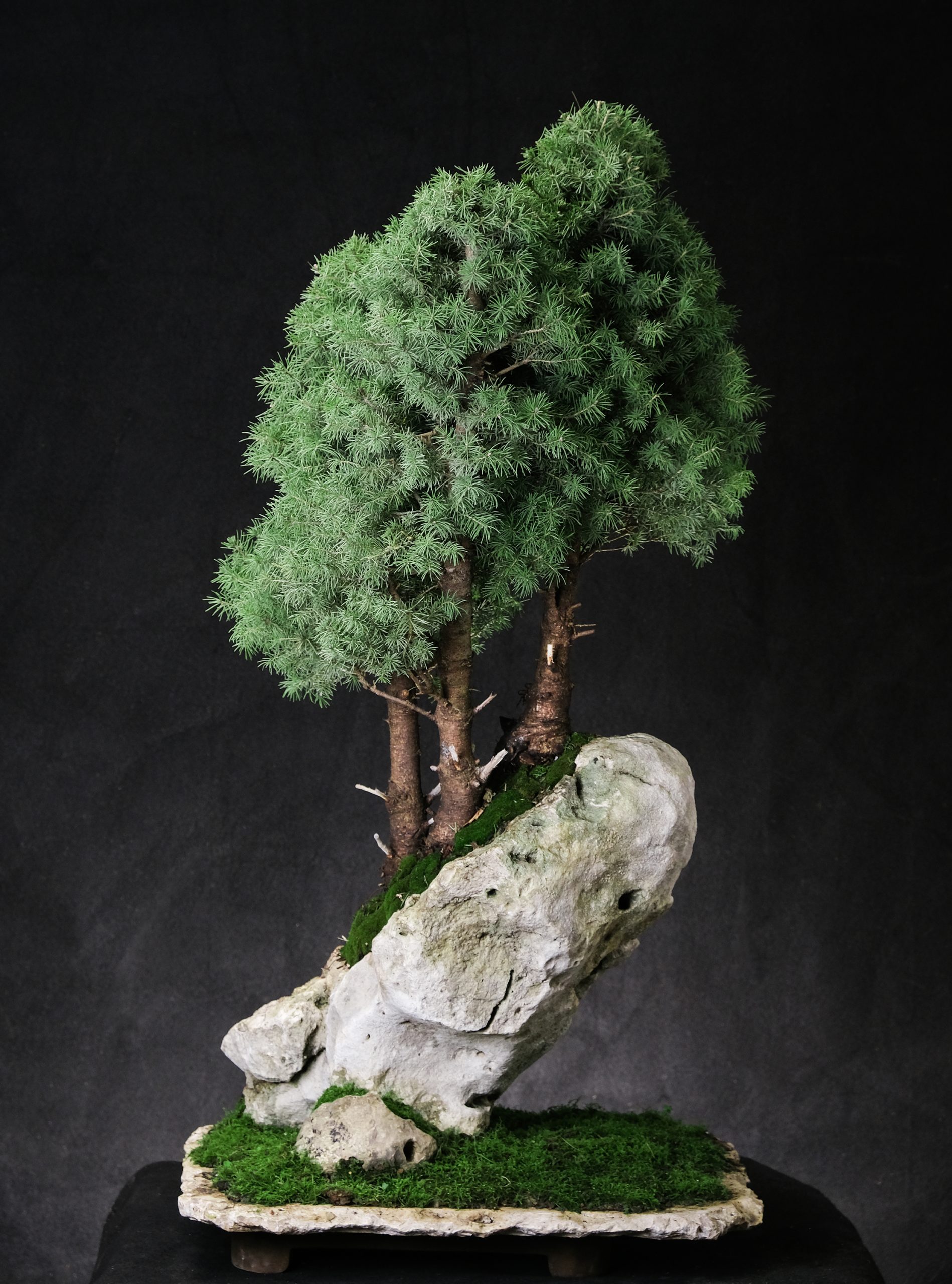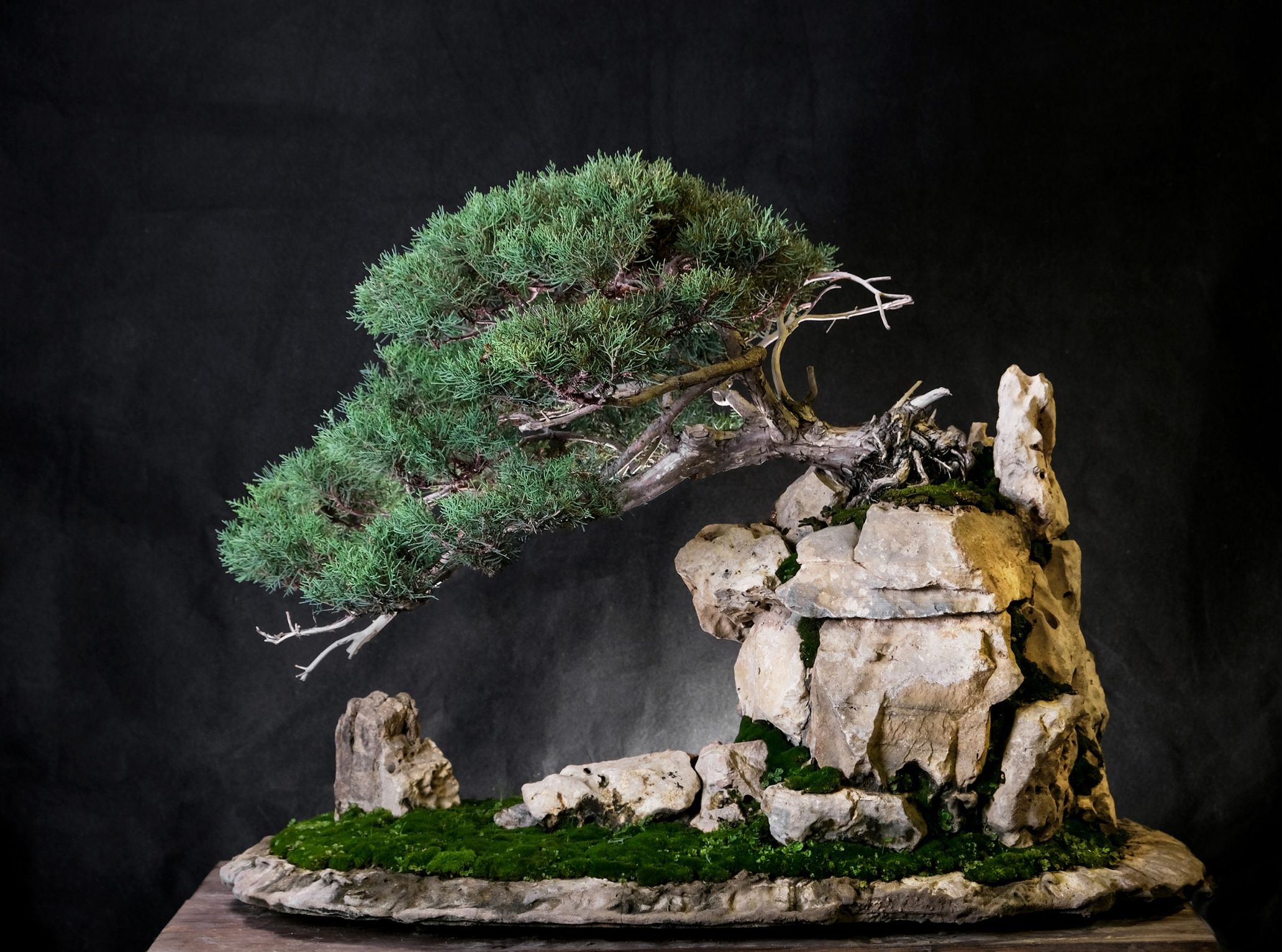 The beautiful and luxurious location, including the spacious grounds and nature-filled garden in the neighborhood, is a sight to behold, but the main attractions are the one-of-a-kind bonsai trees filled with the owner's unique sense of style and ideas that can only be found here. His son, Nicholas, spoke to us about his passion for bonsai on behalf of his taciturn father.
"Bonsai is part of traditional Japanese culture, which is totally different from Georgian culture. However, I thought that in order to convey and spread the charm of bonsai to many people in Georgia, I should incorporate an idea that's unique to this country. That's when I came up with the idea of grapevines because as you know, Georgia is famous for its natural wines. We wanted to grow grapevines, the raw material for wine, as bonsai.
Not limited to grapevines, it's generally very difficult to grow a variety of trees into a beautiful bonsai. It's not something that can be done in a few years, and above all, it costs a lot of money. For example, Japanese bonsai trees usually use ceramic pots, which are very expensive and difficult to purchase in Georgia. Bonsai itself is a luxury item, but if the pot is also included in the price, it becomes something that Georgians can't afford. So, we grow bonsai from trees that are familiar to us and add our own ideas and essence to them by using stones instead of pots".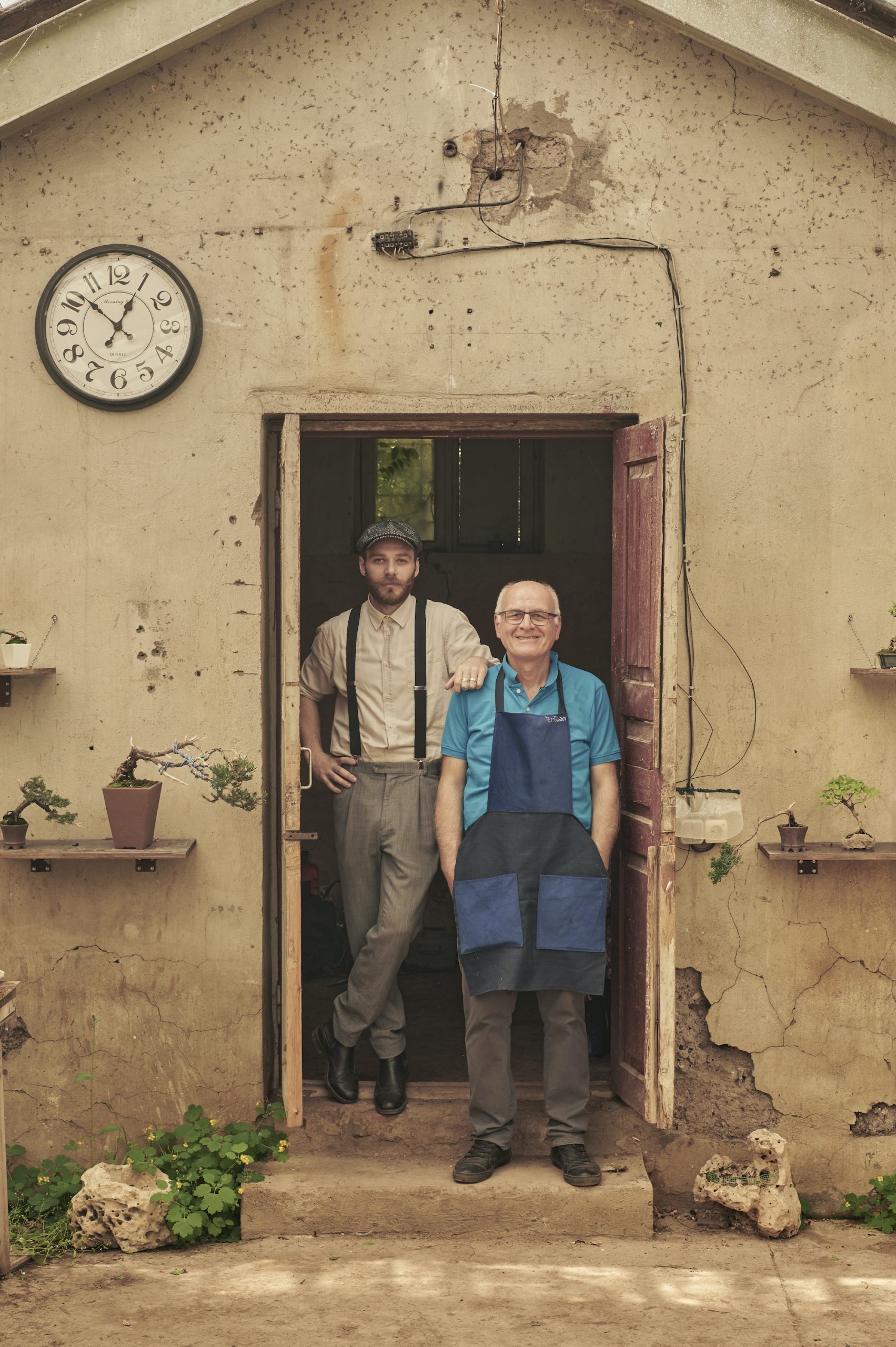 When you hear the word "bonsai," is the first thing that comes to mind a pine tree in a traditional Japanese pottery pot? While this certainly encapsulates a Japanese style of beauty, none of the forty or so bonsai pots on display at the shop are identical, and are one-of-a-kind works of art. In addition to grapevines, the store also grows bonsai of other seasonal trees, such as autumn leaves, apple trees, and cherry blossoms. Bonsai.ge also offers regular workshops to teach the basics of bonsai and how to grow them artistically.
In fact, Nao explained that this place is also uniquely related to brutalism.
"Expo Georgia, an architectural complex of eleven Brutalist pavilions built in the 1960s and early 1970s during the Soviet era, is located in the exhibition hall. The exhibition hall was state-run at the time, but was privatized in 1990, and is now used for events such as the TAF (Tbilisi Art Fair) and the WINE EXPO. The exquisite contrast between the traditional Japanese culture of bonsai and brutalism is also wonderful".
Living in a renovated apartment of a 100-year-old historical building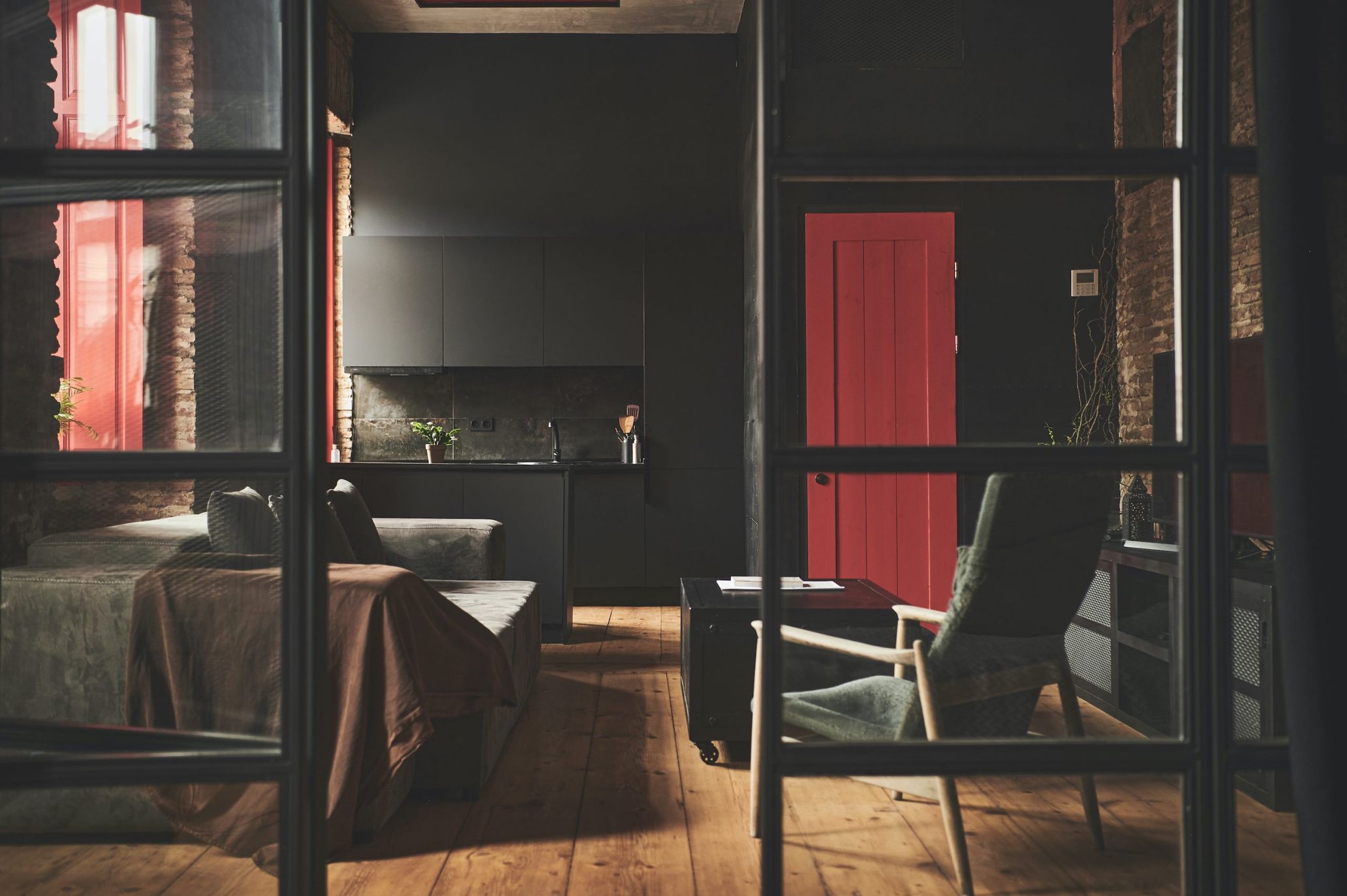 Walking the streets of Tbilisi, one can indeed discover dwellings of various architectural styles, and one of the charms of this city is that it never tires architecture lovers. The aforementioned Khrushchevka, a copy-and-paste architectural style symbolizing the Soviet Union era, and Brutalist architectural structures, are all over the city, while the gorgeous architecture of the Georgian and Russian Empire eras are mixed in, giving the cityscape a strange and charming atmosphere.
While the chic black interior and red window doors are eye-catching and modern, the walls are decorated with exposed brick, typical of Georgian architecture. It was surprising to learn that the hotel was originally a 150-year-old historical building built in the 19th century, but was a luxury hotel called the London Hotel that also housed a library and casino and was a favorite to such greats as Tchaikovsky and Knut Hamsun at the time it was built, in the 19th century.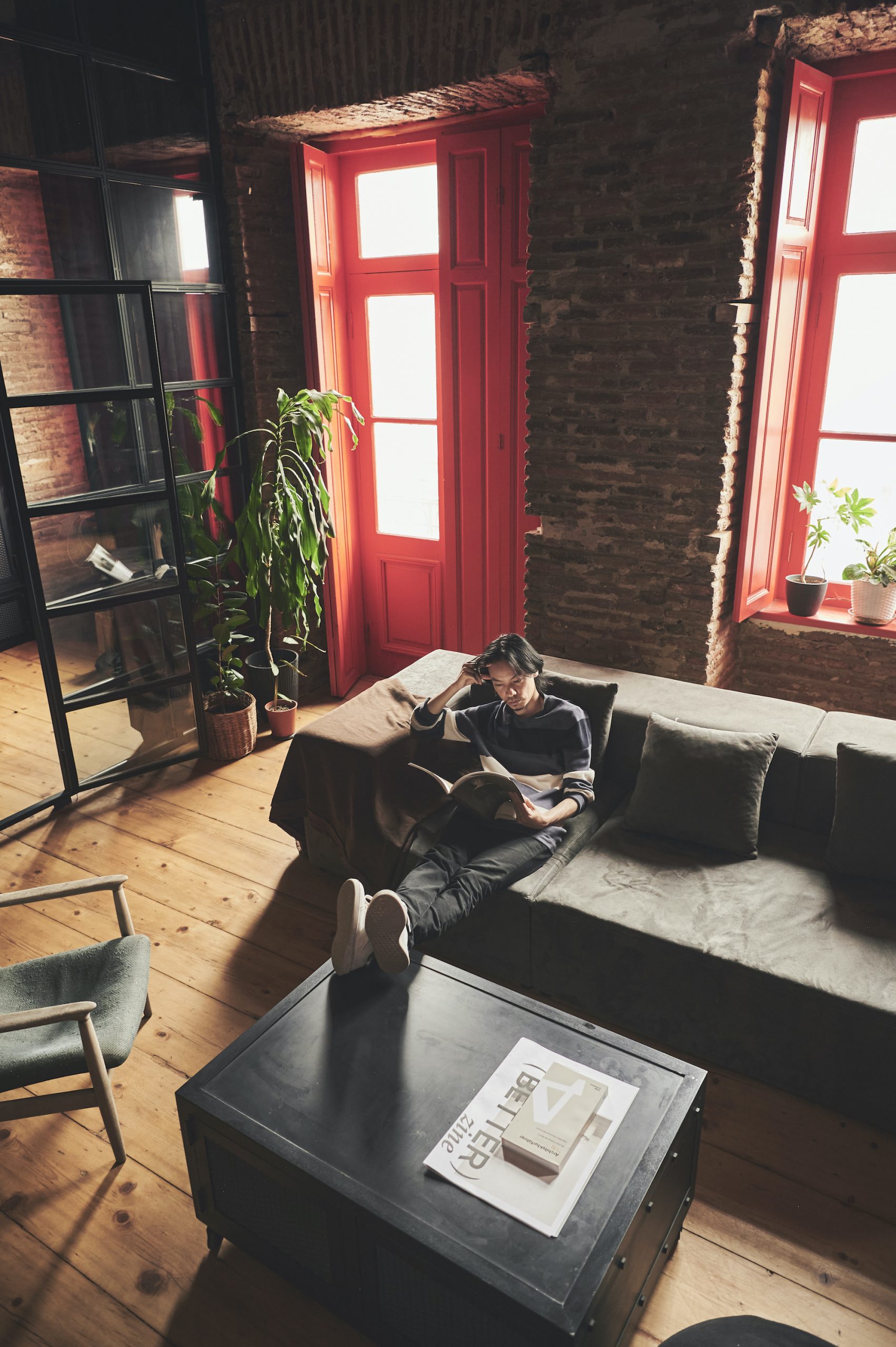 Located in the center of Tbilisi, the apartments are next to the residence of the current President of Georgia, Salome Zourabichvili, and in the neighborhood is the hip Moxy hotel by Marriott International, a global hotel chain, and a popular tourist area with modern restaurants and cafes.
One of the things that surprised me when I visited Tbilisi was the quality of the hotels. The most famous are the Stamba Hotel, which has been featured in many design magazines, and the hot spot Fabrika. But other modern, design-conscious hotels are springing up one after another. Incidentally, the Stamba Hotel was renovated from a former Soviet-era newspaper printing plant, but is so perfectly sophisticated that it gives no impression of decadence.
It's very difficult to describe the charms of Georgia in just two visits, but without exception, the country is experiencing abnormal inflation due to soaring prices. Is the city of Tbilisi, where the invasion of Ukraine has left the city crowded with displaced Ukrainians and Russians who oppose the war, and where Russian is now being spoken widely, the landscape of an unpredictable future?
Photography Kazuma Takigawa
Translation Mimiko Goldstein