MARCO, a photographer who published her first digital photo book, "VISITOR" on January 30, 2021. She had the idea that "photo books are what you see on paper," but now she has challenged a new way of expressing digitally. Why did she end up publishing a digital photo book? What kind of challenges did she try? We will explore the background of her publication of "VISITOR" and her feelings contained in it from a dialogue with Moga Mogami, who acted as her model.
Suggestion by Moga Mogami
——Have you guys originally known each other?
MARCO:We have been shooting when she was at Dempagumi.inc several times, and I was invited to appear on Moga-chan's program "Mogami Moga no Moga Maga!" (AbemaTV).
Moga Mogami:It was my first time to shoot with MARCO in the magazine "Zipper." The shooting at that time was enjoyable and left an impression on me. I remembered the name MARCO, and I wanted to collaborate with her again. That's why I asked MARCO to come to "Mogami Moga no Moga Maga," Which I was doing on AbemaTV from 2016 to 2017. It was like meeting her at that time for the first time in a long time.
MARCO:It was a good opportunity to have a conversation. As I said at that time, I've always loved her since I first shot it. She is so enthusiastic about her that she can wear anything from unique to simple styling. She has a wide range of expressions, as she easily enters various world views. That's why it's really fun to shoot properly.
——The two of you have been shooting together several times. Please tell us how you decided to make this digital photo book "VISITOR" from there.
Moga:It was from me that I suggested to MARCO. About two years after I quit being a J-pop idol, my favorite magazines were being suspended, and I thought it was important to leave them as something. So, I wanted to contact the person I was involved with who wanted to work with, and at that time, MARCO came to my mind. She said, "I wanted to do something together." After that, I received a suggestion from her, "How about a digital photo book?", And immediately replied, "Why not."
MARCO:We didn't start trying to make a photo book from the beginning. At that time, I felt like taking a casual shot. Then I changed my mind to do something challenging if I could do it. Originally, I wondered if I should make a photo book and announce it at "TOKYO ART BOOK FAIR," scheduled to be held in November last year, but it turned out to be pandemic. I thought that it would be the far future to put out in the world if I think about physical events. The manager suggested "How about making a digital photo book?" At first, I thought, "I don't get excited about a digital photo book," but if you look closely, you can arrange photos and movies in parallel, and there are expressions that can only be done digitally. I didn't have a photo book specializing in digital, so I decided to pursue the expression of a photo book digitally, then I proposed it to her.
"Expressing Moga's Tokyo feeling"
——You didn't think digitally from the beginning. What is the concept of this work "VISITOR"?
MARCO:I suggested to Moga-chan that I wanted to shoot like this. Her original sense of J-pop idol, fashion, culture are very "Tokyo-like." I wanted to express that feeling of Tokyo.
The title "VISITOR" is attached with the image of the world view that Moga-chan somehow got lost from space. Although it is said to be Tokyo-like, it seems to be floating in the city of Tokyo. I told the stylist about it and left it to her for styling. That's why the stylist suggested, "If so, why don't you put everything together under the Tokyo brand?", all the costumes are available under the Tokyo brand.
——I feel that you are particular about the location, how did you select?
MARCO:I had shot in the open air location only at the beginning of the photo book, I wished I could have got a sense of the old streets and chaos of Tokyo. I also think that I was able to use a Japanese-style studio for studio photography and express various aspects of Tokyo.
——How long was the shooting period?
MARCO:It was 3 days. Despite the tight schedule, Moga-chan did her best. At first, I was thinking about the number of pages at least 60 pages, but there were many good shots, and finally it became about 90 pages. If I was doing it on paper, once I decided on 60 pages, it might have been difficult to increase from there, so it was good to flexibly because it is digital.
——Which one is your favorite?
Moga:I enjoyed all the shooting. This shot (P18-19) was taken in front of the navy wall in front of the Shinbashi station, but the fans who bought it said, "I thought it was Europe." The costumes were decorative, and the location was a strange space with such a gap. Actually, it was like taking a picture quickly. Because it was lunchtime, I was seen by various people. It's interesting and this shot is awe-inspiring.
MARCO:I have all my feelings, but there is a shot that reflects the last letter. The shot showed the beauty of Moga-chan and her original charm, and everyone was breathtakingly fascinated during the shooting.
The letters are reflected on the spot with lighting. The letters look like they move; I make two images with different letter positions and move them in analog. It's digital, but I wanted it to look like a flipbook in an analog way. I made it consciously.
"I want all humanity to see this photo book!"
——It seems that Moga was filming during pregnancy. Has there been any change since you became pregnant?
Moga:Everything has changed. It feels like it's so hard. Among them, the first is that I have created something to protect. It's a little shy to say this.
MARCO:I understand that feeling as I also have children.
Moga:What I used to do was changed to the feeling that I shouldn't overdo it. Up until now, I had been doing the schedule as I was told, but now that I'm not the only one, I consulted on a schedule that is as light as possible, and my consciousness has changed.
MARCO:The gestation period is very mysterious, and there are changes beyond my imagination. The energy that emanates from within Moga-chan is so great that this photo also has a more mysterious atmosphere.
——Finally, what kind of people do you want to see?
Moga:All humanity! Basically, I don't get into the planning, but I want to cherish the world view of the staff involved. I trust them. Every work, I want to make something that is confident and shown to anyone, and I always challenge making it even better by joining it as a model for that project.
Many people say that this work is more art than a photo book. If you see a sensitive person, I think it will be even more interesting. It's full of fun that is unique to digital, so if you haven't noticed it yet, please take a look. I myself tried the digital photo book this time and got the courage to accept new things.
MARCO:Moga-chan says she won't be involved in the planning, but she accepts everything I proposed without any refusal. Moreover, not only accepting it but also entering the world well, I realized the size of the vessel as an artist. What's interesting about her is that she expresses more than I had expected.
"VISITOR" is a work that can be enjoyed not only by Moga-chan fans but also by those who like fashion, photography, and art. As she said, even those who think that "photo books are paper" have created new expressions that can be enjoyed only in digital. I'm also aware of things like Tokyo seen from overseas, so I'd be happy if people all over the world could see it.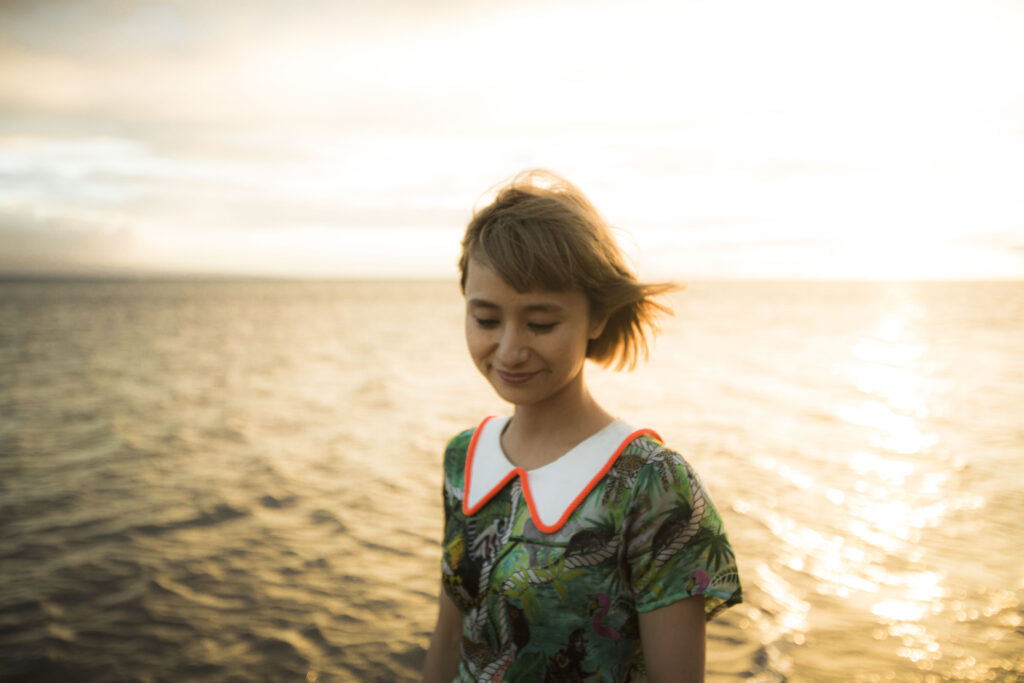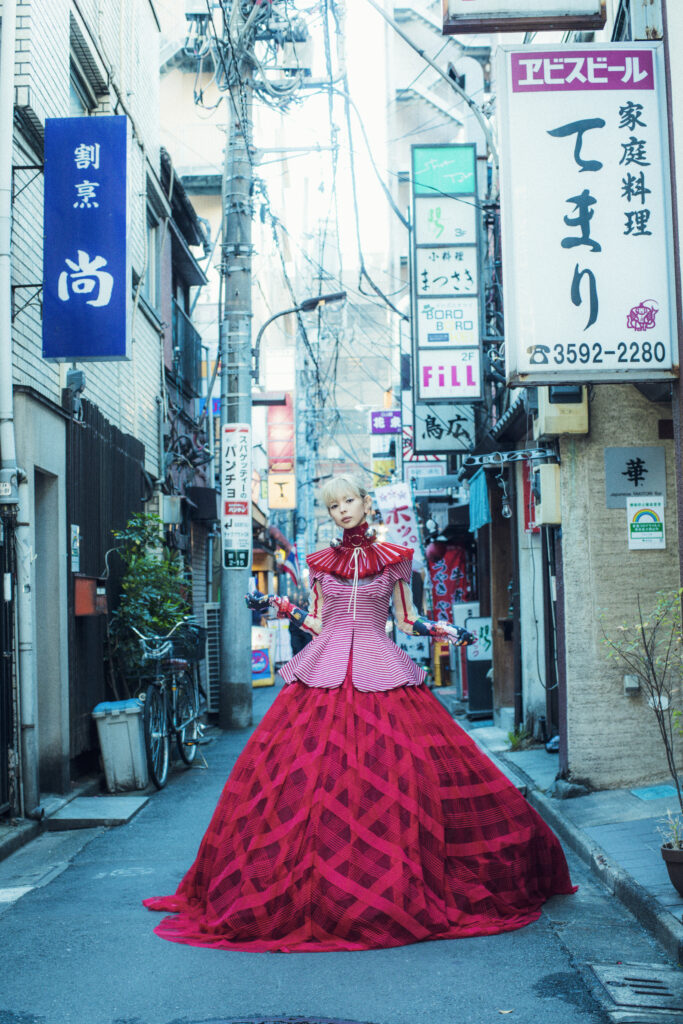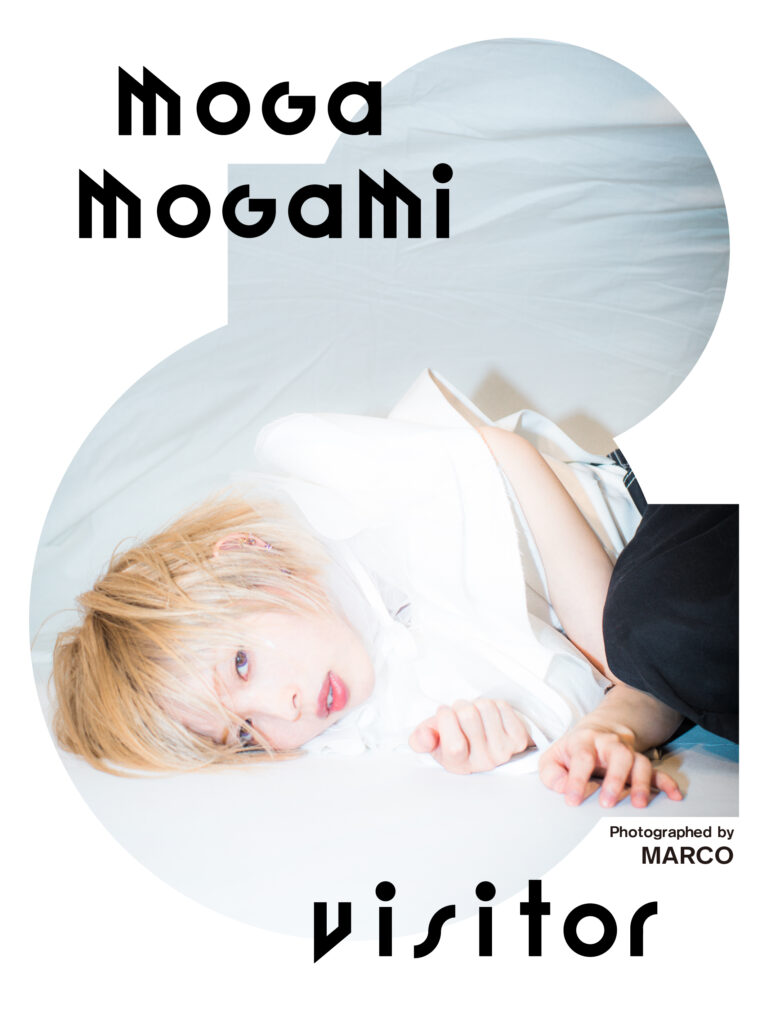 Latest articles on TOKION ART