After six years since their last album, the newly reformed synthesizer duo CRYSTAL has released their new album, "Reflection Overdrive". The jacket shows a dolphin as a symbol of marine imagery, while their music combines numerous genres like techno-pop and kayokyoku, fusion, funk, and more, resulting in a different sound from the 80s revival moment that has been getting attention in recent years. We talked with band members Ryota Miyake and Sunao Maruyama about their careers until now and their new releases.
Defying the "uncool" image of the 80s
–When and how did CRYSTAL's music career start?
Ryota Miyake: We started in 2007, and originally, in addition to myself and Maruyama, we were working with Keita Onishi-san and Shinya Satō, who is now in charge of video making. At that time, the 80s revival wave had just begun, though we thought of the 80s as something rather lame. Even so, we decided to form CRYSTAL to make such "uncool" music.
Sunao Maruyama: I first entered the band as a drummer. However, since my parents are classical music teachers and I've had a piano at home my whole life, I've been playing the keyboard since I was three years old, so I started playing that after the other members left.
After releasing our album "Crystal Station 64" in 2015, Miyake and I started playing as a duo; the songs were made by Miyake since the beginning, so even if the band formation changed, I don't think our sound significantly changed because of that.
CRYSTAL's starting point at the "Red Bull Music Academy" and the reason behind their marine imagery
–I heard that the idea for your new album Reflection Overdrive came from your EP "Ecco Funk" (2020), as well inspired by the 1993 videogame Ecco the Dolphin. What's the reason behind this?
Miyake: We made the demo for "Ecco Funk" even before we decided to use dolphins as our theme, and it was originally based on 80s music like Janet Jackson's and Guy's new jack swing. In 2016, when we participated in the Red Bull Music Academy (RBMA) in Montreal, Canada, Thundercat (Stephen Bruner), who was a studio tutor there, asked us we had something in the making to show him, so we showed him the demo for "Ecco Funk". He liked it and played bass on it for us.
–So what happened at the RBMA led to the collaboration on this album.
Miyake: Yes. Stephen and all the other members who participated as guests in this album are people we met at the RBMA. We left the demo for Ecco Funk as it was for a while until Stephen came to Japan and called us to the hotel room he was staying in several times. He loves video games, right? He was playing Ecco the Dolphin, which he used to play a lot as a kid. Thanks to him, we were able to finish Ecco Funk, so we decided to base the lyrics for the song on the dolphin game we played with him during production.
–Ecco the Dolphin seems to have interesting and elaborate ambient background music.
Miyake: Especially in the first scene, when Ecco jumps out of the water with a splash, the combination of sound effects and background music is relaxing when you're playing the game. However, this album is not directly inspired by Ecco the Dolphin's game music; it's also different from OPN's "Chuck Person's Eccojams Vol.1" and vaporwave. As I said earlier, CRYSTAL originally debuted from the French electro label "Institubes" right when the 80s revival was gaining attention, so I guess it did start as an electro band influenced by the 80s revival.
–So, you're saying that your use of dolphins as a symbol came from your childhood experiences and interaction with Stephen Bruner rather than from vaporwave and ambient music.
Miyake: Exactly. In the 80s, they used all sorts of marine imagery as symbols and not just dolphins: for example, the 1986 OMEGA TRIBE logo uses swordfish. It's also a sort of homage to what was popular back then. It's also a symbol of the wealthy, right? The image of fishing in the marine blue sea. Christian Riese Lassen's marine art was also popular in Japan during the bubble era.
The perfect pairing of the 80s kayokyoku and funk music as the symbol of Tokyo
–Compared to your previous album "Crystal Station 64", this one contains more songs with vocals.
Miyake: I wanted to make something 80s-inspired but still different from our previous album, and one of the ideas I came up with was kayokyoku. With, of course, funk-ish music. At first, I was thinking of dividing the project into two albums, a funk one and another one with vocals, but I ended up combining them into one. My idea for using funk came from when I had to perform live by myself at the RBMA: I didn't know what to play at first, but I decided to go for something that sounded "Japanese." Something like YMO's techno-pop in the 80s. It was also an attempt to reinterpret funk and fusion music from overseas in a Japanese way and with a more futuristic approach; I wanted to make something with that kind of rhythm.
–How was the reaction of overseas musicians?
Miyake: A lot of them told me that it sounds Tokyo-like, or rather, it sounds like what people from overseas think of Tokyo. After all, the techno-pop new wave popular from the late 70s through the 80s seems to be a major example of "Tokyo-like things."
–Including Western music, what do you like the most about 80s music?
Miyake: I used to hate it when I was a student; it felt exaggerated and fake. Back in the days, I mainly used to listen to acid folk, psychedelic, and German prog rock; it's what was cool back then. However, I formed CRYSTAL, started listening to 80s music, and fell more and more in love with its over-the-top sound.
Maruyama: It's also about childhood memories, or rather, nostalgia. It may sound lame now, but back then, everyone thought it was the coolest music, so I thought it'd be interesting to reproduce that kind of music in this era.
–Which musicians do you like?
Miyake: I love Jean-Michel Jarre's "Zoolook" (1984); it had a big influence over the voice synthesizer's sound and melodies in CRYSTAL's previous works. Even while I was making the new album, I had a realization about how funky "Zoolook" is. Also, if we're talking about funk in the 80s, Herbie Hancock is one of my favorites, especially "Future Shock" (1983) and "Sound System" (1984); I always wonder how the drums sound was made. I listened to those a lot while making the new album. As for kayokyoku, I love Omega Tribe, especially when Carlos Toshiki was in the band, Yukihiro Takahashi and Keichi Suzuki's Beatniks, Akira Terao, Ippu-Do, and partly the Kome Kome Club.
Maruyama: I like Italo disco; I especially listen to a German singer called Fancy. I also like New Order, Telex, and Kraftwerk.
Inheriting the remnants of the 80s revival
–New wave music, like New Order's, comes from the 80s, but I guess it's a bit different from city pop which was popular at the same time and is recently going through a revival phase.
Miyake: In addition to New Order, for example, Depeche Mode was also the case, especially when it was influenced by Art of Noise, Pet Shop Boys, and Einstürzende Neubauten. I really like all of them.
Maruyama: The current 80s revival is about how fashionable and nostalgic city pop is. CRYSTAL is different from that; maybe we inherited the lame side of the 80s (laughs).
Miyake: I wouldn't say lame; I want to make something that doesn't sound too much like the present. Something different from the polished and harsh sound of now.
–Something that isn't Tatsuro Yamashita or Mariya Takeuchi.
Miyake: It's also because we can't really sing that beautifully and loud (laughs). I see city pop as a very professional genre of music: its chord progressions are difficult, and its guitar parts are also incredibly technical. You have to be a skillful person. When I play guitar, I think I'm bad even while practicing. I feel more familiar with some types of punk music.
–I understand. Would you say your music focuses on the remnants of the city pop revival?
Miyake: Maybe so. It's the exact opposite image of city pop. One of the reasons I didn't like 80s music when I was a student was because I felt it was too technical, and I couldn't see its spirituality. Back then, I thought it was cooler to make noise with a guitar rather than play fusion music. I admired Neil Young's messy way of playing. As an opposite reaction to that, I started CRYSTAL and got really into the 80s.
–Do you think that it's possible from now on to go back to noise music and get rid of polished and clean sounds?
Miyake: I wouldn't define something punk just because it has noise in it; I think it's way more punk to get to know the music that I thought was lame when I was a student. Of course, when CRYSTAL is performing live, there are times when there's only noise in the middle of the song. I think it's best to take from as many genres as possible, ideally with the extremes of pop sound and noise coexisting.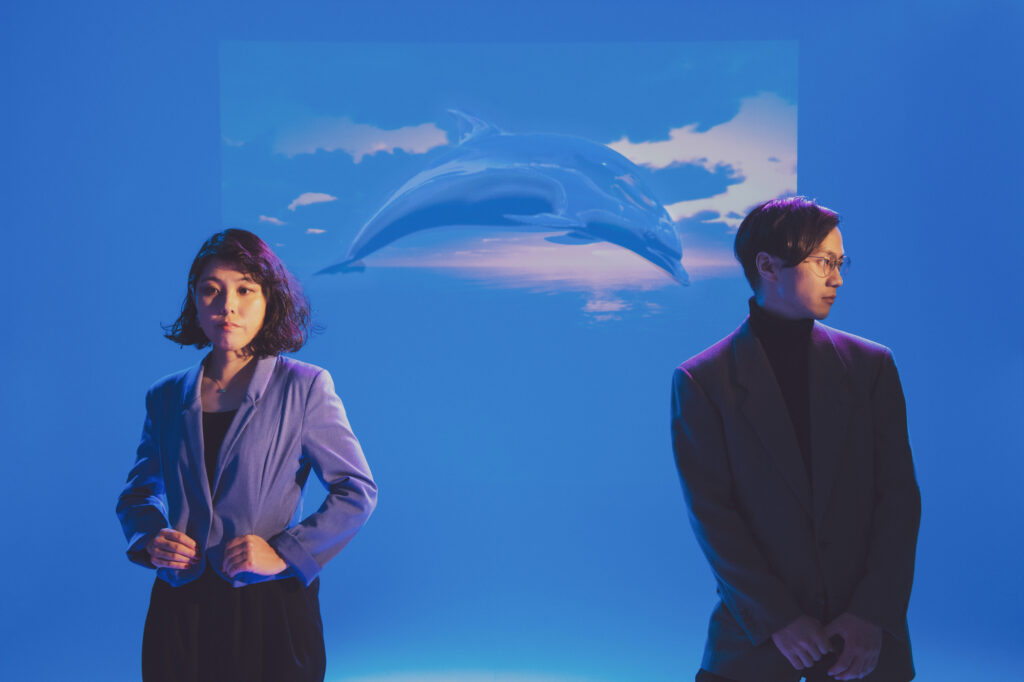 Latest articles on TOKION MUSIC