Peppe is an Italian manga artist who won an award with his very first serialized work, Mingo: Itariajin ga Minna Moteru to Omou na yo (Mingo: Don't think that all Italians would be popular with the girls!). Outside of manga, he has worked as a model and actor, and made an appearance in the Japanese reality television show Terrace House Tokyo in 2019.
We at TOKION asked Peppe to create a manga series to find out what an Italian guy thinks of Japanese culture. In the series, Peppe will experience Japan's unique culture and introduce it in the form of a short manga story. For the third installment, he visits a Japanese sake brewery in Okutama, a town located an hour and a half away from the center of Tokyo.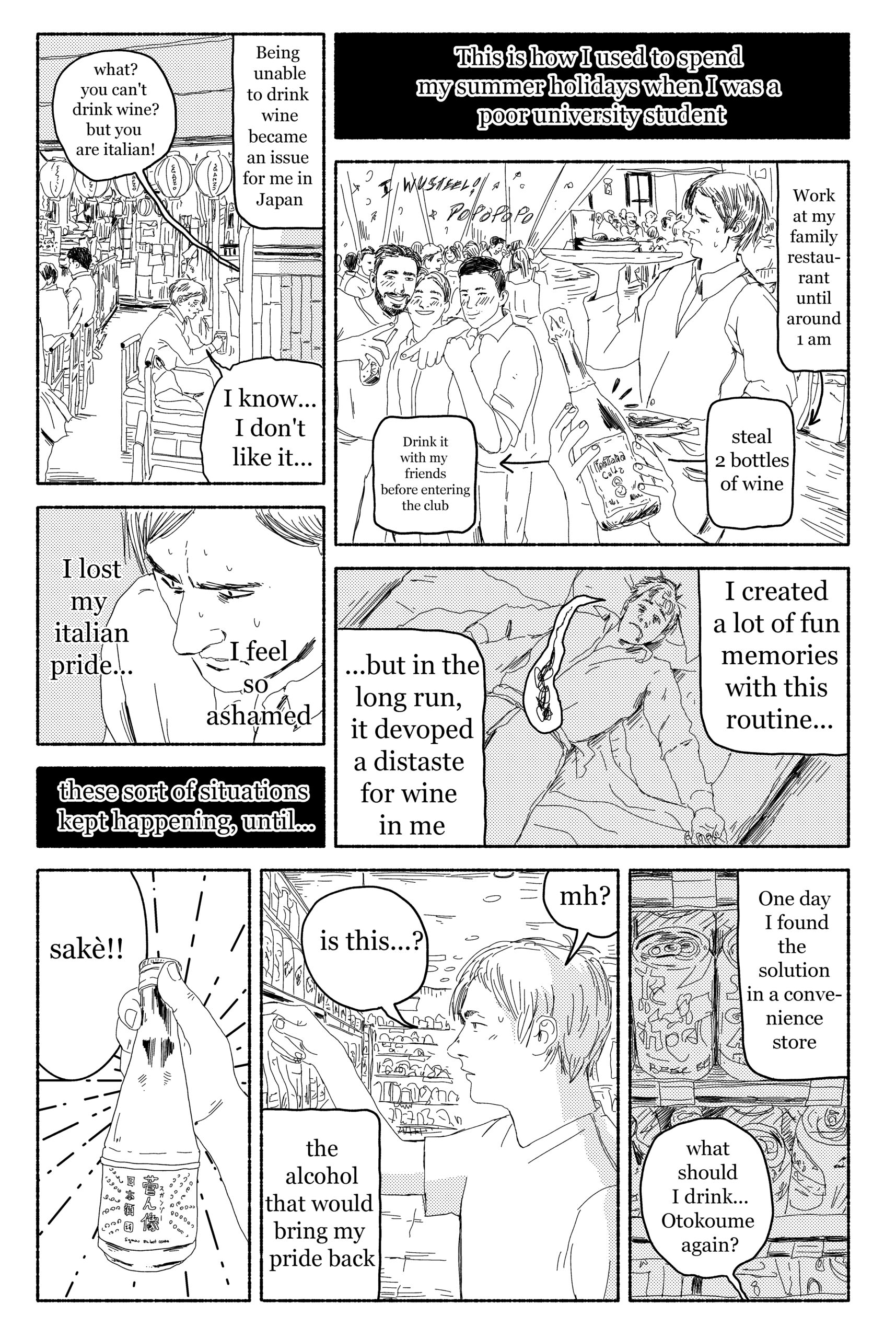 —You're from Italy, a country known for wine, but have you had experience drinking sake before?
Peppe: I had my first Japanese sake in Japan. I once had too much wine when I was in university in Italy, and ever since, I get sick just from the smell of it. So I can't drink wine. In Japan, I often get embarrassed as people say, "I can't believe you're Italian and don't drink wine!" [laughs]. One day, I found a small bottle of Japanese sake at a convenience store and tried it, but I didn't like the taste at all. But I started liking it after I asked and learned about fine sake from a sake connoisseur. By the way, Atsukan (roughly translates to "hot sake") is one of my favorites.
—Did you know anyone in Italy familiar with Japanese sake?
Peppe: Wine is more common in Italy, and none of my friends knew about Japanese sake. But I think if they tried, they would like it. So I want to introduce sake to my friends in Italy someday.
—Great! How was the tour of the Sawanoi sake brewery in Okutama?
Peppe: When I went, it was just after the shikomi phase [the initial mixing of ingredients to be fermented], so it was a shame that I couldn't see the actual process. But I got to see inside the cellar and learn about the procedure of sake crafting.
—How was the tasting you did after the tour? You tried two different sake, "凰 (Kou)" and "蔵守 (Kuramori)."
Peppe: "凰" (Kou) was easier for me to drink. But I was drunk after two cups.[laughs]. Gotta be careful.
Translation Ai Kaneda