Peppe is an Italian manga artist who has won his first serialization with the manga Mingo: Itariajin ga Minna Moteru to Omou na yo(English title|Mingo: Don't think that all Italians would be popular with the girls!) (Shogakukan). Peppe is also active as a model, appearing in Japanese reality television show Terrace House Tokyo in 2019.
We at TOKION asked Peppe to create a manga series to find out what an Italian man thinks of Japanese culture. In the series, Peppe will experience Japan's unique culture and introduce it in the form of a short manga story. In the fourth installment, he visits the Edo-Tokyo Open Air Architectural Museum in Koganei, Tokyo. The museum restores historic buildings from the end of the Edo era to the beginning of the Showa era, and visitors can experience what life was like in the past. What did Peppe feel at the museum, which he went to use as a reference for his next manga?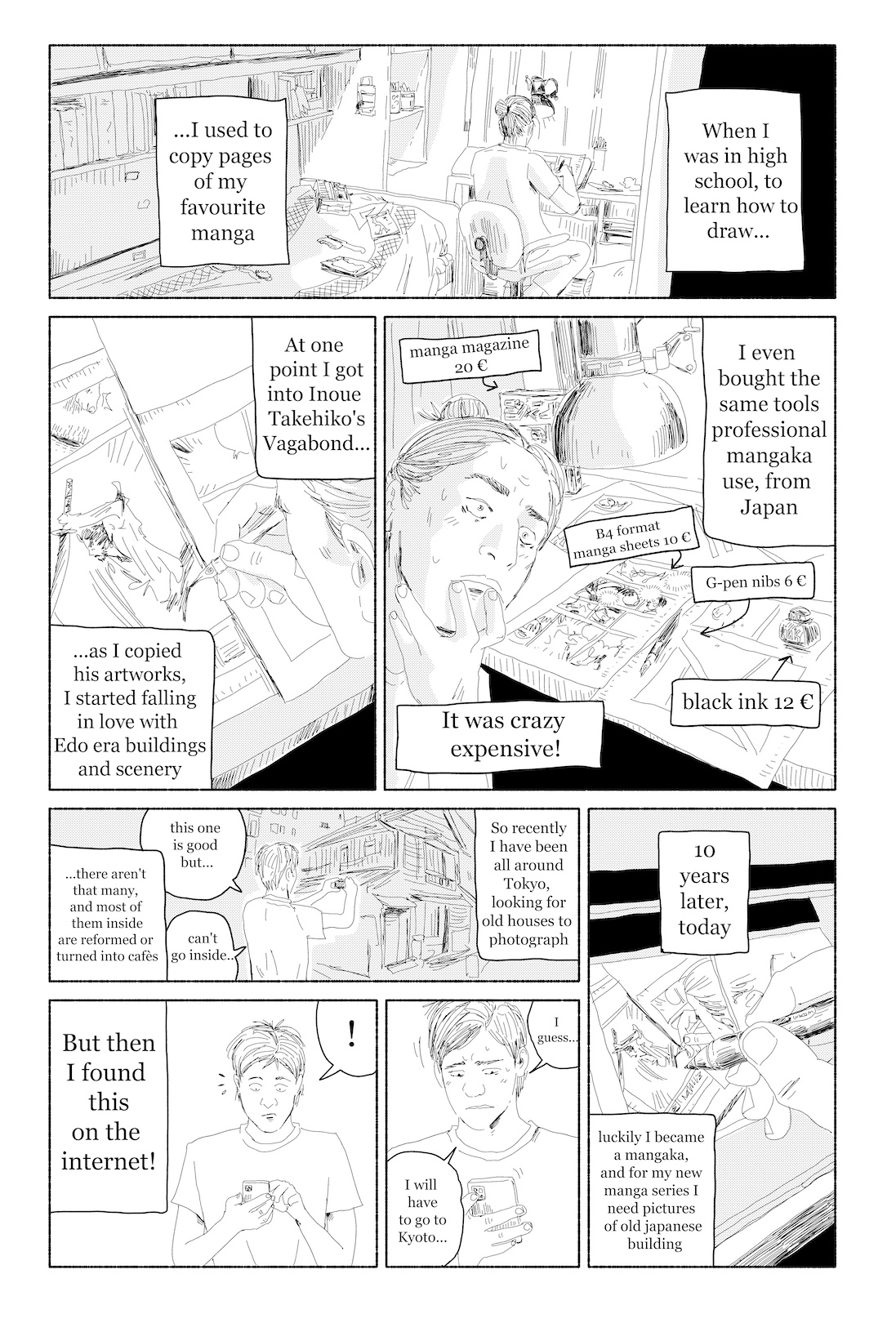 –We visited the Edo-Tokyo Open Air Architectural Museum because you wanted to use it as a reference for your next manga. How was it?
Peppe: I'm thinking of depicting the early Showa era in my next manga, so I really wanted to visit the museum. I found it so helpful. There are many photos of the exterior of [the buildings], but I'm glad I could witness the details, such as the reconstructed interior, tools, and advertisements. It was bigger than I expected, so I got exhausted (laughs).
–I see. I went there thinking it would be an easy trip, but I was surprised by how spacious it was. The museum's seven hectares big. You took so many photos of the buildings. Which ones stood out to you?
Peppe: I took about 2,000 photos (laughs). I've seen the exterior of the House of the Leader of the Hachioji Guards from the late Edo era, but the interior was bigger than I imagined. There was a recreated bathroom as well. I was happy to see a glimpse of the world of Vagabond because I like that manga. I enjoyed how the House of Kunio Maekawa, built in 1942, had a blend of the East and West. It made me want to live there.
–What do you think is the difference between Italian and Japanese architecture?
Peppe: In Italy, people don't rebuild buildings frequently like in Japan. Most of the buildings there are old. There are many skyscrapers in one part of Milan, but not as many as in Japan. There are just so many in Shibuya. I personally like old Japanese houses with tatami mats and sliding doors.
Translation Lena Grace Suda