Christophe Brunnquell has worked as an art director for a wide range of projects, including the avant-garde independent culture magazine Purple, launched in 1992, Le Figaro, one of the most traditional national newspapers in France, fashion brands, and photobooks. As an artist himself, he has been creating collages and paintings for many years.
Through his consistent pursuit of "art" in an effortless and pure manner, Brunquell displays his diverse talents. For example, Purple brought about the grammar of art in the world of magazines, the formulaic periodical publication, revealing itself as a monument that shows that a single copy of a magazine can be an art piece. Also, in terms of photography and fashion, he creates a tide of energy by sharply and continuously capturing the moments where remarkable sensibility oozes. This is an act of creation done through the eyes of an artist in its own right.
This time, as the culmination of a career spanning more than 30 years, he has released EX PURPLE EX FIGARO, an art book that compiles his collage works. The images, which evoke the Freudian world of the deep psyche, pierce directly through our consciousness with psychedelic stimulation and humor. We interviewed Christophe, who visited Japan recently, about the background of his works, his attitude toward art, and his perspectives both as an artist and art director.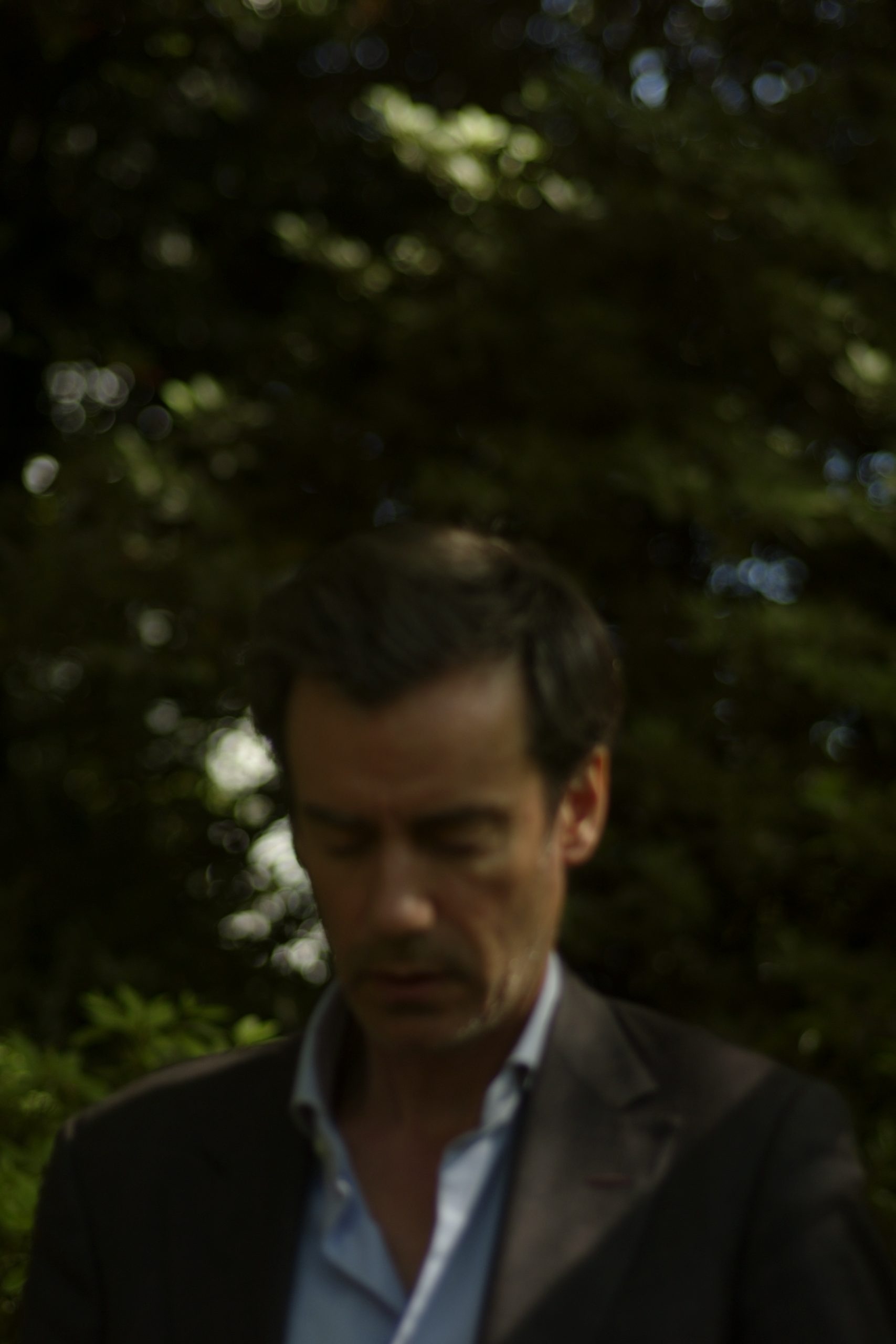 Christophe Brunquell
Christophe Brunquell is a contemporary artist, creative and art director born in Paris in 1969, whose range of creative practices is diverse. He was appointed art director of the 50th anniversary exhibition of Picasso's death starting at Musée National Picasso-Paris in this coming September. He exhibits his own artworks every year at a number of galleries, including "Le Consortium". He also works as art director for artists such as Sophie Calle.
Principles of creative practice: the pleasure of challenge and discomfort, immediate response to instinct.
–After 15 years in the art direction of Purple, you worked for 15 years in the creative direction of Le Figaro, France's longest running mainstream news media. What were your personal principles in working with those two media with completely different backgrounds, environments, and audiences?
Christophe Brunquell (Christophe): The avant-garde Purple and the classic FIGARO have completely different universes, so it was good for me to be involved in them in a 50:50 balance. I think it also has something to do with my own background, having grown up in a rather traditional family.
Purple is a visually oriented medium. I was free to decide on the graphics and layout, so I used an experimental method of pasting type and images onto the pages of the magazine in a collage-like style, changing the format and size of each issue to keep it from following the same routine. I believe that the act of printing a magazine is "the achievement of modernism." Each sheet of paper should have its own special value, and if it is not special, it does not deserve to be printed. I was working on Purple with this mind-set and attitude. A magazine is just like a work of art, and I do not draw any lines between the two. People want to collect and keep it all the more because it is an art piece. It should evoke that kind of feeling.
On the other hand, Figaro is a classic medium that places emphasis on writing, so I couldn't experiment with it as an art form like I did with Purple, so I worked on the collage as a personal work in between jobs. People would be surprised if I did paintings while I was at work (laughs). I would use newspapers from major media around the world, such as The Guardian and The New York Times, that arrived at the office, and I have produced eight books of collages so far, using a total of about 35,000 sheets of newspaper for my work.
–Through your collage works, which have a slightly nightmarish and addictive quality and are created by reconstructing existing images of mainstream newspapers, you are throwing a stone of chaos into the media and readers of recent years, where we can see the establishment of "technique of sugarcoating" and a tendency toward pre-established harmony. What is in your mind when making collages?
Christophe: "Discomfort." This is a crucial element for me. I feel uncomfortable being in a comfortable state. I have been a creative director for many different brands, but I have always valued this feeling. Even on a chair, I sit on only half of the seat to experience a sense of discomfort, and I don't even have a sofa at home (laughs).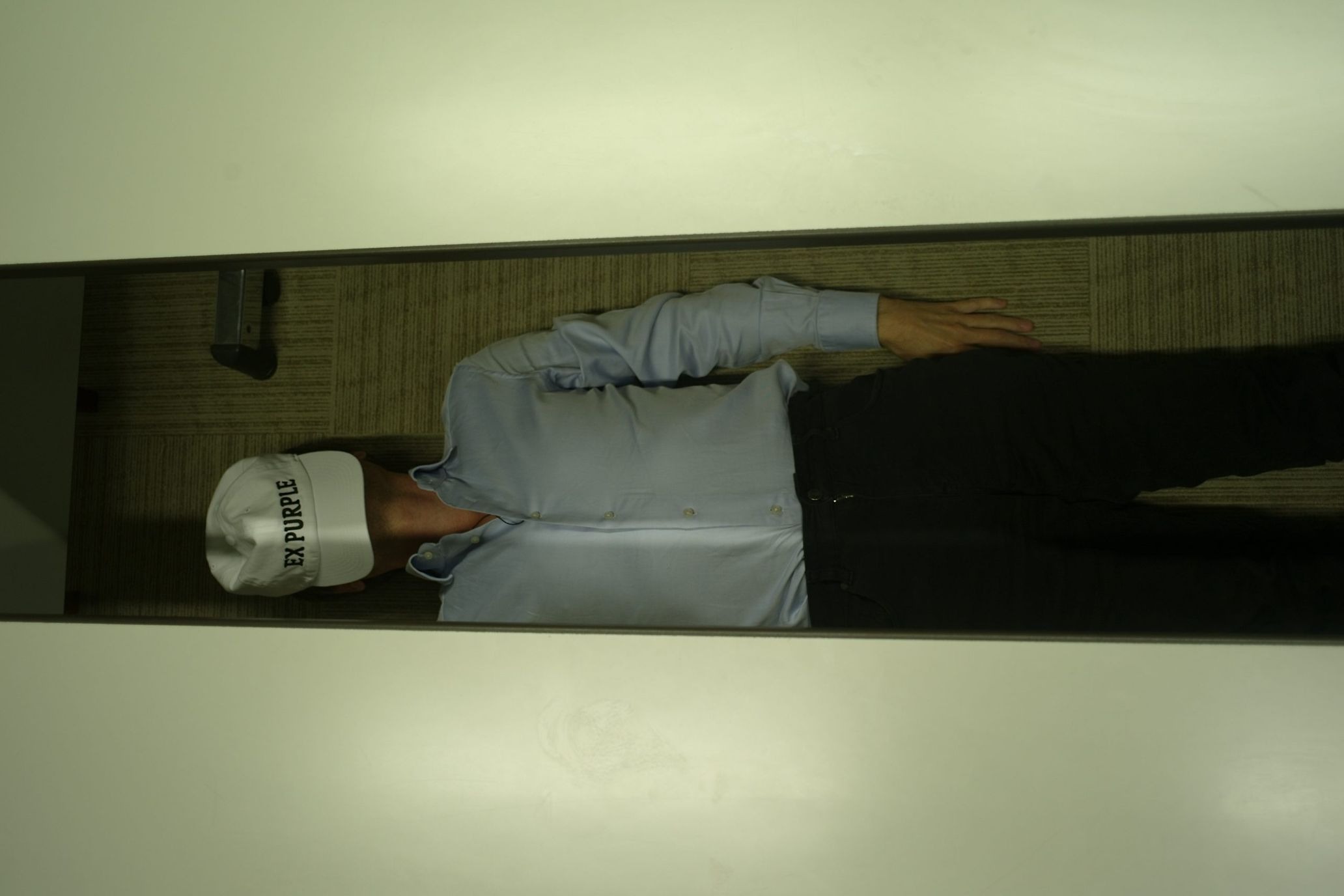 –I believe that the collage works in EX PURPLE EX FIGARO are valuable opportunities for us to trace a part of your creative process on a subconscious level. Please tell us about your perspective and attitude in your creative practice.
Christophe: Ever since I was a child, I could never be quiet, I had to be doing something, and I was and still am constantly moving. Some creative directors make mood boards, sit back, and work on something thoroughly, but that's not the case with me. Drawing and painting are not the realizations of my thoughts. Anyway, I move my hands before I think. It is similar to the feeling of automatic writing.    
Hans Hartung, an artist known for his informalism and abstract painting style, said, "The act of drawing is like being under a spell of lightning bolts." Creativity, just like lightning, should be intense and full of energy.
Intuition in creation is quickly extinguished, so speed is definitely the key. Philip Roth, one of the most prominent novelists in American literature, didn't sit down when writing, and Marguerite Duras began writing early in the day, before she had even spoken a single word. Basquiat and Miró would finish their paintings within a day.
I also always want to be immersed in my work in solitude. According to Arthur Baldwin Turnure, founder of Vogue, the more accomplished artists are, the greater their capacity for solitude. Bret Easton Ellis, the author of American Psycho, in my opinion, is not the kind of person who has weekend barbecues with friends but someone who is always working while enduring solitude (laughs).
–In my understanding, in addition to your collage works, you have been creating many other works of art, such as paintings and sculptures. What kind of works are they exactly?
Christophe: I do not paint figurative paintings, but abstract paintings mainly in black and white. I like abstract paintings by William de Kooning, Hans Hartung, Jackson Pollock, among others. In galleries, a red dot sticker is placed on the outside of the frame of the work, signifying that the work has been "sold," but I put a twist on this idea and made it into a work of art, ironically addressing the idea of "selling art pieces" as well as the system of art itself. An exhibition of this body of work will be held in Paris in June.
–What is the driving force for you to continue creating art?
Christophe: The energy comes from the undying desire to find new toys and to be uncomfortably experimental. Picasso, an artist whom I admire, once said, "Even if I am in prison and have no pen and ink, I can still draw with my spit." It is important to continue to create in some form, depending on the situation at any given moment.
For me, creating a book is a kind of conclusion of a chapter to move on to something new. I devote myself entirely to a project while working on it, and when I finish a book, I move on to the next chapter.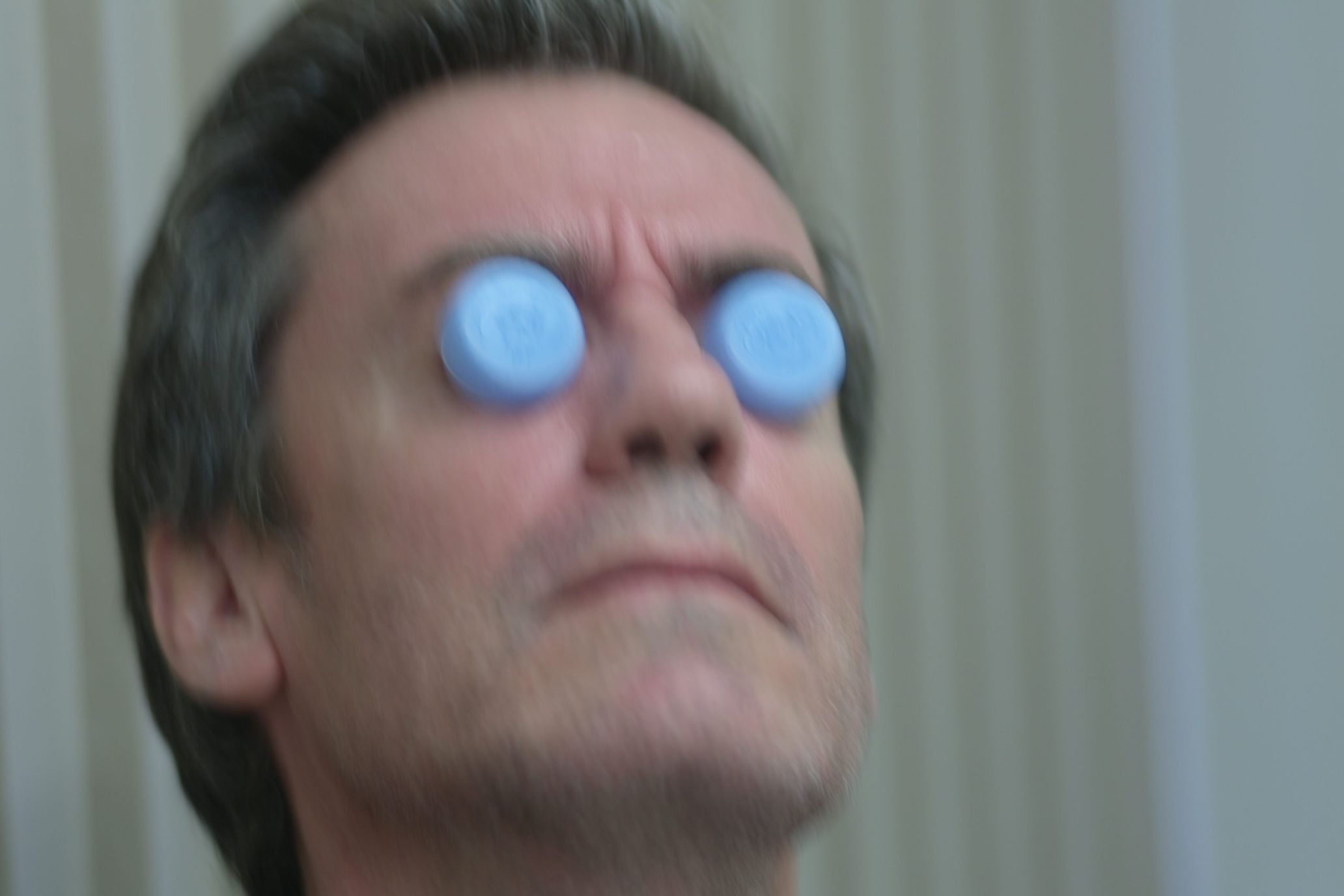 Art is not tailored but created out of free synergy of sensibilities
—Purple is a magazine that crosses all kinds of cultures and expands the possibilities of the magazine. You have collaborated with Wolfgang Tillmans, Mark Borthwick, Kyoji Takahashi, and other unique artists from the early stage of their careers. From what perspective did you choose to work with these artists?
Christophe: Whether it is Purple or Figaro, it is essential to work with talented photographers when creating a magazine. To make a piece of art, you have to work with artists. Tillmans, Borthwick, and Kyoji Takahashi, are all photographers, but they approach photography with a sense of freedom that is more akin to that of an artist. With Purple, I worked with them as if I were collaborating with an artist rather than a photographer.
–How would you describe the similarities between your senses in art piece creation and art direction?
Christophe: Kyoji Takahashi is a photographer, but he also draws, and I can't agree with him more when he calls his paintings graffiti. Graffiti is full of energy. I am also a painter, but what I paint is more like graffiti than painting. Graffiti is not pretentious or "too much." It is natural and spontaneous, reflecting instinct and drawn before thinking. The same is true of layout in my art direction.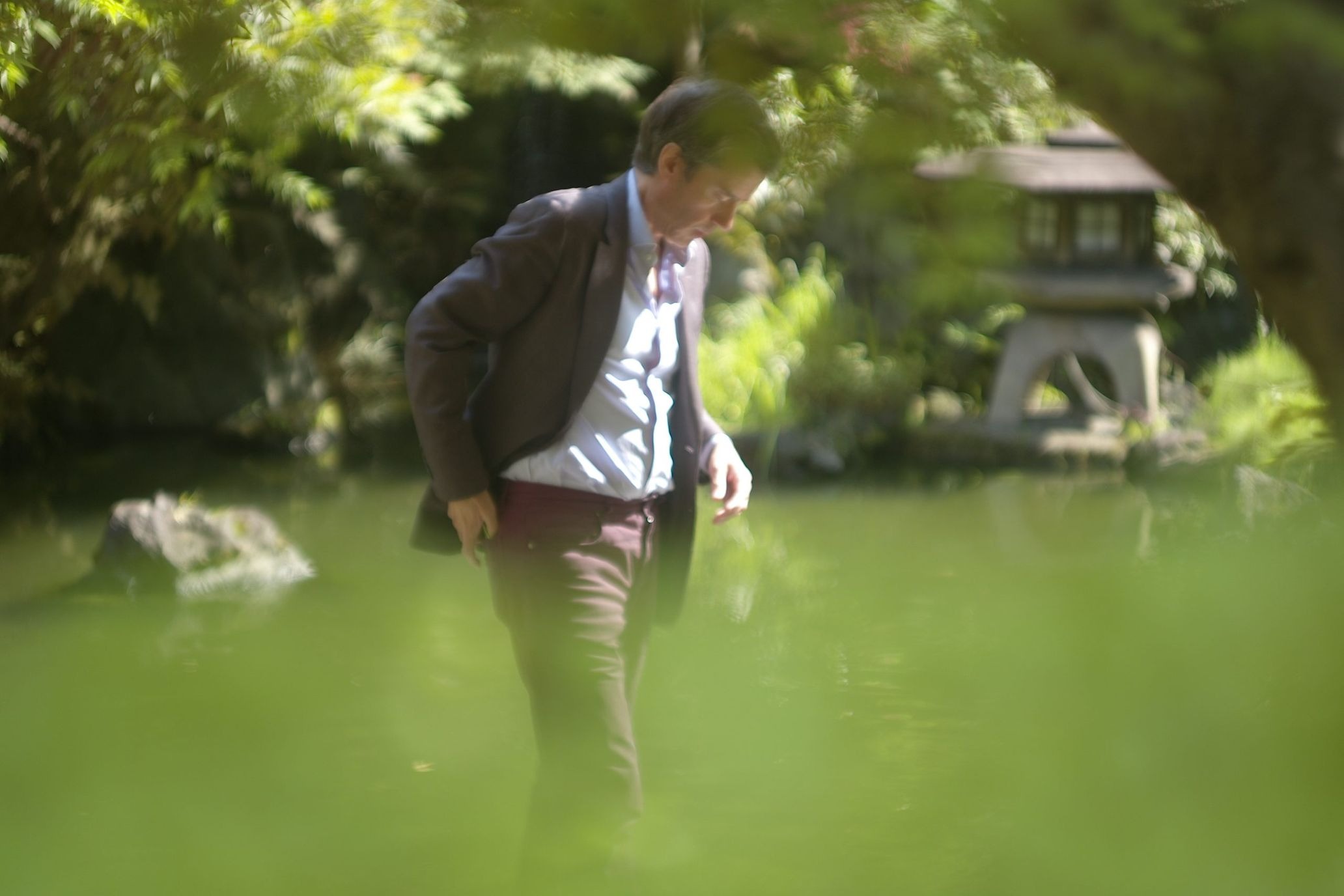 A pure act of love, its beauty and power
–You also do art direction for Japanese photographers. How do you see the Japanese creative scene?
Christophe: Japanese photographers are truly amazing. As Nobuyoshi Araki said, "Photography is love for the subject," I believe that the condition for a good photograph is how much you love the subject you photograph. I feel their strong love for the subjects from Japanese photographers, which is very beautiful.
When I made a book by Kyoji Takahashi, there was a photo of birds. I could feel his love for the birds in this photo, and I found it very beautiful. I think it is Japanese photographers who have the biggest love for their subjects.
–You have been unique beyond comparison as an art director for over 30 years. What is your long-term vision for the future?
Christophe: First of all, I will eat as much broccoli as possible (laughs). Well, I'm not joking because broccoli is a vegetable with excellent nutrients. Health is the first priority for good work. I lead a simple and healthy life, just as Haruki Murakami jogs for his health. As for alcohol, I just drink a glass of white wine once a week. In the morning, I eat cheese and broccoli instead of sugary foods. Eating cheese at night is not very good for our health.
As for my artistic practice, I want to keep creating paintings of red marks on a white canvas. Also, my great-grandfather Félicien Robert Challaye, a philosopher, published several books about Japan, and I would like to create a magazine with the same title as his book "Le Cœur japonais" (Paris, Payot, 1927). I would also like to do creative direction work in Japan. It is always important to be involved in more than one project because even when one of them is not working well, you can commit yourself to the other ones and keep a balance.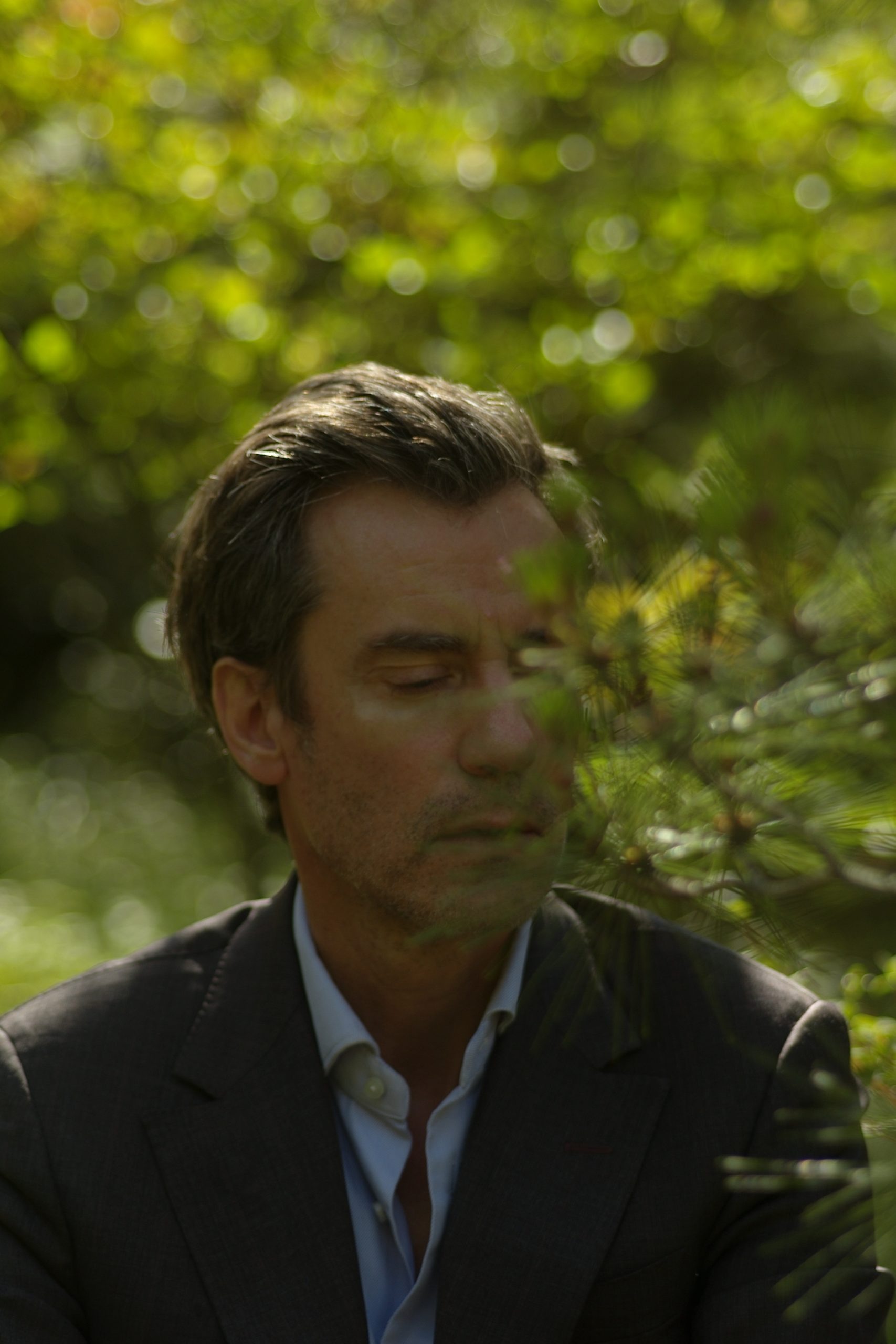 ■EX PURPLE EX FIGARO
Stockists in Japan: Daikanyama Tsutaya, Ginza Tsutaya
Photography Kyoji Takahashi
Interview Akio Kunisawa
Edit Jun Ashizawa(TOKION)
Translation Shinichiro Sato(TOKION)