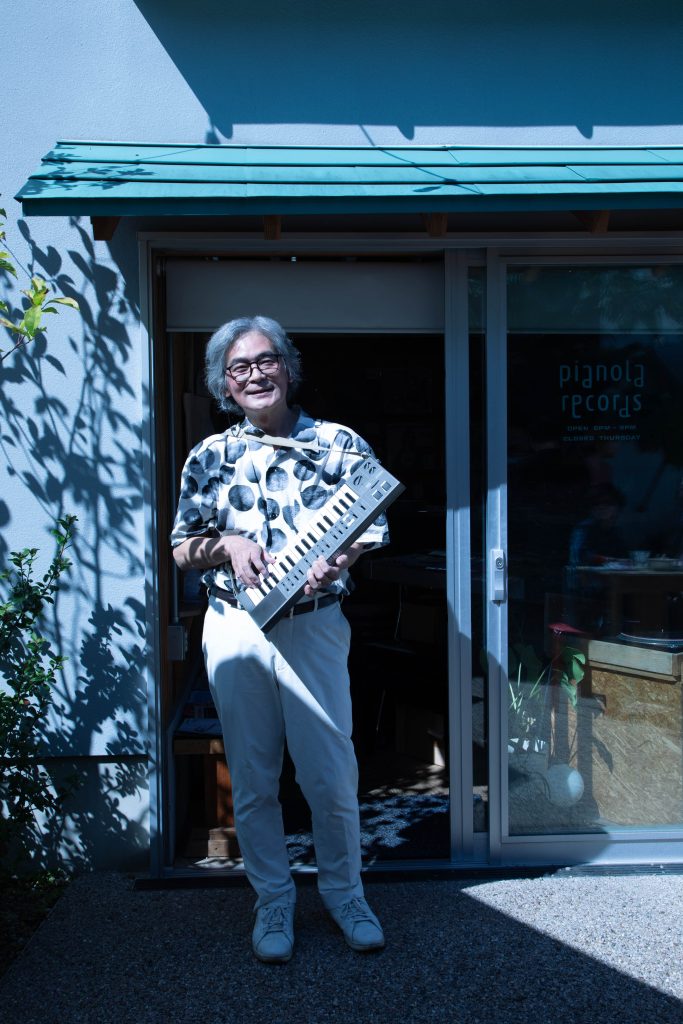 Satoshi Suzuki
Born in Tokyo in July 1958, Suzuki Satoshi has been an active live house musician since 1977. He plays jazz piano, but his favorite music is soul music. Thus, the sound he produces is AOR.
http://litera.in.coocan.jp/tealive.htm
Satoshi Suzuki is a "city pop artist" who has been creating solo music since the 1980s and has released several albums. He is an urban musician who is still an active performer and consistently performs live. However, even if we introduce him in this way, a very limited number of readers will be able to link this information to the right face. And it's no wonder because Satoshi Suzuki is an amateur musician who has never had a hit or made his mark on the major music scene in his career but continues to play music in his own way.
In recent years, however, an LP records he released 35 years ago has suddenly gained attention from a bunch of music fans in Japan and abroad. Satoshi Suzuki's music has fascinated edgy DJs, "diggers," and a particular type of listeners enjoying the music in venues and nightclubs in Tokyo. They were exposed to his music as if they unexpectedly encountered something that had been stored in a time capsule without being seen by anyone, and have listened to it cherishingly.
The intimate home-recorded sound has a warm and delicate charm that is reminiscent of the DIY soul and AOR that has been discovered in the last decade or so, such as Jeff Phelps, Dwight Sykes, Chuck Senrick, and Joe Tossini. Well, no, it may not make much sense to try to appeal to the "music geek" crowds by putting together seemingly plausible nouns like these and trying to sound clever. Suzuki's music is different from the type of music that will be enthusiastically supported by the majority, but is something that is sure to capture the hearts of a particular type of people.
This time, the sound sources produced in the past have been compiled and released as a compilation record entitled, "Distant Travel Companion," by the Portland, OR-based label, Incidental Music. The release of this album is a particularly joyous occasion among a series of such events, as various Japanese music produced in the past has recently been reevaluated across oceans.
On the occasion of the release, we had the pleasure to sit down and talk to Suzuki about his career, the evolution of his musical practices, and the impetus for this release.
From a precocious listener to a musician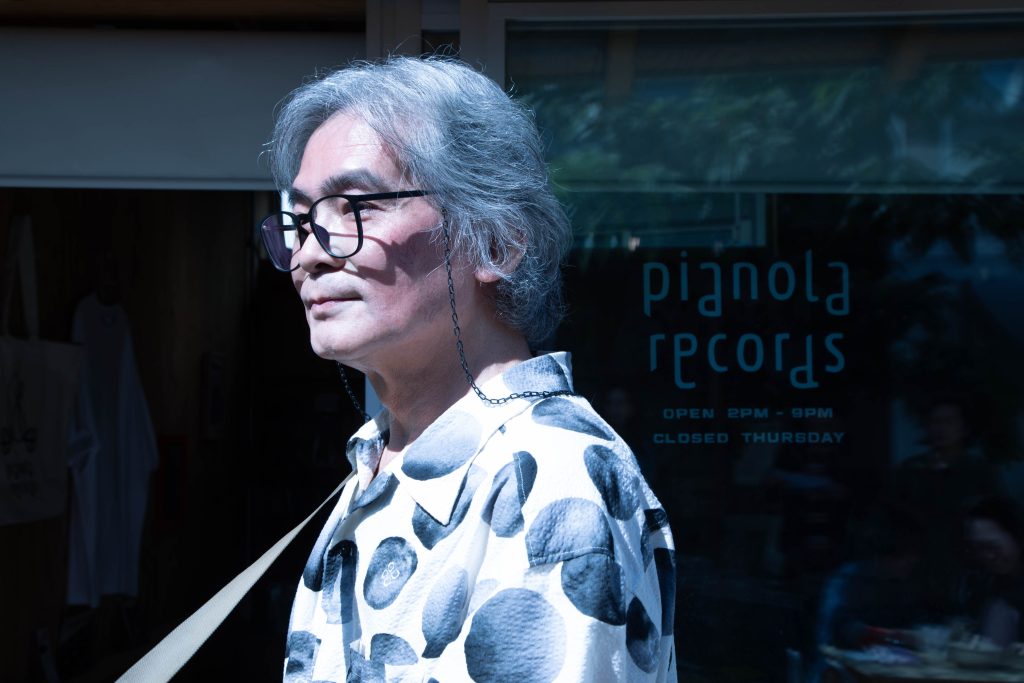 — First of all, can you tell us your birth year and where you were born?
Satoshi Suzuki (Suzuki): I was born in Tokyo in July 1958. I have lived all my life in Ikebukuro.
–Have you always loved music since you were a child?
Suzuki: Yes, I have. From the time I was in junior high school, I loved to listen to a kind of music that can be said to be the forerunner of what is now called "city pop," like HAPPY END, Caramel Mama, Tin Pan Alley. At the time, I often listened to radio personality Baba Kozue's radio programs, such as the Thursday episode of TBS Radio's Pack in Music and こずえの深夜営業(Kozue's Late Night Business), and she often played kinds of music I just mentioned. I first heard Yumi Arai and Minako Yoshida's debut album, Haruomi Hosono's Hosono House, and Eiichi Otaki's first solo, Eiichi Otaki all through the radio.
–So you were a very precocious listener.
Suzuki: Yes, perhaps I was, because until the mid-1970s, the mainstream was kayo kyoku (Japanese pop music) and a new form of folk music called new music.
For today's interview, I brought audio cassette tapes that I edited myself in 1977. I bought all the singles I could get and dubbed them. (Looking at the index card) It contains Taeko Onuki's Wander Lust, Ashita kara drama (明日から、ドラマ; literally: From tomorrow, there will be a drama), Yoshitaka Minami's Korede Jyunbi Okay (これで準備OK; literally: We are ready with this), Sobakasu no Aru Shojo (そばかすのある少女; literally: Girl with Freckles), Minako Yoshida's Shooting Star of Love part2," Ami Ozaki's Tabi (旅; literally: Journey) Hi-Fi Set's Kaze no Machi (風の街; literally: The Town of Wind), Ginji Ito's Kaze ni Narerunara (風になれるなら; literally: If I could be the wind), Yumi Matsutoya's Torn by the sea Breeze, Hiroshi Kamayatsu's A Seventeen in Satin Dress, and Makoto Kubota's Bye Bye Baby.
–(Looking at the index card) You also wrote the credits for the musicians yourself, didn't you?
Suzuki: From that time on, I was checking personnel lists in liner notes and got every single sound source that Tin Pan Alley was involved as a backing band. After I left high school, I started working part-time at a record store in Ekoda, so I ordered and bought everything I wanted myself (laughs).
–When did you start playing music by yourself?
Suzuki:I started a band with my classmates when I was in high school, and after graduation I started playing at music venues in 1977. We played quite a few times at Red House in Koenji, The Loft in Ogikubo, Yamaha in Shibuya, and other music venues in Tokyo.
I was playing keyboards and taking vocals, and two other members were playing acoustic guitar and singing, so we were a trio. I tried my best to buy a Fender Rhodes early on and used it for live performances. In terms of band composition, it was simple, but I was a big fan of Carole King and James Taylor, so I was aiming for something more sophisticated than cheesy folk music. The chorus of the three of us was also an essential element. I had the two guitarists study the performances of James Taylor and Tadahide Yoshikawa.
–Did you have original songs in your repertoire at that time?
Suzuki: Yeah. After graduating high school, I went to Shobi Music Academy (now Shobi Music College), where I studied composition. The course was meant to be classical composition, but I was composing pop music (laughs). I was in a relatively free environment, where I was allowed to interact with students in the jazz department. I spent my days studying classical music theory and the Berklee method of jazz. After studying jazz theory, I became able to use chords for bossa nova, and my experience there became a great source of inspiration for my later music compositions.
–Did you also listen to soul music?
Suzuki:I did listen to soul music. Quincy Jones' A&M era albums were released all at once as Japanese editions, and I bought them, which was how I was first exposed to soul-kind of music. After the 1980s, I started listening to what is called "black contemporary" music.
–What about AOR?
Suzuki:Of course, I love it. From Michael Franks to Steely Dan and Boz Scaggs, I used to buy their records a lot.
— You described your own music on the obi of the album Shumatsu no Hikari to Kaze(週末の光と風; litereally: Weekend Light and Wind), which was released later, as "40% jazz, 30% soul, 20% Brazilian, 10% kayo kyoku." So that was a true reflection of your musical experiences at that time, right?
Suzuki:Yes, exactly.
–What happened to your band after that?
Suzuki:We were active for about eight years from 1977 until about 1985. However, we all started working and got busy, and naturally disbanded.
— Did you make any recordings with the band?
Suzuki:We recorded our songs in one take. The songs used to be on the Internet a long time ago.
Starting home recording in the 1980s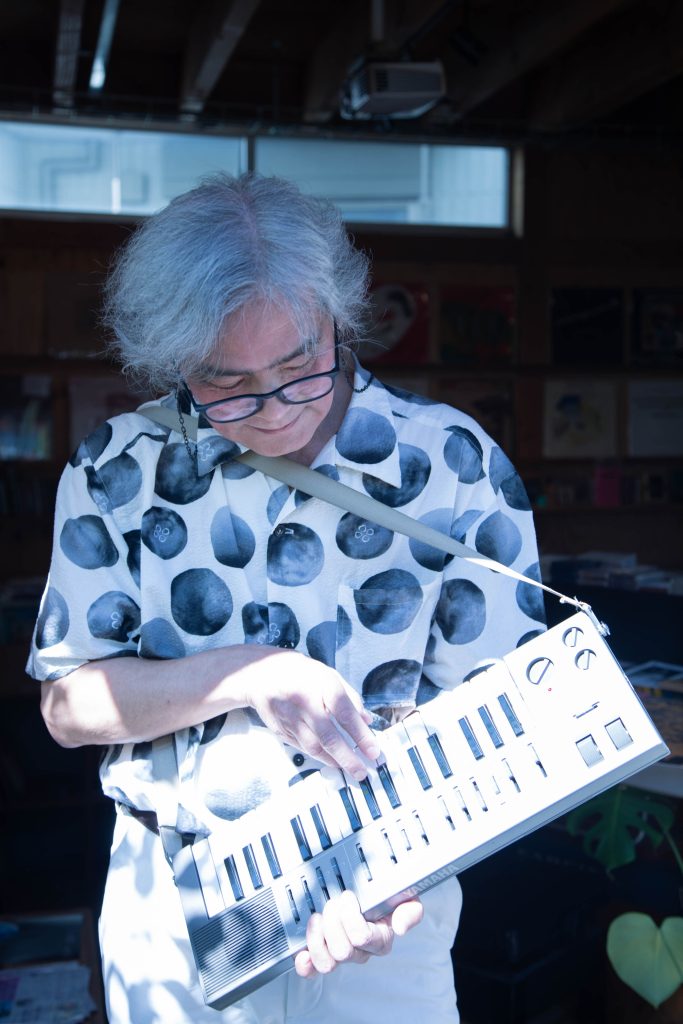 –When did you start home recording by yourself?
Suzuki:I started it in 1983, when I got a multitrack recorder TEAC 244. Until then, overdubbing was a very time-consuming process for amateurs. Like, you had to set up two decks and do ping-pong recording, so the MTR was a real breakthrough.
— How did you make strings parts?
Suzuki:I mainly used the YAMAHA CS01, which I have with me today. I also used the YAMAHA DX-7, which had just been released, and a Casio synthesizer. The DX-7 was such a revolutionary instrument. Until then, polyphonic synthesizers had limitations in many aspects.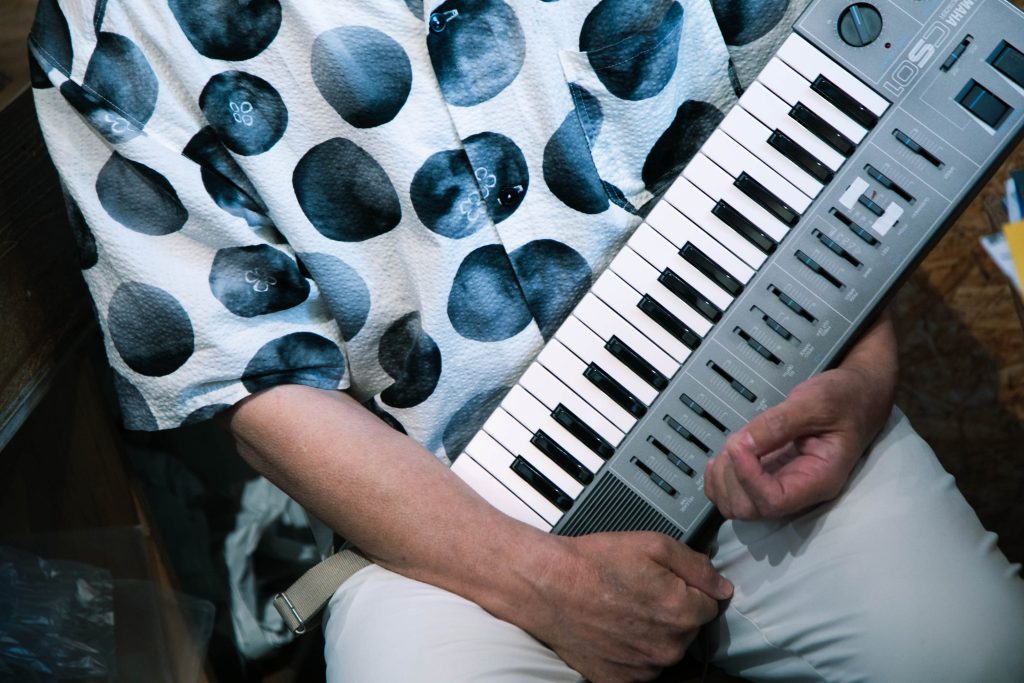 –Have you ever thought of trying the techno-pop or New Wave music that was popular back then?
Suzuki: No. I wanted to stick to sophisticated music. After peaking in the early 1980s, the city pop sound stagnated, but I think that was largely due to the rise of New Wave music. New Wave music is derived from punk, and its underlying philosophy is to destroy existing music, which was different from what I liked.
But I naturally heard about it. I had a colleague who loved New Wave at the company I worked at in 1983. On the other hand, my boss liked Cassiopeia and AB's and played their records at work. And I was rather attracted to them. I was working at the software development department of Rittor Music, so obviously, everyone in the workplace was a music lover.
–Wait, you worked at Rittor Music?
Suzuki: Just a short period, though (laughs). After that, I worked at synthesizer player Shigenori Kamiya's studio.
–-Was that so?
Suzuki: Kamiya's father was a painter, and he had converted his father's studio into a music studio. Before I joined the company, various musicians, such as Akira Sakata and Shuichi "Ponta" Murakami, used that studio. There were a lot of magnificent instruments, including a real Mellotron. However, my job was not directly related to studio work but software development, just as during my time at Rittor.
— So, while doing this kind of work for a living, you recorded your music on a daily basis and released them in the form of LPs in the late 1980s?
Suzuki: Yeah, exactly.
–Since the Internet became commonplace, self-releasing has not been so unusual, but there must have been many challenges to independently releasing a record back then.
Suzuki: Surprisingly, in my opinion, it was not so difficult. There were many New Wave indie labels, such as Nagom Records, and many people in that genre were independently producing their own records. Those examples made me want to make a record myself. Then I looked into how to release it, and it turned out that a company called Athene Record Ind. Co., Ltd. (Now known as Athene Corporation) could serve as a contact for production.
–Athene Record is now well known among enthusiasts as a prestigious independent record manufacturer.
Suzuki: It was a company that manufactured records mainly for educational purposes. I remember going to a meeting and being addressed by a serious-looking employee in a suit (laughs). I brought the master I had made to the Athene Record and had it converted into a master tape for cutting.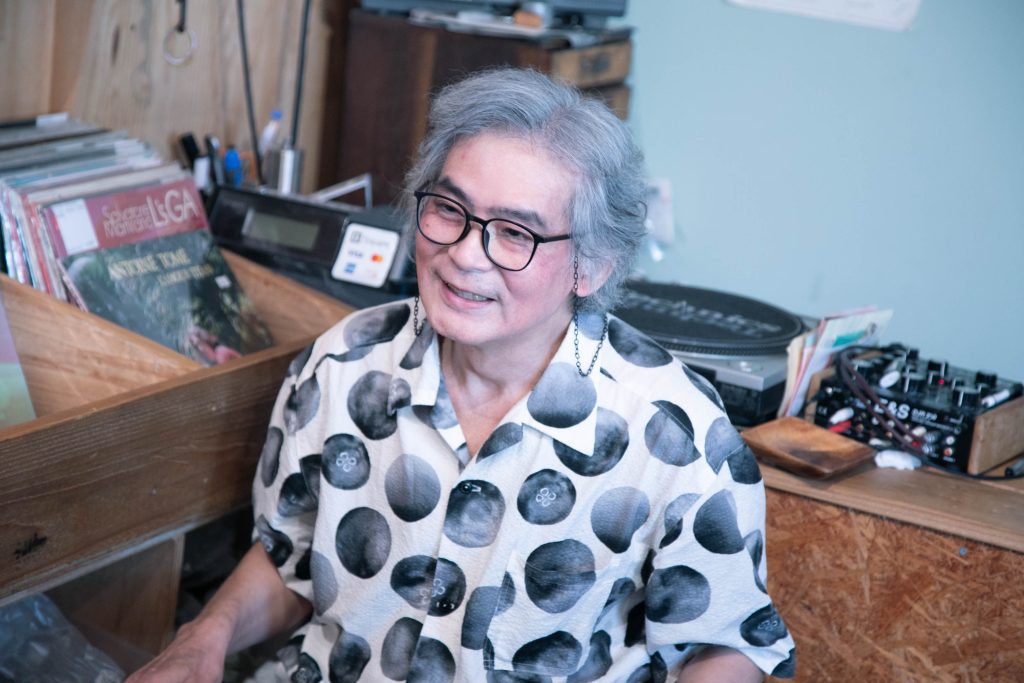 –You have released a total of three LPs. In what order were they released?
Suzuki:I don't remember exactly when I released them. But I probably released Mandheling Street in 1987, followed by Shumatsu no Hikari to Kaze in 1988, and then Natsu ga Miseru Yume (夏が見せる夢; literally: The Dream Summer Shows). The songs in Mandheling Street and Natsu ga Miseru Yume were produced in parallel at the same time since 1983, and are mainly made up of rearranged versions of songs that I originally played in the band and recorded by myself. In my mind, Natsu ga Miseru Yume was considered the first album, but Mandheling Street had more cheerful songs, so I released it first (laughs). Shumatsu no Hikari to Kaze contains new songs that I wrote after 1987.
–You also directed the production of the sleeve, didn't you?
Suzuki: Yes, I did.
–It may be rude to put it this way, but considering that it is an independently released record, the quality of the printing is incredibly high.
I worked for an advertising agency after working at Mr. Kamiya's studio. The company is called Real Creative Agency, which is credited as the name of the label. The company created pretty much everything, so they had expertise in design and printing direction. The design was done by a designer at the company. He was happy to take on work for my record, saying, "I've always wanted to design a record." (Laughs.) Younger people might not be able to imagine this, but those were the days when we were still submitting physical drafts for printing.
–The cover photo of Shumatsu no Hikari to Kaze, which is also used for the jacket of this compilation, is particularly wonderful.
Suzuki: My wife took this photo. It is a composition looking out over the outer moat from the platform of Ichigaya Station. The advertising agency where I worked was located in Ichigaya, so I used to pass by here every day (laughs).
— How did you distribute the finished recordings?
Suzuki: I did all the sales and delivery myself. However, since each title has only 100 copies, I only wholesaled it to some selected stores like "Yamano Gakki" and "Otomushi" in Ekoda. I also sent them to music magazines. Keyboard Magazine and Sinpu Journal introduced it. I also remember receiving orders from people living in other parts of the country, and I sent them out.
A compilation released by a Portland-based label in U.S.A.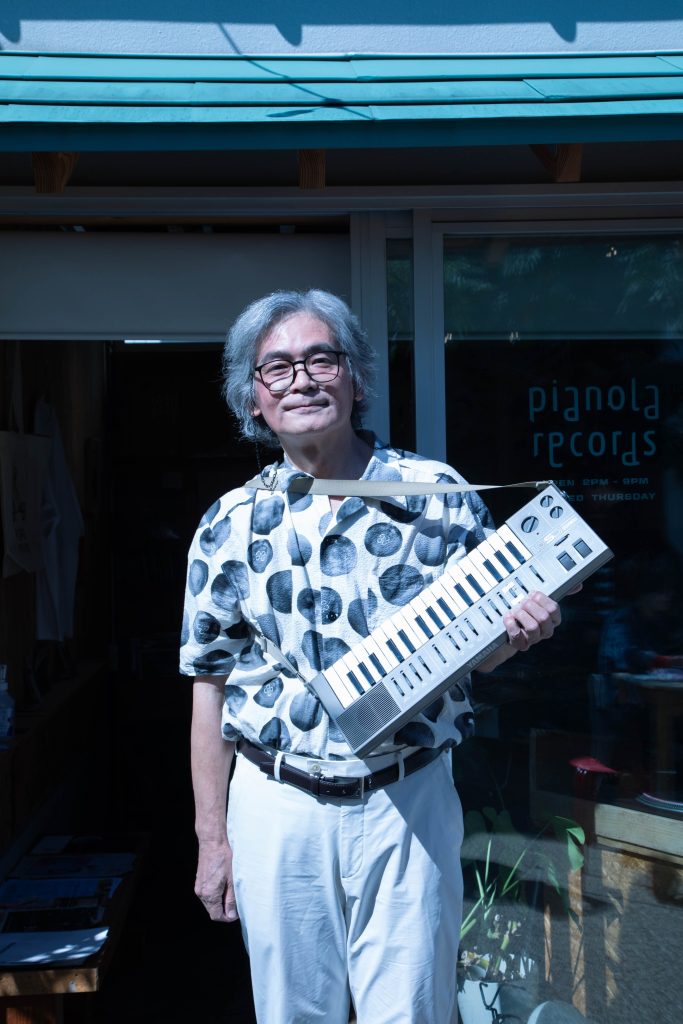 –So the LPs you released about 35 years ago have been passed on to a later generation of listeners, and finally a compilation has been released by the Portland, OR-based label INCIDENTAL MUSIC, How do you feel about this development?
Suzuki:It feels surreal. To be honest, there were a lot of gaps in the sound back then. Compared to the sound I am making now, I think I could have done more (laughs); people probably find this sparse sound interesting, though.
— It is filled with a kind of intimacy and sense of romanticism that only music produced by an amateur musician in his everyday life can have. I think this delicate and private texture, which is not present in "products" released by major labels, captures the ears and hearts of younger listeners.
Suzuki:Nowadays, everything can be programmed on DAW. In that sense, the texture of these songs is entirely different from today's sound. The drum sounds were also made with the rhythm machines of that time. Among others, the extensive use of the Rhodes Piano is what creates this texture. Today, we add long notes of synthesizers instead, but the fact that songs have actual sounds of the piano played by a human gives them a more handmade feel.
— The lyrics are also very nice and feel like some kind of literatures. They have a slightly fragile air of that era of Tokyo, or some sense of loneliness.
Suzuki: Thank you very much. I put stories into the lyrics, but I write everything as fiction.
— This compilation also includes three songs from a later CD album, "Kokoro Kanawanai Natsu soshite Fuyu (心適わない夏、そして秋; literally; Heart Incongruous Summer and Autumn), also self-produced in 1993, which shows a change in sound compared to each of the songs on the LPs.
Suzuki: I used a different drum machine and a different Casio synthesizer. It may also feature funk-like songs written in a minor key.
–Can you tell us how the release of this compilation happened?
Suzuki:Austin Tretwold of INCIDENTAL MUSIC accidentally found some of my songs uploaded on SoundCloud. So, one day, I received a message from him, and while exchanging messages, I introduced and sent some of the songs from the previous LPs. And he said, "These are great, so why don't you make a compilation?"
At that time, I already knew Kunitomo of pianola record (where the interview took place), so I asked him, "I received an inquiry like this. What do you think?" Then I found out that Kunitomo's label (conatala) and INCIDENTAL MUSIC had already worked together to release a reissue of Pale Cocoon's Mayu (繭; literally: cocoon) several years ago.
–Oh, so Kunitomo was not the person who introduced you to Mr. Austin, was he?
Suzuki:No, he wasn't. The release was decided as a result of a series of coincidences.
–Did Austin selected songs for the record?
Suzuki:Yes. I gave him all the past sound sources and asked him to choose as he liked. It was an eye-opening experience. He chose many bossa-nova-kind of songs, which I found interesting. The sound sources themselves were all re-mixed in a DAW this time.
Austin initially suggested the idea of mixing in some of the more recent songs to make a compilation, but I wanted to distinguish them from older ones. Obviously, the sound I am working on now is different from what is included in this record, and what is collected here is only "Satoshi Suzuki's work from the 1980s to the early 1990s."
— You are still actively performing live, and I have seen your shows several times. But when I saw your live performance for the first time, I was surprised by your unique setup. While playing rhythms recorded on cassette tape, you sing and use a YAMAHA CS01 with a strap attached as a shoulder keyboard.
Suzuki: My performance is based on that style. It has always been that style since 1983, when I started performing solo. It all started when I noticed that YMO used cassette tapes on their last national tour. So I thought it must be "okay" for me to use them in a live show just because the legends were doing them (laughs).
–It's fascinating that you are actually playing cassette tapes, instead of using a rhythm machine or a laptop. The way you switch the cassette tapes after performing each song looks wonderful, like a bluesman switching blues harps depending on the key.
Suzuki: First and foremost, I want the audience to see how the cassette tapes are arranged on stage and how I replace them one after another (laughs). The sound of those cassettes is output with line from the synths I play, not from the PA, which also creates a unique sound texture.
–I would love for everyone reading this interview to see your live performance.
Suzuki:Yeah, please come and visit. I have my recent songs uploaded on various websites, so I would like people reading this to listen to them as well.
Translation Shinichiro Sato
Photography Mayumi Hosokura