VIDEOTAPEMUSIC has two personas. The first is a musician who has released albums such as his most recent release, The Secret Life of VIDEOTAPEMUSIC (2019). The other is as a filmmaker who has worked on music videos for musicians including cero, Shintaro Sakamoto, and Kicell. TOKION sat down with VIDEOTAPEMUSIC to focus on his work as a videographer who has turned his attention to the small stories that fall outside of larger subjects like the state of the country and society. In part 1 of this interview, VIDEOTAPEMUSIC told us never-heard-before stories, from the start of his career to the inside story on the music video for Shintaro Sakamoto's "World Without Sadness."
[With VHS tapes] the more I moved, the more videos I could watch."
――When did you become interested in film?
VIDEOTAPEMUSIC: I've liked tokusatsu films [Japanese live-action films that make heavy use of special effects] since I was a kid, and I made my first film when I was in high school. I borrowed my friend's MiniDV camcorder and made a slapstick video, like Buster Keaton.
――After that, you went to art school and started creating films for real, right? In 2004, in your third year of uni-versity, you started working as VIDEOTAPEMUSIC.
VIDEOTAPEMUSIC: At the time, video rental stores were sell-ing a huge quantity of VHS tapes for cheap, and at my usual video rental shop at Tamagawa Josui station [Tachikawa, To-kyo], they had a closing sale: as many tapes as you could fit in three paper bags for 1000 yen. So I collected all that material and started making songs. If you were a hip-hop DJ, you would buy records, but there weren't any record shops unless you were in the city center or near a major station. So at the time, I felt like records were a bit of a luxury item that I couldn't afford. You wouldn't believe to-day how many video rental shops there were in the residen-tial areas——so VHS tapes felt cheaper and more accessible.
――Major movies would later be made into DVDs or you could view them online. But a lot of the things that you were col-lecting at the time would have been erased from history if the VHS tapes disappeared, right? Personal videos, for exam-ple.
VIDEOTAPEMUSIC: I didn't start thinking about the signifi-cance of the videos until much later. The more I collected, the more I thought that maybe there was some sort of meaning to them. That was probably around 2010. In 2009, I brought CD-Rs to Enban [A record shop in Koenji, Tokyo]. After that, I was suddenly invited to play live shows. People started telling me what they thought of the shows, and I started seeing what I was doing more objectively.
――Were you not that interested in YouTube?
VIDEOTAPEMUSIC: Yeah. YouTube has footage that's even more personal than VHS tapes, so there was a period where I felt there was potential there. But I figured that someone other than me would collect things from YouTube, too. With old VHS tapes, you have to go to a store to buy them, so the more I moved, the more videos I could watch. I believed that the distance you physically travel is proportional to the amount of information you can get, so I vaguely trusted the process itself.
――Did you also have a sort of fixation on the texture of VHS tapes? Your work incorporates VHS-like textures, and this is connected to your creative style, isn't it?
VIDEOTAPEMUSIC: I'm very particular about the texture, but it's not like I think the VHS texture is the best. Some vid-eos are more charming because of the VHS texture, but others lose quality because of it. For example, if you watch a film like Edward Yang's A Brighter Summer Day, [it's so dark that] you can't make out what's on the screen. On the other hand, I've always been drawn to things that aren't too clear. Naohiro Ukawa once said that spirits exist within the noise, and that feeling also influenced me. The movie Ringu (1998) was once popular, wasn't it? I think that horror films reveal what people were afraid of during that era, and I think the fear of Sadako [the main antagonist of Ringu] appearing from behind the VHS noise was a feeling people had back then.
――There's a certain scary quality to personal videos too, isn't there? You never know what's on the tape until you play it.
VIDEOTAPEMUSIC: Exactly. Out of curiosity, I sometimes watch strangers' wedding videotapes that I buy at secondhand stores, but there are times when they get scary. There might be people in the video who are no longer alive, and maybe I'm watching something I'm not supposed to watch. It's an internal battle between curiosity and guilt for me. When I get sick after buying something at a secondhand store, some-times I think that I might be cursed. (laughs)
――In terms of stepping into people's personal spheres, it might be similar to fieldwork in folklore studies. Do you draw a line of how far you allow yourself to go?
VIDEOTAPEMUSIC: The line is always shifting depending on the time and circumstance. There are times when later on, I feel like maybe it was wrong and I regret it. In the end, though, it all comes down to a feeling. There are moments where I feel like, "Maybe I shouldn't do this," which is a separate line from copyright issues. It's more like an instinct. I don't usually feel like that when I'm sampling records, but with videos, I can see faces, so there are times when the fear feels more real. Also, recently, I went to a secondhand store in Shiojiri in Nagano Prefecture, and they were sell-ing a farmer's household accounting book. It was written in a lot of detail, and I was interested in the content because I happened to be researching Shiojiri at the time. But I just couldn't buy it and take it home with me. It was too raw. Sometimes, secondhand stores sell diaries too.
――Diaries are a bit much…
VIDEOTAPEMUSIC: Right.
On the production of VIDEOTAPEMUSIC's past music videos
――What was the first music video you worked on?
VIDEOTAPEMUSIC: There was a band I used to play with all the time called Mamitori [Currently known as Mamitri Yulith Em-press Yonagunisan]. The first video I made was an animation for a song called "Summer Mountain Summer Sea" (2009) by Tadasuke Iwanaga, who was in that band. It's sort of an electronic acid folk song, and the album is really good, too. I love it so much that I still listen to it. When I was in college, I used to make animations by tracing existing footage from TV shows and commercials by hand. To understand what was actually going on in the 30 frames per second of TV that I usually would watch without thinking, I would draw everything on the screen frame by frame. That music video was an extension of that, and I drew everything by hand, in-cluding the VHS static.
――Since then, you've worked on a lot of music videos. What do you think about the balance between the artist's worldview and your own creative style?
VIDEOTAPEMUSIC: Basically, I keep each artist's worldview in mind when I create [a video], so I think when my creative style comes through, it's something that I've overlooked. If I get a request to make something in a VIDEOTAPEMUSIC style, though, I can express my creative style without reservation. I made Kicell's "Fuji to Yuyami" (2107) according to the song universe, but maybe my own creative style accidentally made its way in there. I've also made some videos for cero, and essentially, my intention is to go along with the song universe. Conversely, there are times when a song that I made a music video for influences my later work.
――I heard you shot Shintaro Sakamoto's "World Without Sad-ness" (2015) on reclaimed land in Kasai (Edogawa-ku, Tokyo).
VIDEOTAPEMUSIC: I shot it in a bunch of areas, mainly in Ka-sai. I wanted to shoot it in an area that was as nondescript as possible. Also, I shot it from a distance by zooming in really close. When you zoom in with a camera, you get a vid-eo with a different perspective than what people actually see, don't you think? I wanted to create something closer to God's point of view than a person's point of view.
――That's an amazing idea!
VIDEOTAPEMUSIC: I don't know if "God's point of view" is the right way of putting it, but I wanted to make it look like the perspective of something other than a human. I chose Ka-sai because it's a place with good vantage points for that kind of shooting, and it's a place without symbols like signs.
――The bleached feel of the video is also unique. How did you create that?
VIDEOTAPEMUSIC: If you repeatedly dub a VHS tape, the red-ness fades away. Skin becomes whiter, and people begin to look like ghosts. It's like the opposite of watercolor painting——a process where you steadily remove color. I think this video did the best job of fusing the VHS texture and perspective that I'm particular about, so personally, I've always thought this is the best work I've done [as a filmmaker].
――It's incredible that you were able to take reclaimed land and expand on the image to that extent.
VIDEOTAPEMUSIC: Even though it was reclaimed land, it's been decades since it was reclaimed, so it carries a lot of his-tory. I think this video is like looking back at a place such as reclaimed land 100 years later. Like it superimposes nostalgia onto reclaimed land.
――You often choose to shoot locations surrounded by con-crete, like the industrial area of Kashima, Ibaraki Prefec-ture for odd eyes' "Neppa" (2018), and an apartment complex in West Tokyo for your own song, "Sultry Night Slow" (2016). Why do you shoot these kinds of locations?
VIDEOTAPEMUSIC: I'm drawn to those kinds of locations. I don't shoot areas that feel like, "If I don't shoot this, someone else will." I want to shoot things that are personal to people, but at the same time, I'm also drawn to giant things that swallow people up. I like Jia Zhangke's films, so maybe his work has influenced me. I want to have shots in which the scenery behind the people says something more than the people themselves.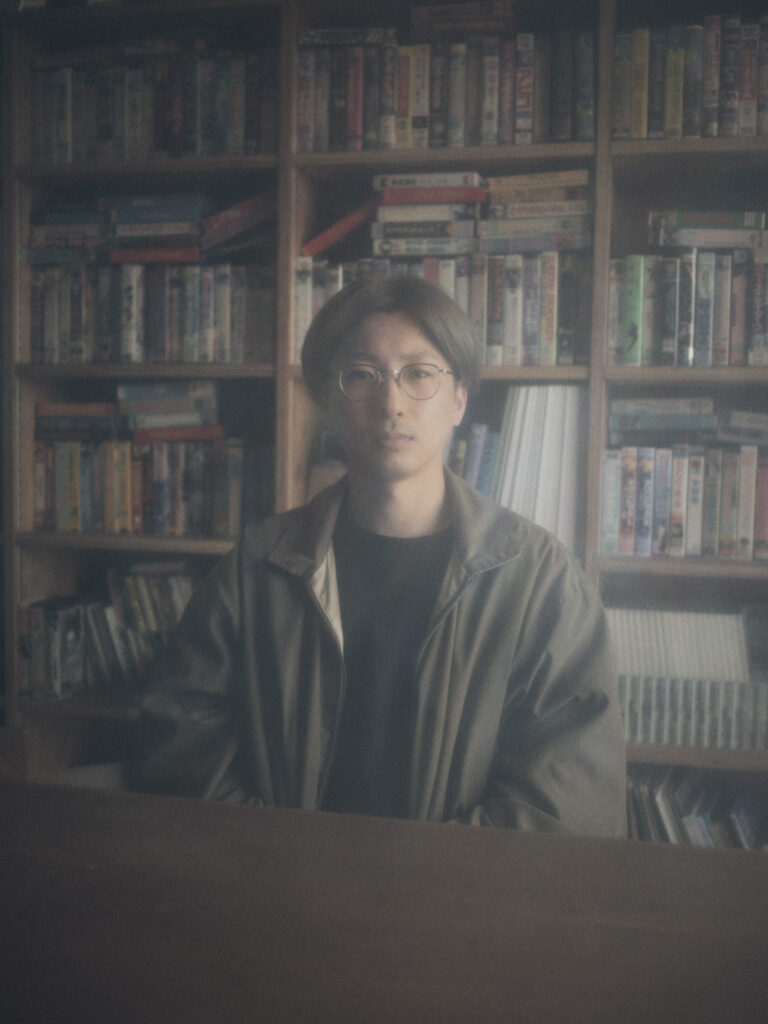 Latest articles on TOKION MOVIE