This is the latter half of an extended interview focusing on VIDEOTAPEMUSIC as a filmmaker. In part 1, he talked about the start of his career and looked back on his major works. This time, he mainly discusses his recent work. He tells TOKION about his past few years doing artist residencies in various parts of Japan, painting a clearer picture of his attitude toward filmmaking. How does he depict the Japanese landscape? And what kind of expression can he create from it? TOKION gets a closer look at VIDEOTAPEMUSIC's essence as a filmmaker.
Music videos that are conscious of the smallest possible subjects
――In the second half of this interview, I'd like to take a look at videos you've directed to think about how you capture the scenery of the city. First, let's take a look at "ilmol," a song from your latest album, "The Secret Life of VIDEOTAPEMUSIC" This song features Korean artist Kim Na Eun, and the music video was shot in Seoul.
VIDEOTAPEMUSIC: I asked Na Eun to sing about the scenery of her city, and she responded by singing about the Han River [a river that flows through the center of Seoul]. So to compare answers, I brought a video camera to Seoul and spent a whole day walking around the Han River and filming. I didn't know what kind of scenery I'd be able to capture, so I just shot it and then edited it later. I also included samples from VHS videos I bought in Korea.
――The scene with the fireworks leaves an impression.
VIDEOTAPEMUSIC: I just happened to shoot that. In the afternoon, people started gathering along the riverbank——sitting, drinking, and doing their thing. I wondered if they gathered like that every day, but actually, there happened to be a fireworks festival that day. I think one of the nice things about Seoul is that it has a place like the Han River that's right in the city, with an open sky where you can chill out. But I didn't want to make it a video that was like, "This is what Seoul is like." It's more of a personal journey to visit a friend named Na Eun.
――Maybe that's why it feels like a personal video.
VIDEOTAPEMUSIC: I asked overseas artists to sing on this album, like Na Eun from Seoul or Mellow Fellow from Manila, but I wanted to have them sing about the cities they live in and their personal lives as much as possible. The song with Na Eun was created not out of the relationship between Japan and Korea, but through private communication with a friend. I tried to keep the subject matter as small as possible. I was conscious of that with this video as well, and that's precisely why it came out like a personal video.
――The music video for cero's "Machi no Shirase" was shot in Tokyo and various areas around the suburbs of Kanto. But rather than focus on the larger subject of Tokyo, it ties together different scenery using individuals. In the sense that the video's structure doesn't rely on symbols of the city, I feel it has something in common with "ilmol."
VIDEOTAPEMUSIC: Indeed, when I made that one, I was also thinking, "I want to shoot scenery that's difficult to communicate with a large subject." I figured someone else would shoot the symbolic landscapes, so I didn't have to be the one to do that.
How VIDEOTAPEMUSIC approaches each place during his residencies
――Recently, you've been involved in a number of projects where you stay in a particular region and work on music or videos. How did you become interested in this method of creation?
VIDEOTAPEMUSIC: Over the past few years, I've started playing live shows in all kinds of places across Japan. Usually, it's just back-to-back live shows and afterparties, so even though it seems like I know the cities, I don't really know them. So, I started extending my stay after the shows and walking around the city. As I did that, I became more interested in living and making art outside of Tokyo. I was born and raised in the suburbs of Tokyo, which is precisely why I've made work with familiar things that are available at rental video stores and recycle shops along national highways. So I started wondering, if I made music outside of Tokyo, what kind of stuff would I make?
――You stayed in Shiojiri in Nagano Prefecture to create a video for ANA MEETS ART "COM," a project that connects people and local areas through art.
VIDEOTAPEMUSIC: I went to Shiojiri for the first time in November 2020, and I stayed there for about 12 days. I'd never been to Shiojiri before, and I had no connection to the city. So at first, I figured I'd just walk around the city without thinking about it too much. First, I checked out the places I found interesting online. Then, I drove from one side of the city to another, visiting places that I saw along the way or that piqued my interest. I visited restaurants, secondhand stores, rivers, mountains, and so on.
――Did you find any clues at the secondhand stores?
VIDEOTAPEMUSIC: I found a Shiojiri PR brochure from the 1970s. That was the biggest thing. There was also an article about a folk song that the locals made up on their own to revitalize the town. Even something considered to be a city's tradition was newly made by someone at some time, and there was an era where that was the latest music. Thinking of tradition as something that's accumulated like strata made me think about all kinds of things. Shiojiri is home to Canon's factory, so there's an unexpectedly large number of foreigners. Apparently, there used to be a lot of Brazilians, but now there seems to be many Vietnamese people. I also found a LaserDisc with Chinese karaoke at a secondhand shop. Even from that dusty LaserDisc, I felt like I could start to see the history of another town.
――The video is based on the Genba Odori song that locals dance to at the Shiojiri Genba Matsuri, a summer tradition in Shiojiri city, and the folk tale of the fox that the song is about, right?
VIDEOTAPEMUSIC: I used the melody of the Genba Odori dance, which is based on a folk tale about a fox man named Genbanojo, and made a beat with the radio noise I picked up from the top of the mountain when I hiked Mount Takabocchi. There's a radio tower at the summit of Takabocchi that transmits radio signals to the town, and the summit probably gets good reception, because I picked up a lot of radio in foreign languages. So I combined the radio waves from outside with the folk songs and environmental sounds of the town to create my own dub of the town's history. Shiojiri has many farmers, so you often see the sight of "noyaki" [controlled field burning]. In the evening, you can see the smoke rising from afar, and as someone who isn't from there, that sight was really magical. So in the video, I included scenes of the fields burning.
――Did you draw the fox animation yourself?
VIDEOTAPEMUSIC: Yeah. At first, the video was just shots of the noyaki, but it felt like I was just taking scenery that belonged to someone else without permission. By using my own body to draw the smoke from the noyaki and the fox, I wanted to pay tribute in my own way.
――How do you capture a place that you have no connection to? I think that's where your attitude as a filmmaker comes into play. In the note article about the creation of "Our Music: Tatebayashi" (Released on LINE NEWS "VISION"), which you created in Gunma Prefecture's Tatebayashi, you wrote as follows: "It would have been too impudent to just introduce the charm of Tatebayashi, and I was careful not to forget that I was the one being taught. I definitely didn't want to just make a fun tourism video, much less engage in dark tourism. But if I were too objective, it would be boring, so I wanted to be honest about the things that actually surprised me or felt new to me."
VIDEOTAPEMUSIC: I think depending on the region, the way I keep a distance from the subject changes. It's not about setting a rule for myself, but rather, how I can respond sincerely while I'm actually visiting an area. I feel like that part of me is being tested every time. Currently, I'm working on a piece about Nagasaki and Nomozaki for a project called "Nagasaki Art Project." Locals are sending me videos, and I'm making the piece using a workshop-like method. My work is born from communication with others, so I'd say this project is on the easier side. But in the case of Shiojiri, I decided to create it while meeting with people as little as possible [due to the current situation], so it was quite difficult. I felt like it was insincere to come from Tokyo for just a few days and declare, "This is Shiojiri."
――That applies to what you mentioned earlier about capturing Seoul.
VIDEOTAPEMUSIC: That's true. When I actually started doing residencies, there were a lot of things to worry about or that were difficult. But I think that process is also necessary. The artist Tanaka Isson was a Japanese Nihonga painter who moved to Amami Oshima and expanded the scenery of what we call Japan. In Amami, he discovered a landscape that had never been painted before using Nihonga techniques. I wonder if I could do something like that. I want to expand the scenery that I'm able to depict using my techniques. I think the song I made with Na Eun could be considered part of that. It's difficult to faithfully depict anything other than what's familiar and accessible to me, so in that sense, I worry about how to use my imagination for places that are far away or that I haven't had any connection to until now. That's why I think I have no choice but to carefully increase the places I'm familiar with, one by one.
――I heard that you recently stayed in Saga Prefecture's Ureshino Onsen and made music.
VIDEOTAPEMUSIC: It was a project by a long-established ryokan, Oomuraya, and Ohirune Shotou, which is a gallery, coffee stand, and used bookstore. I stayed there for a bit and made two songs about Ureshino Onsen. I asked locals to lend me their old home videos that show Ureshino for my song production, because I figured why not, and they actually brought me more than I expected. Thanks to Oomuraya and Ohirune Shotou's local network, the project was really elevated.
I recorded taiko drums from a local folk song that a geisha taught me and the sounds of instruments used in Saga's traditional menburyu [a local masked folk dance], and I incorporated that into the songs. I had originally planned to create a sort of ambient song with a relaxed mood because it's an onsen [hot spring], but as I talked to various people, I started to feel like I wanted everyone to dance at the summer festival. So, I made a Latin-style song called "Ureshino Cha Cha Cha." Around summer, I plan to give a full report of my stay, including the songs I made.
Behind the making of VIDEOTAPEMUSIC's new songs, "On The Air 2020 (April 10)"
――By the way, you released a new song in April, right?
VIDEOTAPEMUISC: I'd wanted to visit all kinds of local areas in 2020 to make art, but I wasn't able to do that due to corona happening around April, so I was wondering what to do. I wanted to leave the house, but I couldn't. Just as I was worrying about how I could incorporate external elements, I suddenly had the idea to make a song using only radio noise. I wanted to try making music using only what was in front of me in my present environment. That developed into "On The Air 2020 (April 10)."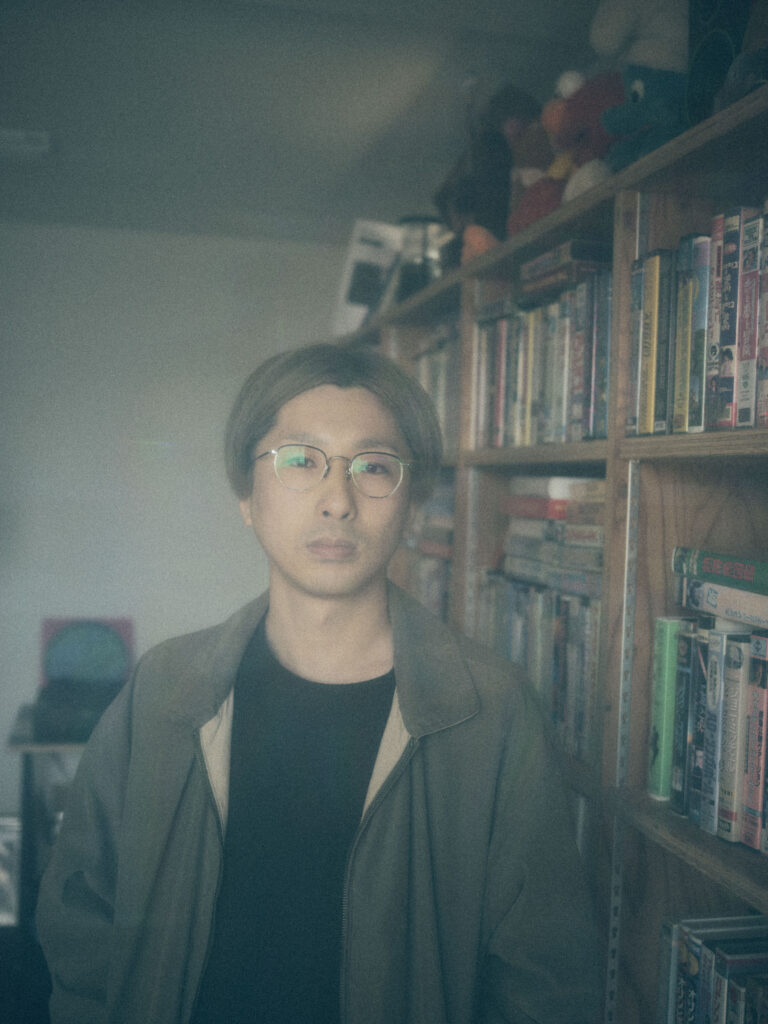 Latest articles on TOKION MOVIE