"Style Wars," a documentary film that chronicles the growing subculture of Hip-Hop during the early '80s, will hit theaters on March 26th (Friday). Starting with Shibuya's White Cine Quinto and Shinjuku Musashino-kan, the film is scheduled to gradually be released nationwide.
In Japan, "Style Wars" was released on DVD in 2004, but never made it to theaters. The seminal documentary exposes the rich growing subculture of Hip-Hop that was developing in New York City in the late '70s and early '80s, specifically focusing on graffiti art and B-boying.The culture would later take the world by storm. Along with "Wild Style," which was produced during the same period, Style Wars is regarded as the indispensable document of New York Street culture of the early '80s, and revered by Hip-Hop heads around the globe.
Nearly 40 years since the film's creation, the graffiti artists featured in the film have influenced figures such as Jean-Michel Basquiat, Keith Haring, and Banksy, all of whom came to treat graffiti as an art form. This documentary gives the viewer a sense of the history and atmosphere of Hip-Hop, which has become part of mainstream culture; today, musicians from all over the world incorporate rap into their songs and the Paris 2024 Olympics have even added breakdancing as a sport.
Collectors' Items on Sale
Starting on the same day as the film's release, collector's items such as official t-shirts and hoodies designed and created by curatorial brand ATW, will be available from TOKION for a limited time.
The "NYC 1982" tee celebrates that glorious year in Hip-Hop culture that's best remembered in the film Style Wars and honors all those who helped make 1982 one memorable year. This shirt features "The Message," "Style Wars," legendary graffiti artist "Dondi," B-boy pioneers"Rock Steady Crew," and "Ed Koch," the mayor of New York in 1982. Available in L and XL.¥4,000.
Comments from influential figures in Japanese-hip hop and other artists leading the scene.
Seiko Ito (Writer/Creator)
"I can't believe this film is still out there! And it's clear from this raw documentary [as we can see in "Wild Style"], but there were many Latinos and others in the hip-hop community at this time. The way the different races were existing alongside one another in these early days can't be emphasized enough.

ANI (Scha Dara Parr)
"This is an important documentary that captures the early days of Hip-Hop. I get really excited watching this. If you have even a little bit of interest in street art, don't miss this."
Cypress Ueno (Rapper)
"Wow, we can really see this on the big screen? As someone who first saw this movie as a copied bootleg video that was passed onto me by a senpai, this is amazing! Even if we're in a different time, the fight that we need to be fighting is to keep putting ourselves out there."

DARTHREIDER (Rapper)
"Repeating boring mistakes, repainting the cityscape! The vibes we remember when we look back. The way KASE2 says 'style' is the coolest in the world. Why? Because he's the king. Society has another side. To realize that, look at the walls! Look at the trains! The only thing you need to watch out for is the third rail."

BBOY KATSU ONE (MIGHTY ZULU KINGZ/READY TO ROCK)
"Transforming the power of young people who have no place to go into art, and turning that into an expression of the self. No matter what form it's in, you become powerful when you find a way to express yourself. I think this teaches something important, especially for young people today."

MC KENSAKU (ex BRONX・MC・Bboy)
"These are legends who built the culture from the ground up without knowing the answers. There was a time when people put their pride on the line and gave their all, even though they knew they were doing something illegal. This is an important part of global history that connects to the present day!"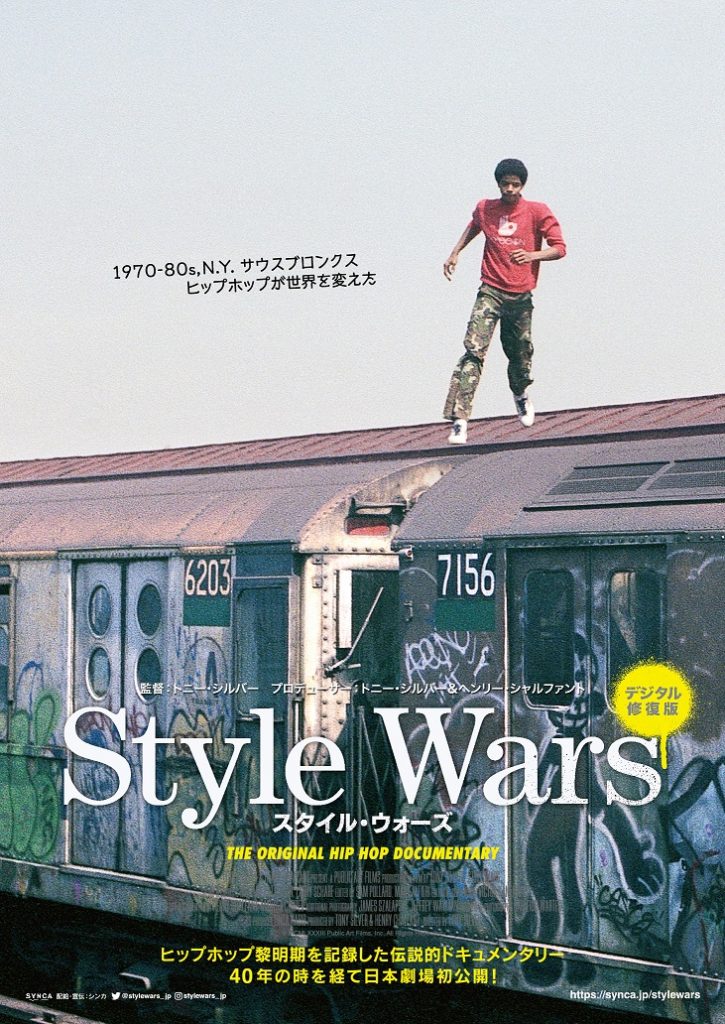 Latest articles on TOKION MOVIE